SteelSeries Rival 700 Review – SteelSeries Sensei Wireless is one of my most favourite gaming mouse from SteelSeries.
It was considered as the SteelSeries' flagship mouse for a while, but the SteelSeries Rival 700 has replaced its position with one of the best gaming mouse sensor in the world, along with more bells and whistles included.
The SteelSeries Rival 700 also has an all new game-changing feature that no other gaming mouse has. It may sound gimmicky at first but it executes well, and it does have a great effect in gameplay – so good that it might be considered as cheating to some.
SteelSeries Rival 700 Review – Packaging
SteelSeries Rival 700 Review – Design & Features
SteelSeries Rival 700 has a similar shape to the original SteelSeries Rival I reviewed back in 2007 (they also have newer models of Rival 300 and 500 in between). The Rival 700 is the highest end of the Rival family with a cool and striking design.
It's made for right-handed gamers with different textured surfaces around the mouse. There are rougher, non-slippery double-injected rubber surfaces on the sides to make your grip tighter along with softer, anti-sweat surface on the top for lengthy gaming sessions. The mouse itself looks and feels great to use overall. I'm a finger-tip grip gamer and find it comfortable to hold. It seems like the mouse can also be used with a claw and palm grip.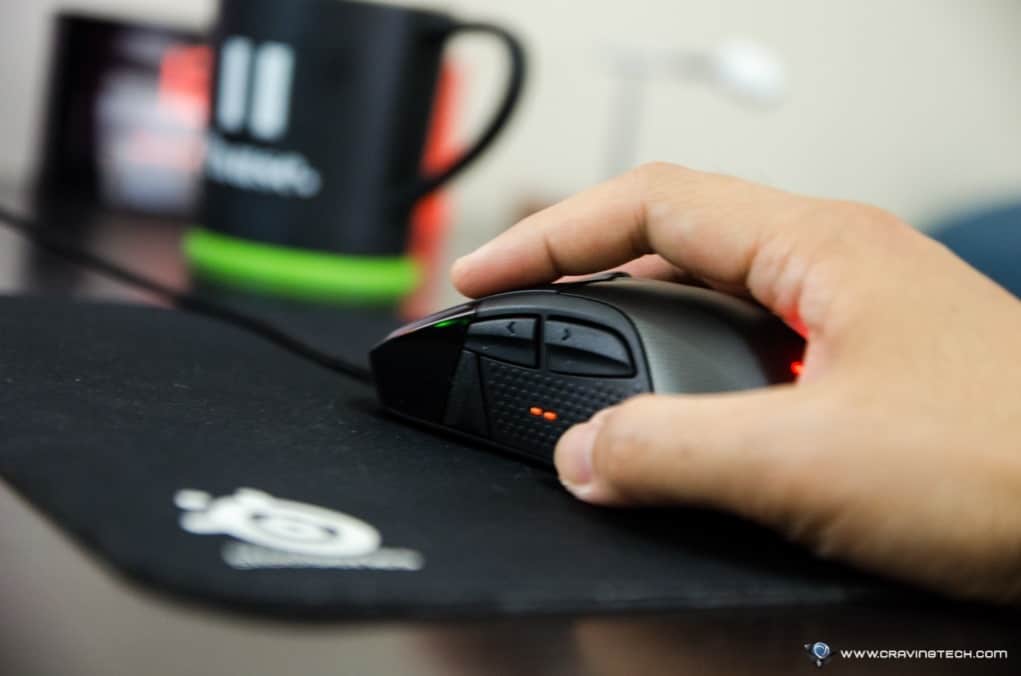 Apart from the usual buttons plus the extras, we also have another button on the far side of the mouse that can probably be used as a Sniper button (i.e to temporarily change from a high CPI (DPI) to a lower one when sniping). However, in my opinion, it's too far beyond the reach with the right thumb even if you are a palm grip user. You have to re-adjust the grip on the mouse and it may be awkward to do it in the heat of battle constantly. You can, however, assign that button to a Volume Mute button or others easily through the SteelSeries Engine 3 software.
The button clicks feel really bouncy (in a good way) and gives a really great tactile feedback. I fell in love with the bounciness the first moment I pressed them and it was one of the most memorable discoveries with the Rival 700.
So what are the bells and whistles? For a start, there is a customisable OLED screen which display can be changed with a click of a button. You can use it to display the logo of your team or if you are playing casually, an animated GIF of anything you like (hint: Nyan Cat). It can be set to change when you change to another profile, so you can have a visual aid to see if you are switching to the right profile.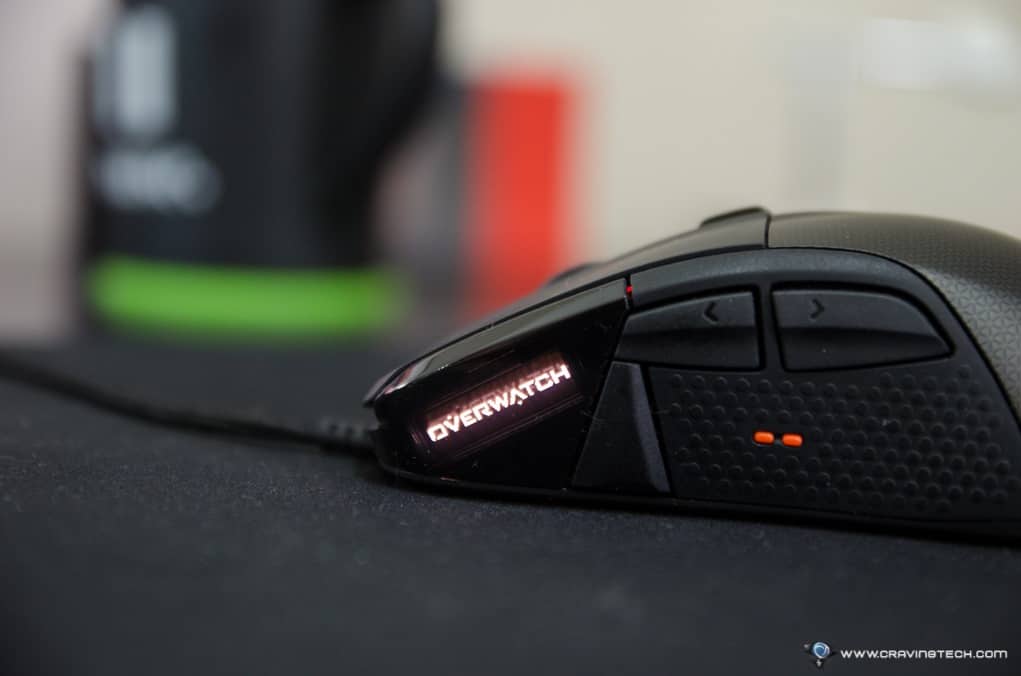 If you like, thanks to GameSense, the OLED profile can be used to show specific in-game stats while you are playing such as your kill death ratio, number of headshots, and more. I do not find this somewhat useful though as my eyes are always glued to the screen when I play. But it's there, and it's kind of cool to have (or to show off when you are playing tournaments).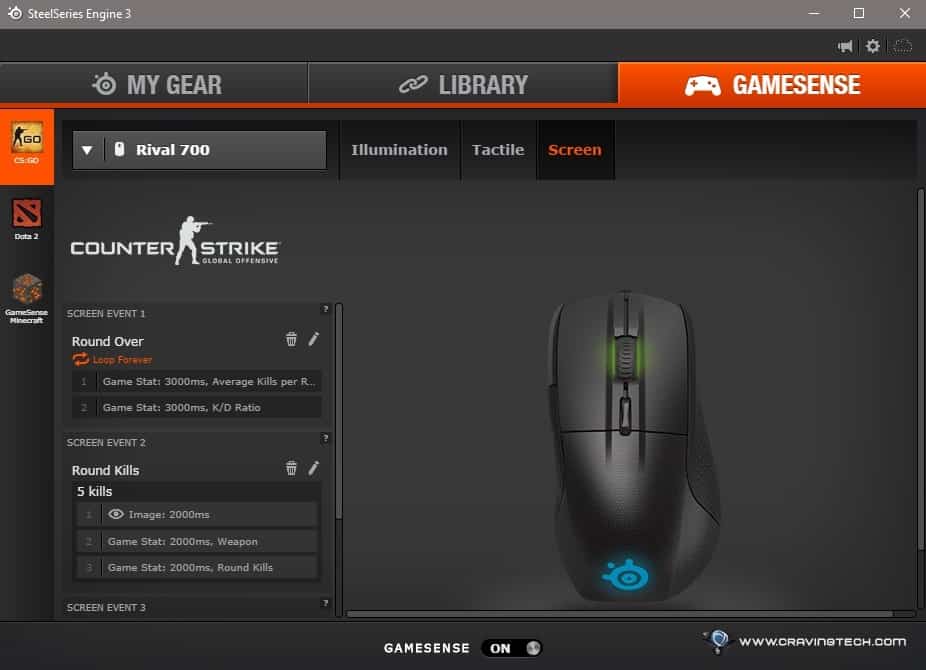 The best feature that the Rival 700 offers is probably the new Tactile Alerts. With Tactile Alerts, you can set so that in-game events can trigger a vibration alert on the mouse itself! The patterns, durations, and what triggers them can be set via SteelSeries Engine 3. So for example, you can set it so that the mouse vibrates when your health drops to near zero, or when you score a headshot. If you set it to notify you when your shots connect, the alerts can be used as a good way to cheat through during a flash blindness from a flashbang grenade.
But most importantly (in my opinion), you can be alerted when the abilities cooldown are up and you'll feel it.
Before this excites you in any way possible (you should), at the moment the Tactile Alerts feature only supports 3 games: CS:GO, DOTA 2, and Minecraft. You do have an option to set the alerts manually in any game based on pressing certain keys, but it's a crude workaround (check out the guide to enable SteelSeries Rival 700 Tactile Alerts support in Overwatch) but again, it's manual and hard work. There is no indication when more games will come to GameSense but honestly, do not buy the mouse because of hopes and wishes. I used to play a lot of DOTA 2 and CS:GO in the past, but am currently into Overwatch.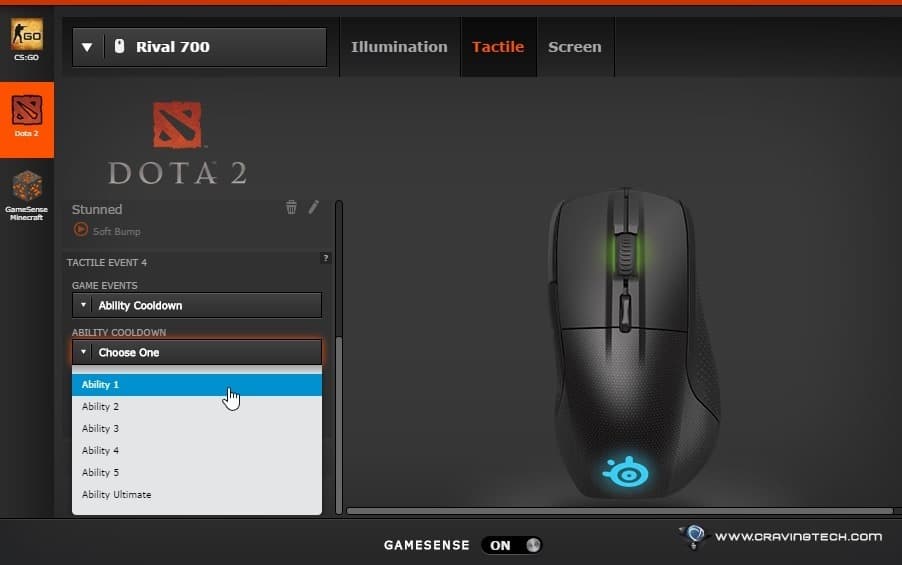 Tactile Alerts feature IS a game changer. While playing Overwatch (with the workaround solution), being able to know when my abilities are off cooldown is the difference between life and death. The alerts are varied enough that I know which ability is off cooldown, and they don't shake the mouse in anyway that mess up my aim.
SteelSeries Rival 700 is also modular in that you can replace the sensor, the top cover, and the nameplate. I don't know why people would want to switch the awesome PixArt PMW3360 optical sensor to a more inferior laser sensor, but the option is there anyway.
Sadly, all these bells and whistles come at a price. They make the mouse heavy, and I mean, heavy. When I used it for the first time, I had to fight the urge to go back to my old mouse. However, after forcing myself to get used to the Rival 700 for a few days, I went from "hate it" to "love it". It still feels heavy, but not to the point where I just want to give up and switch to another mouse.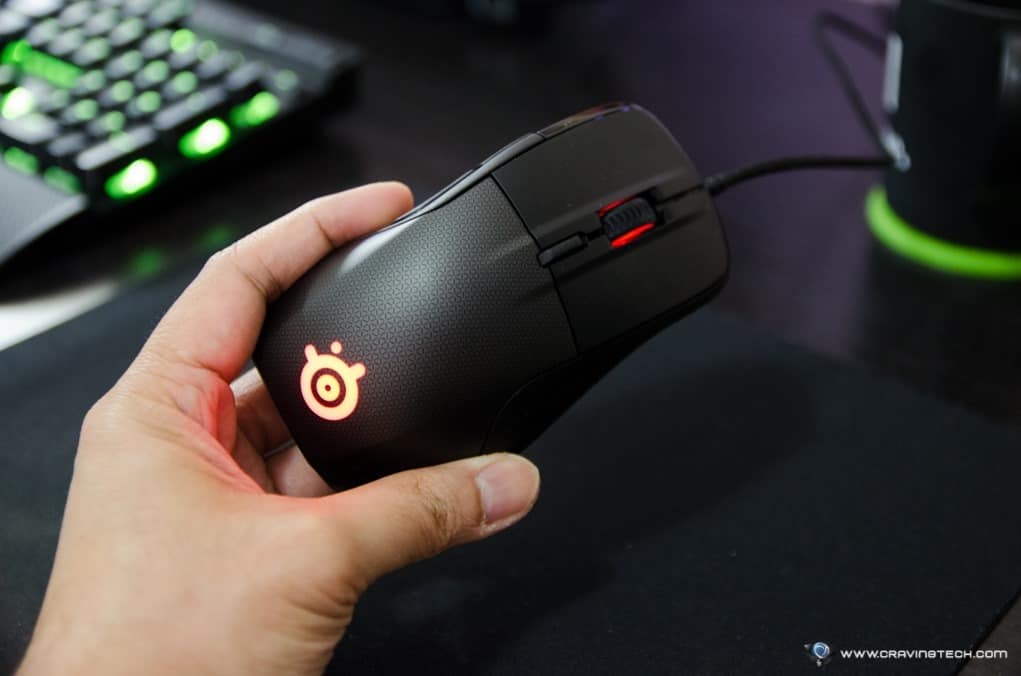 I'm already used to the weight now (after using it daily for more than a week) and now loving my Rival 700 for its accurate sensor that helps my aim, Tactile Alerts, and the satisfying button clicks. The mouse also looks really good on the desk and really has the look and feel of a flagship mouse. Not to mention the high CPI support, customisable backlit colours, and modularity. It's a complete package.
SteelSeries Rival 700 Review Conclusion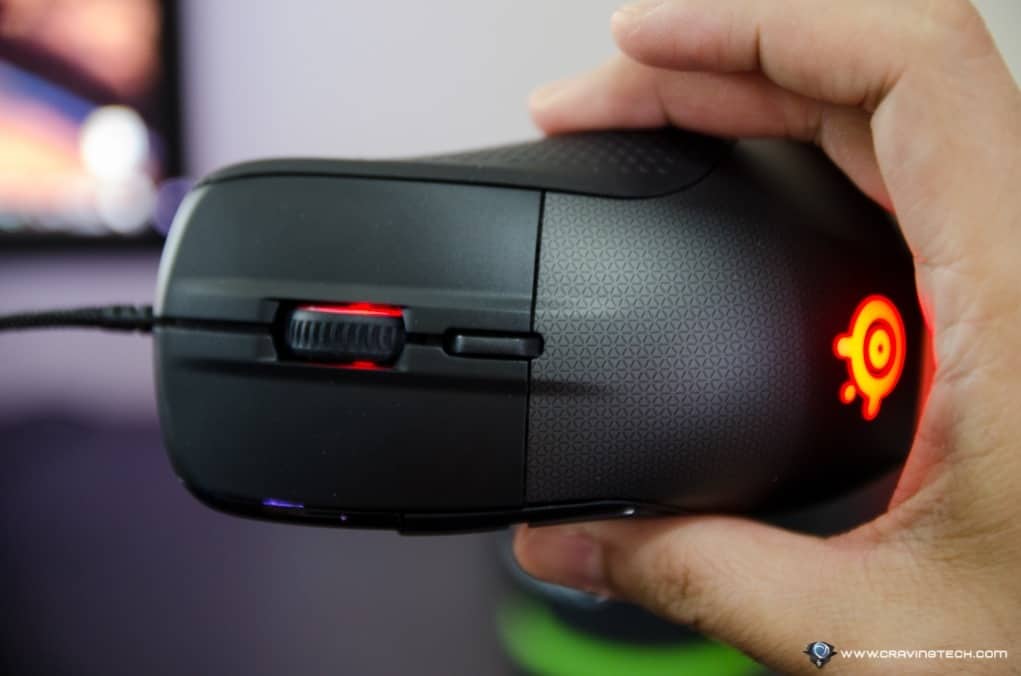 SteelSeries Rival 700 Tactile Alerts feature is a game changer to the gaming industry, and there are no other gaming peripheral manufactures who have ventured into this before. It seems like a gimmicky addition, but it is actually impactful when sets up correctly. Being able to know when your ability is off cooldown in the heat of battle is the difference between life and death.
The mouse is heavier than most gaming mouse out there, but you will get used to it eventually. And when you do, you will be rewarded with one of the most powerful gaming mouse on earth ever been created. Simplicity is definitely not an option and if you love your gaming mouse with bells and whistles, this is definitely it. I do wish that the OLED and Tactile Alerts can be swapped off too, which may reduce its weight and price if you don't need them.
Disclosure: Sample was supplied for reviewing but all opinions are mine and not paid
[AMAZONPRODUCTS asin="B01AZC3I6U"]