GUNNAR Lightning Bolt 360 (GUNNAR LB360) Review – I first heard about GUNNAR Optiks more than a decade ago – a company who made gaming glasses to reduce eye strain from looking at the monitor continuously (no, wearing them don't increase your gaming skills, unfortunately).
They have been making and perfecting glasses ever since, and I'm glad to be able to finally check these glasses out.
Their latest creation is the GUNNAR LB360 or Lightning Bolt 360, which is a result of infusing 15 years of advanced lens technology, frame design experience, and gamer feedback around the world. It's their most elite gaming glasses with a unique design to relieve temple pressure while wearing them.
This is achieved by offering 3 different temple options in the packaging and allows you to swap these at will: classic for the standard wear, post (a lighter, slimmer fit – also looks more modern), and a unique strap for maximum comfort when wearing a headset.
In all honesty, wearing a gaming headset while wearing glasses is quite tricky and some glasses-wearer gamers may normally experience discomfort with certain, tight-fit gaming headsets. With the unique strap design on the LB360, you can now wear any of your favourite gaming headsets while having your eyes protected from the artificial blue light emitted from digital screens like your monitor.
Not only that, but there are also 3 different nose bridge sizes for the perfect fit and an option to switch the lens for indoor/outdoor use. The Amber lens is for indoor use with blue light protection while gaming and the Sun lens for viewing screens in bright sunlit conditions (100% UV protection). Or you can just wear the Sun lens outdoor as a sunglasses while you are not even gaming! To my surprise, these gaming glasses actually are really stylish and I'd have no issue wearing this outside!
The nose bridge, temple option, and lens are easy to swap so you can give them all a try to find the perfect fit.
I've been testing the GUNNAR LB360 for about a couple of weeks with the Razer BlackShark V2 Gaming Headset and find that I didn't even need the strap option to make it comfortable to wear with the headset. But I do understand that there are other gaming headsets that have a tighter fit compared to the BlackShark V2 and it's good for GUNNAR to include the strap option.
But why should you buy and wear these gaming glasses? These glasses protect your eyes from the short- and long-term negative effects of digital eye strain and extended exposure to the artificial blue light emitted from digital screens, such as your monitor. While some monitors have Blue Light reduction option like my BenQ EX2780Q gaming monitor, most others don't. And there are plenty of times where you don't want to turn this feature on all the time.
With GUNNAR Lightning Bolt 360, you can wear these glasses when gaming or if you are about to work for a straight 7-8 hours like my coding weekdays. With these glasses, yes, the world will go yellow-ish and warmer but funny enough, your brain seems to adjust with this after wearing the glasses for a while.
When gaming with the GUNNAR LB360 (Overwatch and Modern Warfare), the tinted colour isn't distracting and as I mentioned before, your eyes will adjust to these in no time. If you often get eye strain from sitting in front of the monitor for too long (or if you like gaming in the dark), you'll most likely need these GUNNAR gaming glasses.
GUNNAR Lightning Bolt 360 Review Conclusion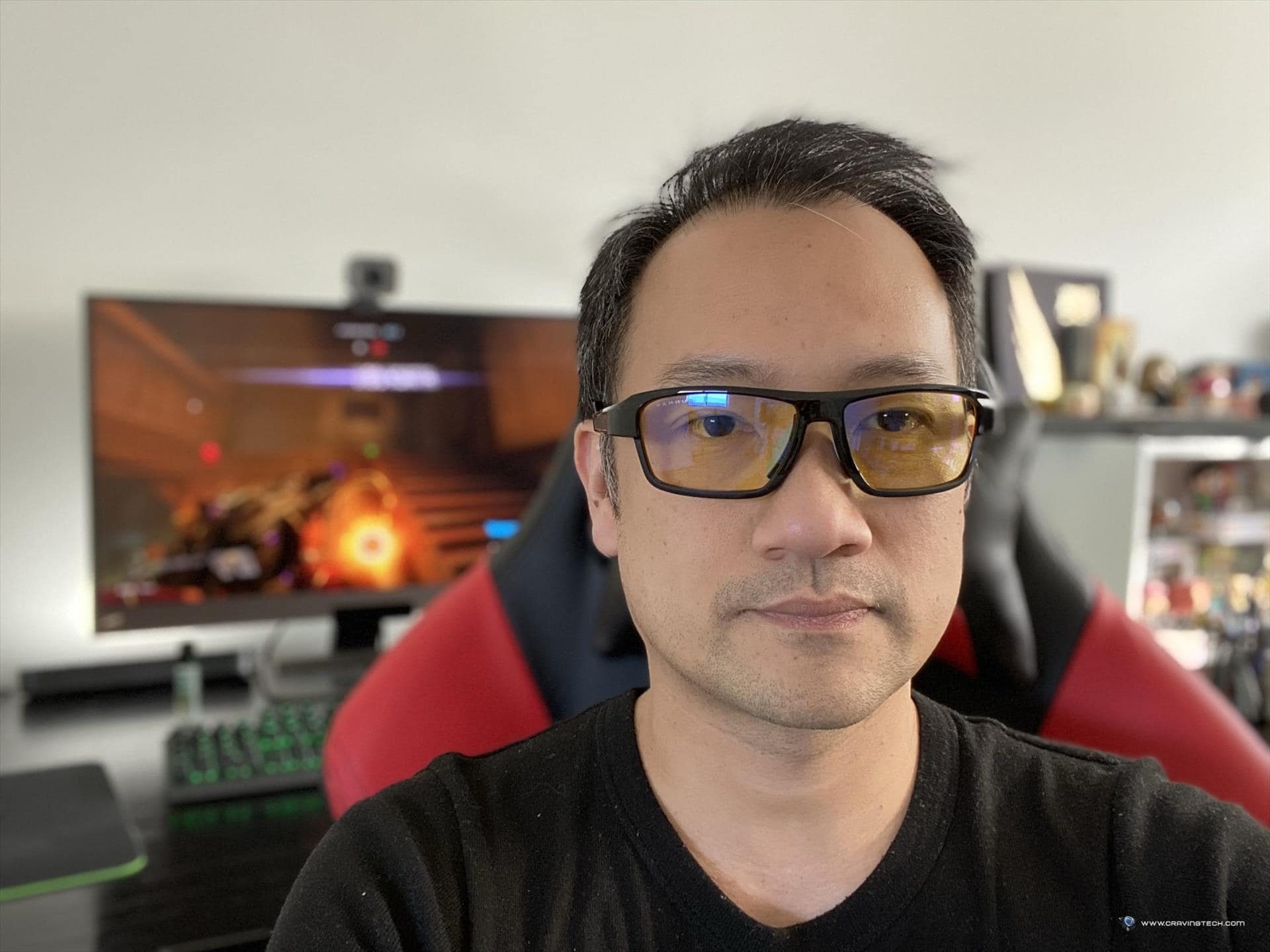 GUNNAR LB360 is a stylish, fully customisable gaming glasses to reduce eye strain from being for too long in front of the monitor, but most importantly protecting your eyes from the artificial blue light. They are perfect to wear even with a gaming headset (which you'll most likely be doing) with 3 different temple options, but at the same time can also be used outdoor thanks to the interchangeable lens.
The glasses are available with or without prescriptions, so gamers who actually wear glasses will not be left out.
GUNNAR LB360 can be purchased from GUNNAR.com, Amazon, and Overclockers (UK), as well as other key online retailers worldwide, starting at $129.99. Single vision prescriptions starting at $350 for both lens sets.
Disclosure: GUNNAR LB360 review sample was supplied for reviewing but all opinions are mine and not paid
GUNNAR Lightning Bolt 360 Review
Summary
Fully customisable with interchangeable lens, nose bridge, and temple options. Plus, it is very stylish and can be worn both indoor and outdoor
Pros
Reduce eye strain and protect eyes from artificial blue light
Easy to try and swap different components 
Comfortable to use, even with a tight-fit gaming headset
Travel hard case included
Stylish, lightweight design
Prescriptions available
Can be used as sunglasses when not gaming (or if you are gaming outdoor)
Cons
Does not increase your gaming skills