Razer BlackShark V2 Review – Razer has made many wired gaming headsets (we've reviewed most of them) but I don't think there's anything like the Razer BlackShark V2 which has everything you want from a gaming headset (well, okay, maybe minus RGB lighting).
It has a really good sound quality, lightweight & comfy, good microphone, good controls, and a choice of using USB or 3.5mm which means it supports many devices and consoles. And, the pricing isn't bad either.
Packaging & Unboxing
Razer has included a detachable USB sound card if you plan to use it on a USB slot, or if you want the advanced mic controls and enhanced video capture. Or if you just have a crappy motherboard audio or can't be bothered plugging the headset all the way to the back of your PC.
If you are playing on a gaming laptop like the GIGABYTE AORUS 15G, you can safely store the USB dongle away and just plug the headset to your laptop's combo microphone/audio jack.
I've tried both (USB and 3.5mm) and really like the versatility – I plug it to my USB's desktop PC when I'm playing on the desktop and just use the 3.5mm on my gaming laptop if I game on it. You can also plug it to any audio device with 3.5mm jack for music listening and such.
Design & Features
Razer BlackShark V2 looks clean and simple, compared to the bulkier design of Razer Kraken Ultimate or Razer Thresher 7.1. I like how clean the design is, though I was a bit scared that I might break the thin, wireframe hinges to adjust the height of the headset. Thankfully I've never stumbled into issues so far.
The headset has soft, thick padding on the headrest and also have breathable flowknit memory foam ear cushions. It's not Summer yet here in Australia so I haven't tested it on a hot day, but so far my ears have never felt hot or warm, even. Thanks to the ultra-soft foam, it also reduces the headset's clamping force.
Some Razer headsets are quite tight and gamers with glasses might not feel comfortable wearing them, but so far the BlackShark V2 feels great even when I'm wearing the Lightning Bolt 360 glasses from GUNNAR that I'm currently reviewing.
The headset itself is also very light, weighing only 262 grams. Compared this to Kraken Ultimate's 390 grams or Thresher 7.1's 408 grams, the difference is almost night and day.
The microphone boom is also detachable so you can use the headset on a smartphone with 3.5mm audio jack like Google Pixel 4a for music listening or movie watching. This also means if you game on another platform like Nintendo Switch, PS4, or Xbox One, you'll be able to use the BlackShark V2 as well.
Speaking of the microphone, it is actually a Cardioid Mic which means it will pick up less surrounding noise that is not in the direction of your mouth. While this doesn't mean it will completely remove the sound of your mechanical switches in the background, your voice will be clearer. And if you are using its USB sound card, you can tweak your voice output even further via Razer Synapse (Mic Boost, Voice Gate, Volume Normalization, Mic Equalizer and Ambient Noise Reduction).
Sound wise, Razer BlackShark V2 sounds really, really good. It's equipped with Razer TriForce Titanium 50mm drivers which are custom-tuned drivers by Razer engineers to deliver richer trebles, brighter sound, and powerful bass. Being advertised an "esport gaming headset", I was kind of worried that the headset would only emphasize on being able to hear enemies' footsteps at the expense of good audio.
Thankfully, I was wrong and to my surprise, the audio in the game is as great as ever with satisfying, boomy explosions and game ambiance. Plus, music listening feels really good when you are listening to a singer with a great voice.
But it is an esport gaming headset and the BlackShark V2 is really good at it too. It has THX Spatial Audio with THX Game Profiles created and tuned specifically for different games so if you are playing games like Counter-Strike: Global Offensive, Valorant, or Rainbow Six Siege, there is a custom profile for that.
I mostly play Overwatch (and recently, Modern Warfare) and I'm really happy with the audio positioning provided by the headset. In Overwatch, there were countless times when I exactly knew what was about to happen – as if I have a superhuman hearing. Being able to hear footsteps or a gun reload right at the corner gave me a split second decision to react and prevented me (and my teammates) from a certain doom.
There is also a setting on Razer Synapse whether you want to leave the THX Spatial Audio to Auto or Manual per applications.
Razer BlackShark V2 Review Conclusion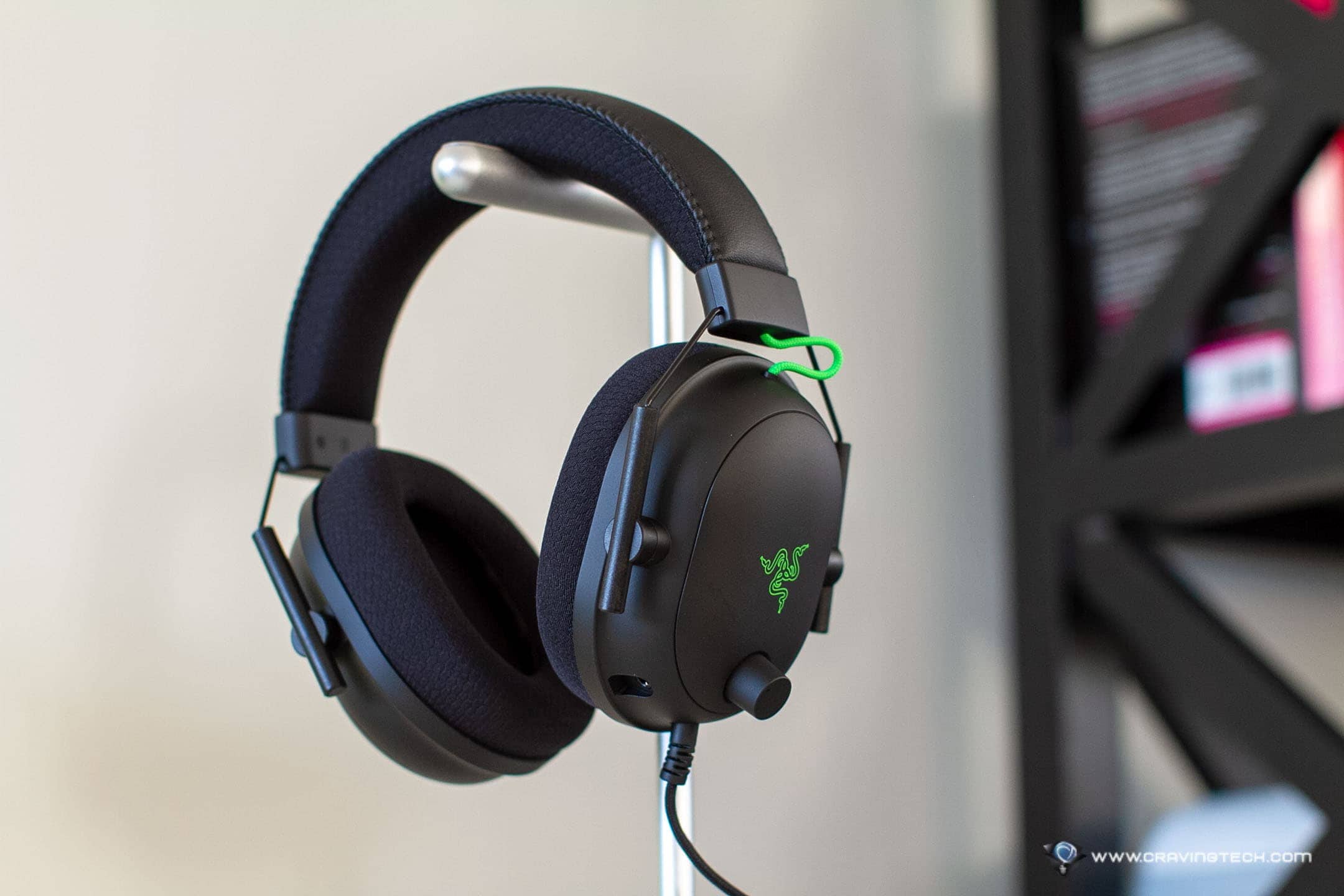 Razer BlackShark V2 is definitely Razer's best wired gaming headset to date, in my opinion. It has a lightweight and clean design, great audio quality (for competitive gaming and non-gaming activities), cardioid microphone, and two connectivity options (3.5mm or USB). Plus, it is very competitively priced at AU$174.95.
Most importantly for gaming, the headset is really comfortable even when wearing glasses, and it has a really good audio positioning and clarity. I also like the dedicated volume control knob on the left ear cup, which is the best volume control experience I've had on a gaming headset. It is easy to reach and just feels classic to adjust.
The headset also offers really good, passive noise isolation and can completely immerse you in the game, music, or movie.
To be honest, Razer BlackShark V2 is my go-to wired gaming headset at the moment thanks to the lightweight design, audio, and comfort. Considering that I've tried and used tons of gaming headsets, that is something.
Razer BlackShark V2 can be purchased at Razer website and also available at retailers around Australia.
Disclosure: Razer BlackShark V2 review sample was supplied for reviewing but all opinions are mine and not paid
Razer BlackShark V2 Review
Summary
Best Razer's wired headset-to-date with
Pros
Clean, non-bulky design
Lightweight
Good sound quality
Good microphone
Good price
THX Spatial Audio
3.5mm & USB option
Detachable microphone
Cons
No RGB lighting
Wireframe feels flimsy