WD My Passport SSD (2020) Review – It's really good to be in the technology niche, especially seeing products get more and more innovative. Portable SSDs have been around for some time and they keep getting faster, more compact, and lighter.
While the good, old, portable hard drive like the WD My Passport is more economical, it still is heavier and slower compared to a solid state drive. Seagate OneTouch SSD for example, weighs 65 grams with transfer speed of up to 400MB/s.
However, the latest innovation from WD places an NVMe SSD drive into a light chassis that just weighs 45.7 grams with transfer speed of up to 1,050MB/s, bringing portability to the extreme. And with capacity of up to 2TB, WD My Passport SSD is definitely the drive of choice for professionals who need to work on big data.
WD My Passport SSD is equipped with USB 3.2 Gen-2 technology for a faster transfer rate, which requires newer motherboards or devices. Thankfully, the packaging also includes a USB-A adapter in case your device doesn't have a USB-C port for compatibility purpose. If you have a USB 3.2 Gen 2 Type-A, this will also achieve the same speed as the USB-C. However, if you have the older USB 3.0 or USB 3.1 Type-A, you'll get a slower transfer rate.
WD listed the drive to have around 1,050 MB/s read and 1,000 MB/s write speed on the USB 3.2 Gen 2. Testing it on my GIGABYTE AORUS 15G gaming laptop's USB 3.2 Gen 2 Type-C, I get 1,031 MB/s read and 955.97 MB/s write speed. On my GIGABYTE X570 AORUS Elite Wi-Fi motherboard's USB 3.2 Gen 2 Type A, I can get 1,023 MB/s read and 941.10 MB/s write speed. Overall, it definitely falls in line with what WD claims.
If you have the older USB 3.0, you can still use the drive and with CrystalDiskMark, I get around 446 MB/s read and 410.93 MB/s write speed.
WD My Passport SSD definitely focuses on productivity with these performance support on USB 3.2 Gen 2. It's definitely a great drive to work on high resolution photos and also 4K video files.
For important files, the drive also supports 256-bit AES hardware encryption so you can secure the drive, plus you can create an automated backup process with the included software. WD My Passport SSD will also work with Apple Time Machine.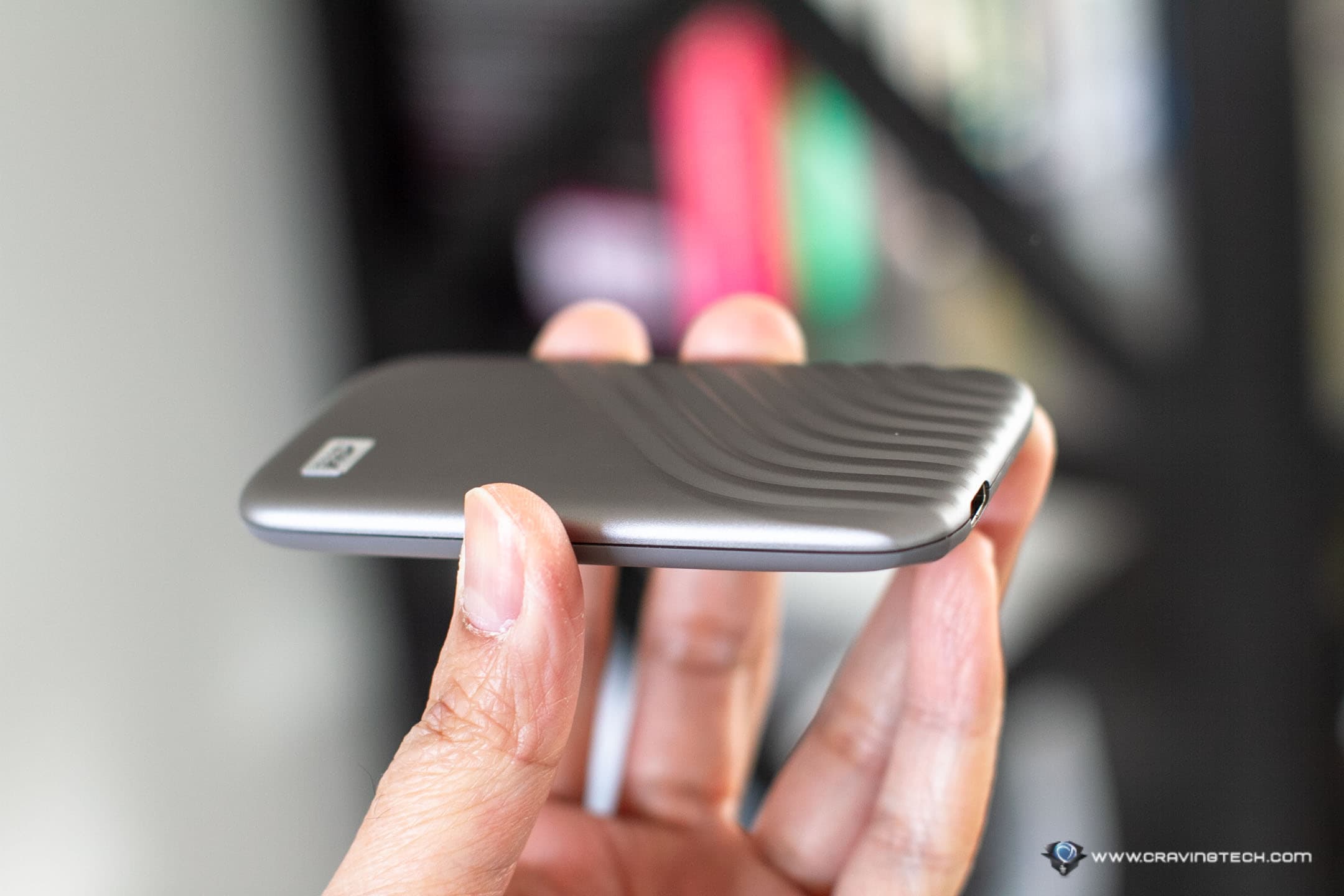 With rounded edges design, the drive is easy to carry and the waving ridges design certainly makes it easily reconigsable as a WD drive (for marketing purposes, obviously). The drive is also shock and vibration resistant and according to WD, has a drop resistant of up to 1.98 meters.
WD My Passport SSD Review Conclusion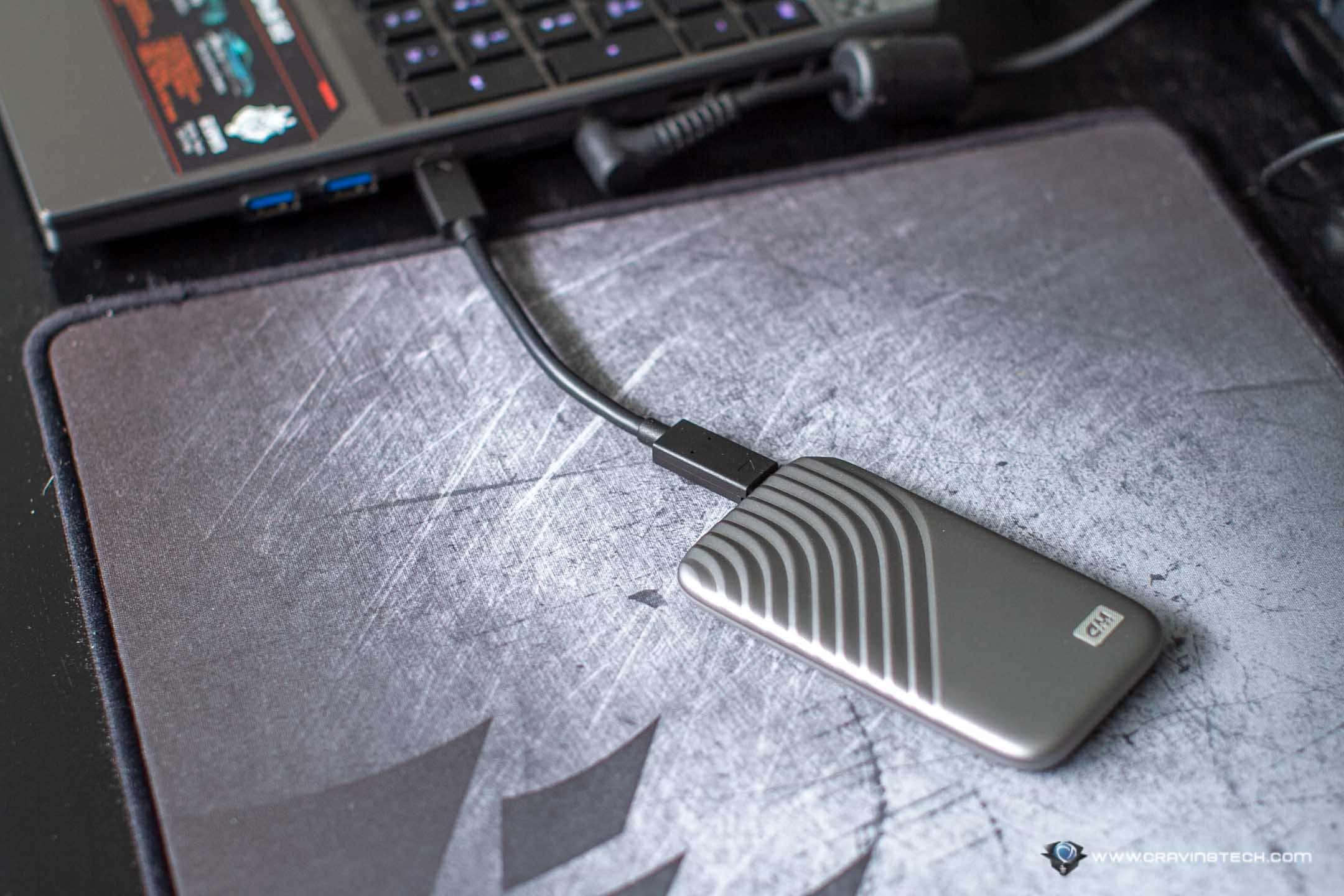 The new WD My Passport SSD with NVMe technology is definitely the best portable drive of choice. It is the lightest portable SSD I've ever used and reviewed, and also has a lightning fast transfer speed. The drive is perfect to boost your productivity when dealing with big files like high resolution photos or big 4k/8k video files.
I used the drive to transfer my 200GB of Modern Warfare files from my GIGABYTE AORUS 15G gaming laptop to my AMD Ryzen Desktop and transferring files from/to the drive only took me around 5-8 minutes.
It can also be used as a backup drive, or as a gaming drive if you wish – but for an even quicker drive for that purpose, you should have a look at WD Black P50 Game Drive which has a double transfer rate speed if your device supports USB 3.2 Gen 2×2.
WD My Passport SSD (2020) comes with a 5-year limited warranty and will be available from September 30 at retailers around Australia. The drive has a Manufacturer's Suggested Retail Price (MSRP in AUD) of $189 for 500GB, $319 for 1TB and $629 for 2TB respectively. Additional colours will be available later this year.
Disclosure: WD My Passport SSD review sample was supplied for reviewing but all opinions are mine and not paid
WD My Passport SSD Review
Summary
Very light and fast portable drive with NVMe technology on USB 3.2 Gen 2
Pros
Very light; Only weighs 45 grams
Up to 1,050 MB/s read and 1,000 MB/s write speed
Very compact but durable with drop resistant of up to 1.98 meters
AES 256-bit hardware encryption support
USB Type-C to Type-A adapter included
Up to 2TB storage capacity option
Different colour options
Cons
Requires USB 3.2 Gen 2 to fully utilise the drive's speed