SteelSeries Apex 9 TKL Review – We've had amazing keyboards from SteelSeries this year like the Apex Pro Mini Wireless if you are looking for a powerful and fast keyboard in a very small form factor. It may not be for everyone though, especially if you are going to use the keyboard a lot for productivity. But, if you still want the extra keys, there is also this SteelSeries Apex 9 TKL with custom-built OptiPoint optical switches so you can still get that fast responsiveness for competitive gaming.
So let's have a closer look at the Apex 9 TKL.
SteelSeries Apex 9 TKL Review – Unboxing and Packaging Contents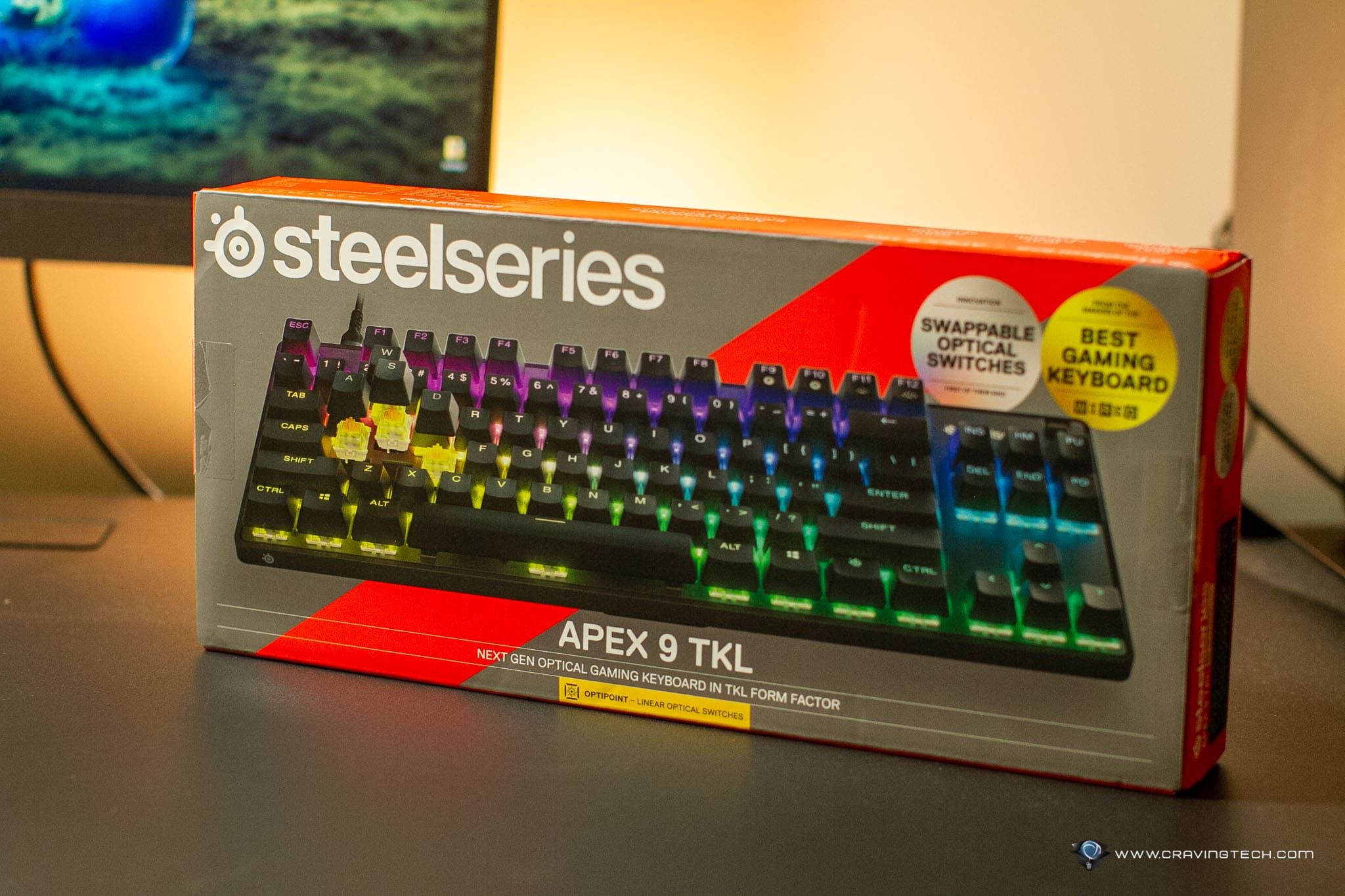 SteelSeries Apex 9 TKL Review – Design and Features
The keyboard is made with Aircraft-grade aluminium alloy which makes the keyboard body sturdy and durable. The same goes to the keycaps, which are Double Shot PBT keycaps for both enhanced quality and durability. With OptiPoint Optical switches that can last around 100 million keypresses, you'll get a solid, all-around gaming keyboard that will last a long while.
Apex 9 TKL has that volume roller that I really like because some companies don't have this on their TKL keyboards. Since I like to adjust my volume frequently in and out of games, this handy little thing is a must have. While the roller is smaller than the Apex Pro or Apex 5, it is still functional and easily accessible.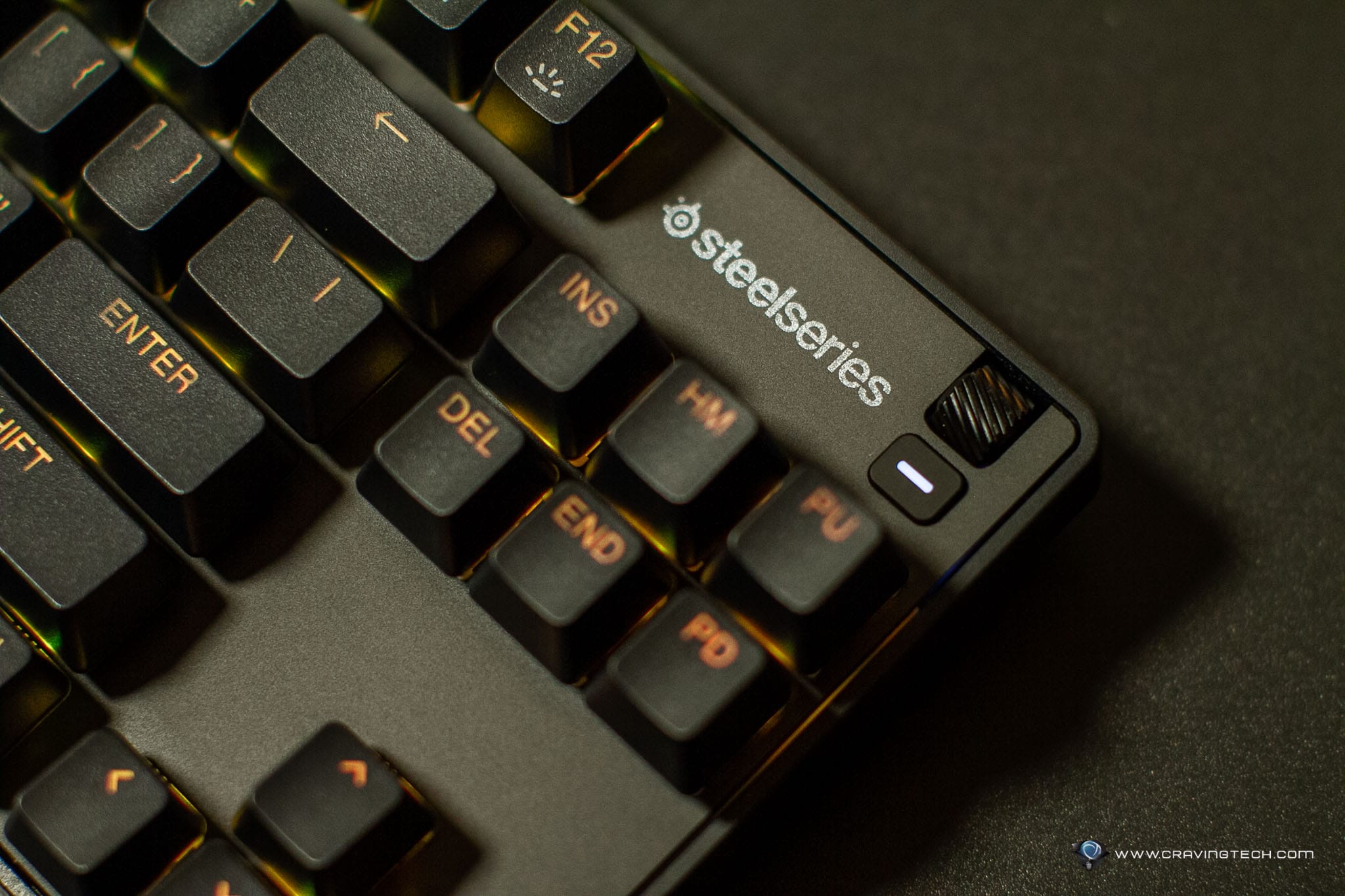 There are five pre-configured lighting profiles on the hardware itself but you can customise further through the software. The backlighting is bright enough if you like to play in a dark room and the RGB illumination is per key too.
As for the switches themselves, the Apex 9 TKL's OptiPoint Optical default switches I have here are Linear so they are not as bouncy and clicky as some mechanical switches you might've grown accustomed to. The switch has an actuation point of 1.0-1.5mm actuation point depending on the mode you switch to (Gaming or Typing). Switching to different modes can be done via SteelSeries GG software or directly on the keyboard.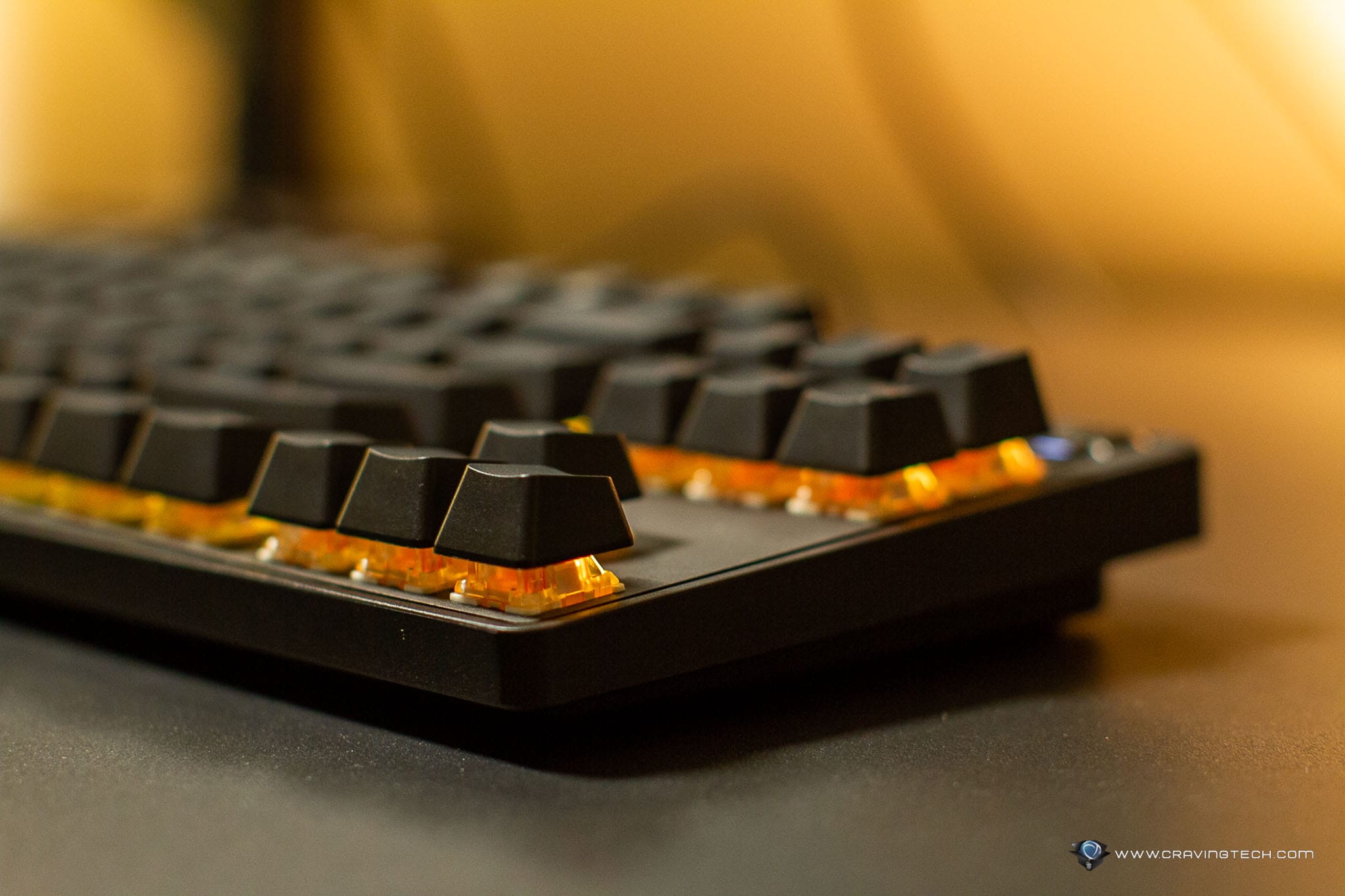 The switches work by utilising beams of light instead of mechanically, so you'll get a much faster reaction trigger. And with a lightning-fast 0.2ms response time, you get this high performance keyboard needed for those fast-paced, competitive games like Overwatch 2 that I play every night.
Typing on Linear switches doesn't feel as great as other switches I've used to on the other SteelSeries keyboards like the OmniPoint switches on the Apex Pro or OmniPoint Switch 2.0 on the Apex Pro Mini Wireless. But for gaming, they are flawless – just not as bouncy as I'd prefer it to be.
The switches are swappable though and a keycap puller is even included at the back of the keyboard if you want to swap some switches from Linear to Clicky or Tactile. In a sense, you can personalise the keyboard so that only W-A-S-D switches are tactile, etc. This degree of customisations will be loved by many, for sure. Note that this only works with SteelSeries' OptiPoint switches but considering that you are buying a SteelSeries keyboard, this makes perfect sense.
I honestly don't see any inaccuracies with my typing when I run the switches on gaming mode (i.e with 1.0mm actuation point) but if you frequently press some keys accidentally, it's great to know that you do have an option to rectify your typing behaviour. It's not as cool as SteelSeries' OmniPoint switches where you can manually adjust the actuation point per switch yourself. But hey, those switches are pricier and you may not really need that degree of customisations anyway unless you are an esport player.
SteelSeries Apex 9 TKL Review Conclusion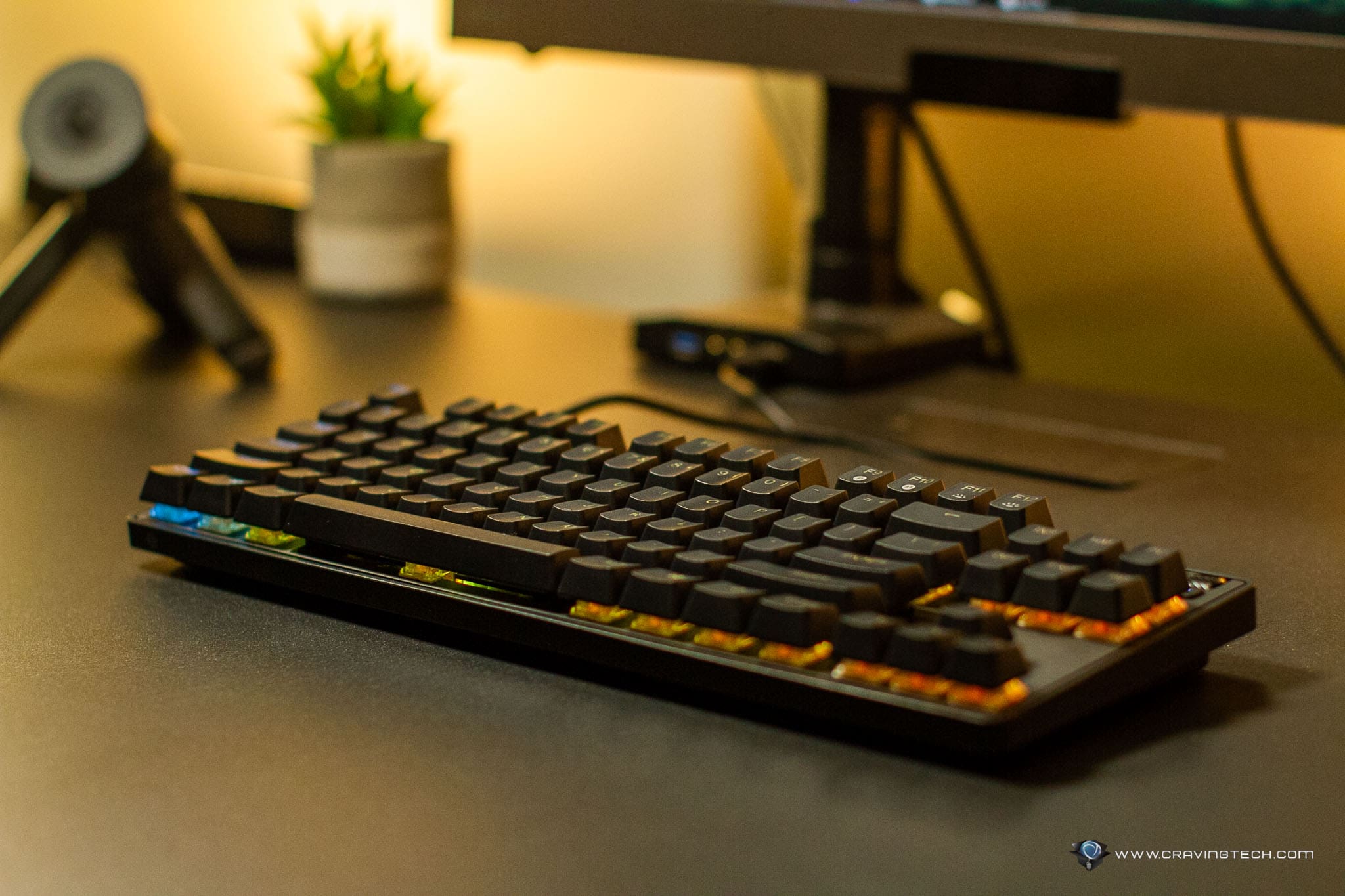 SteelSeries Apex 9 TKL is a wired gaming keyboard with SteelSeries OptiPoint Optical switches, offering adjustable actuation points between gaming and typing, i.e when you need those super fast response time or better typing accuracy. This can be done quickly and directly on the keyboard. You can even personalise your switches further and swap the switches here and there.
And if by any chance one of the switches has completed its life span many years ahead, you can just swap the individual switch rather than buying a whole new keyboard, saving you money in the long run.
The keyboard itself is well-designed with volume roller and media keys included, and has a solid construction even in this compact form. The USB-C cable is also detachable to make it easier for transport.
SteelSeries Apex 9 TKL retails for A$309 and is available now at retailers around Australia. Also at Amazon.
Note: SteelSeries Apex 9 TKL review sample was supplied for reviewing
SteelSeries Apex 9 TKL Review
Summary
SteelSeries' TKL keyboard comes with 2 Point Actuation switches adjustment in a compact form
Pros
Great design, durable in both the body and keycaps
OptiPoint Switches with 0.2ms response time, zero debounce 
An option to either switch to Gaming (1mm actuation) vs Typing (1.5mm actuation); a more affordable option than the fully-customisable OmniPoint Switches
Detachable USB-C cable
The switches can be swapped easily, with a keycap puller included
Has volume roller and an extra media key
Cons
Switches don't feel as good for typing
Can only swap switches to SteelSeries ones (OptiPoint switches)