SteelSeries Apex 5 Review – I've been using the SteelSeries Apex Pro as my main keyboard since early January this year. I'm in love with the "OmniPoint" switches the moment I put my fingers on them, and love how responsive and customisable they are. I also loved typing on those switches for coding and other desktop work.
However, Apex Pro does have a high price point at around A$349, so not many SteelSeries fans can probably afford it. However, if you've been longing to have a SteelSeries gaming keyboard to complete your collection without paying that much, then this is the right time to.
SteelSeries Apex 5 retails at A$219, so you can save the extra dollars to upgrade your mouse to the A$69 SteelSeries Rival 3 (which I just finished reviewing and in awe of its sensor performance) and still have spare money left in your pocket. While there's no doubt that the Apex Pro OmniPoint switches are much better compared to the Apex 5's hybrid switches, you still get a solid gaming keyboard from SteelSeries.
Packaging
Design & Features
The Apex 5 has a similar look and feel to the Apex Pro and Apex 7. The keyboard has a compact design, but can still incorporate many important elements like the numpad, an OLED screen, and even my favourite volume roller. It has a detachable, magnetic wrist rest, as premium as the Apex Pro.
Built with Aircraft aluminum alloy chassis, the keyboard is durable and sturdy. We should thank SteelSeries for not cutting corners in the area of craftsmanship.
Apex 5 also has per-key RGB backlighting, though I feel that the lights are not as bright as the Apex Pro. They still look amazing though on the desk.
The volume roller is a bit stiff but probably for a good reason because you can feel each rolling step for adjusting volume controls on Windows, for example – which I really like. I can also press that roller to mute sound instantly – perfect for those moments when someone calls you for dinner, or your roommate is trying to talk to you.
Speaking of roommates, they will hate you for this. The SteelSeries Apex 5 is equipped with Hybrid Blue mechanical gaming switches. Whenever you read "Blue mechanical switches", you know that they are loud. This is because they are meant to provide you with those tactile bumps and audible clicks for feedback as you trigger those keys while playing games.
If you play a lot of Real Time Strategy (RTS) games like Starcraft for example, these audible feedback are really handy to improve your APM (Actions per Minute). Through these "clicking" sound, your brain knows you have triggered the last action you asked the keyboard to and can execute the next without any visual cue.
Apex 5 is a combination of membrane switches (or rubber dome) and Blue mechanical switches that you can read over at SteelSeries blog post. It's the part where the savings come from, but SteelSeries are still using mechanical switches as the base. The hybrid switches have 2mm Actuation Point, 4mm to the bottom – which are the same specs to CherryMX Blue switches.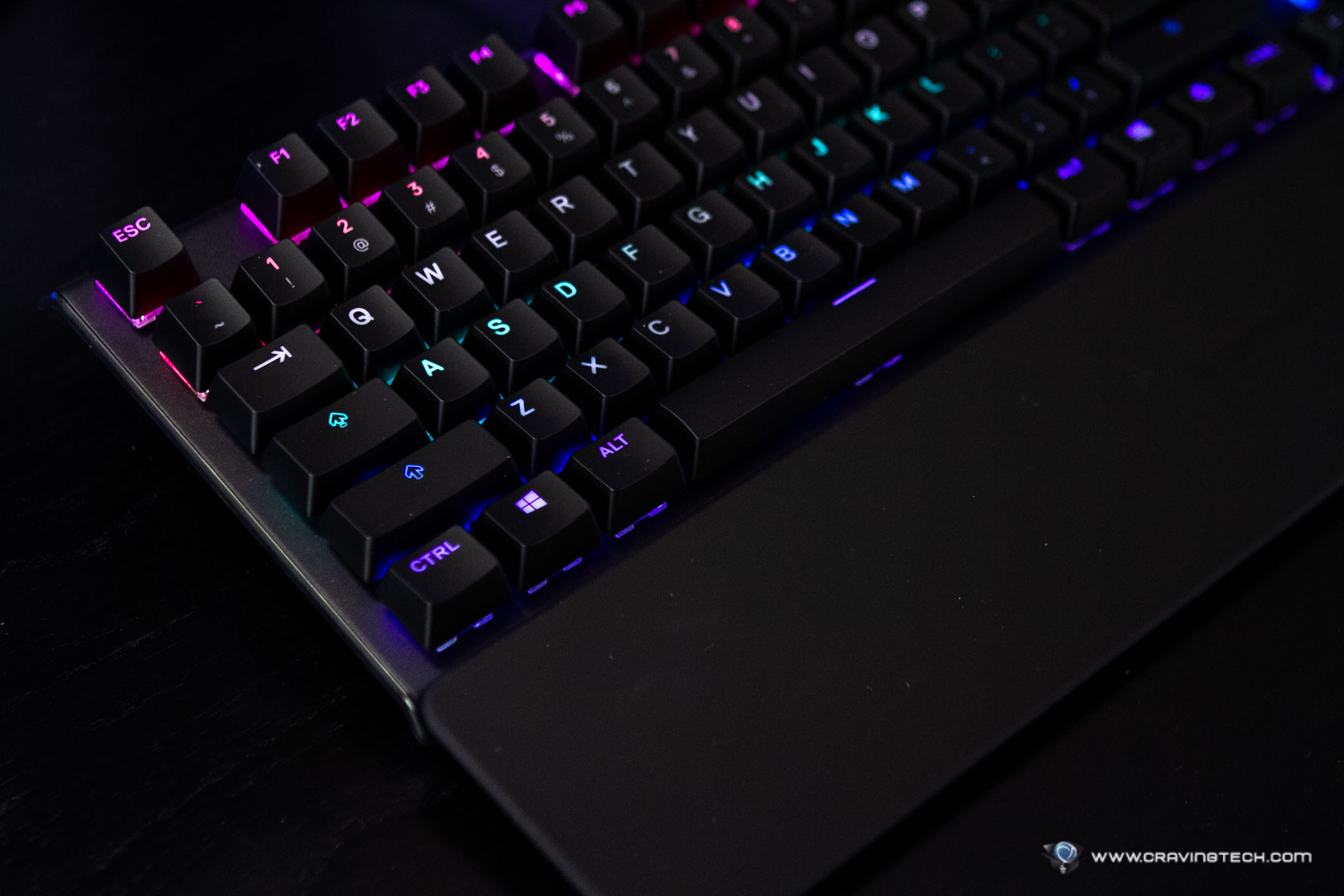 The feel and sound of the switches are just different, especially after using Apex Pro OmniPoint switches. However, the switches are definitely mechanical but with some membrane switches feel on them (it's quite hard to describe). At times, I can hear some squeaky sound coming from the switches as I type (that I wouldn't hear normally otherwise). And I tell you, these switches are loud!
I know people who love Blue mechanical switches and those who hate them – so it comes to your preference, really.
SteelSeries Apex 5 Review Conclusion
As a gaming keyboard, SteelSeries Apex 5 is a rock, solid keyboard. It has durable chassis, cable routing, solid hybrid switches, per-key RGB lighting, premium-detachable-magnetic wrist rest, and even dedicated multimedia controls with a handy roller. The OLED is a nice touch though I think they can further cut the cost down without it.
If you are a fan of Blue mechanical switches and the loud audible clicks they produce, SteelSeries Apex 5 is definitely recommended if you are on budget. But if you can spare an extra A$130, I'd highly recommend going for the SteelSeries Apex Pro instead unless if you want those loud, audible clicks from Blue switches. Or even the Apex 7.
SteelSeries Apex 5 is available at many retailers around Australia for A$219.
Disclosure: SteelSeries Apex 5 review sample was supplied for reviewing but all opinions are mine and not paid
SteelSeries Apex 5 Review
Summary
Hybrid mechanical switches make the Apex 5 affordable, but still performs as they use real mechanical switches within
Pros
Solid and durable frame
Compact design on the desk, with optional premium wrist rest
Feels premium even at the price
Loud, audible feedback of switch triggers
RGB backlighting, profiles, etc
Love the multimedia control roller, every keyboard should have it
Cons
No macro keys
No USB pass-through
Not a fan of the occasional squeaky sound on the hybrid switches