SteelSeries Apex Pro Review – SteelSeries' latest flagship mechanical gaming keyboard, the Apex Pro, has a very unique feature that other brands don't: adjustable mechanical switches.
While most traditional mechanical gaming keyboards would normally advertise having specific mechanical switches (whether CherryMX or custom-made switches) with specific specs.
However, SteelSeries Apex Pro takes these further by using "OmniPoint" switches which offers fully adjustable actuation point and you'll love it.
Packaging & Unboxing
Design & Features
SteelSeries Apex Pro simply looks stunning and amazing. It has a full keyboard design but SteelSeries designs the body to be as compact as possible to fit even the most challenging desks (i.e the body does not waste any unnecessary space). Made with aircraft grade aluminium alloy, the keyboard feels really sturdy too.
The palm rest is smooth, magnetic and looks very modern & sleek, unlike most other keyboard palm rests.
There are dedicated media controls through a volume roller to increase or decrease volume, plus other controls. The roller is also clickable. These can then be used for other things as well like customising the switch actuation point distance, changing backlighting brightness, and more. All this thanks to the OLED screen that displays information next to it.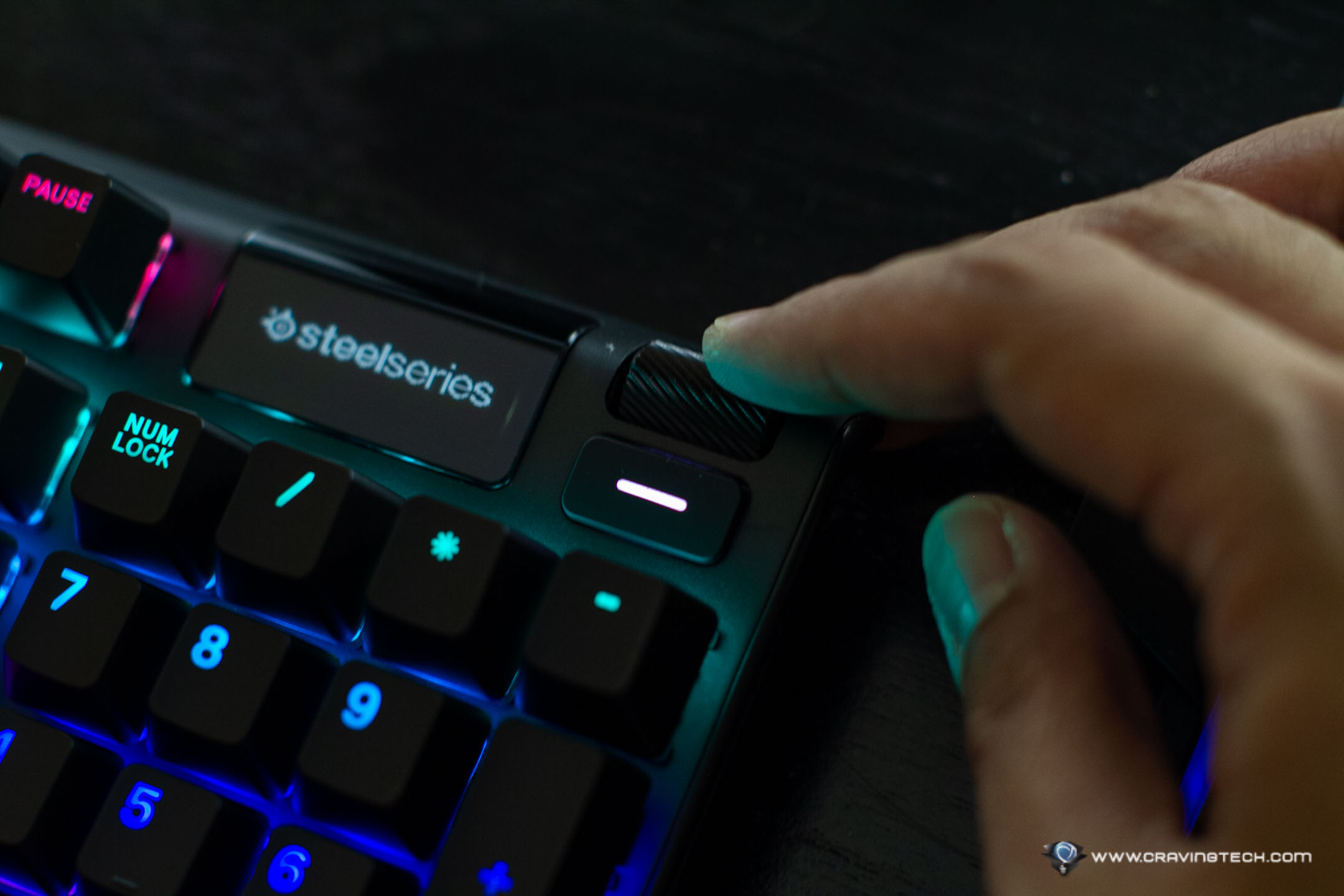 It's a quick way to access many options like your profiles, macros, etc without having to do an alt-tab and open SteelSeries Engine on Windows.
If you play games (doh?), you can also access many cool information about your games like your kill-death ratio in CS:GO on the OLED screen. As cool as this sounds, I've never ended up using it as the screen is a bit out of sight for me (wish the OLED screen can be tilted).
At the bottom of the keyboard, there are three cable routing options for better cable management. For example, most people would have a monitor at the center of the desk so it makes more sense to route the keyboard cable off-center. Love this, SteelSeries. Why can't other brands do the same?
SteelSeries Apex Pro also has an illuminated USB passthrough located on the top left of the keyboard. Heck, the design team even made a passthrough port with style. Sure, the light doesn't do anything but it's just pretty to look at. I plug my Sensei Ten that I'm still reviewing here.
Overall, the keyboard screams for prestigious and meticulous design and we love it to the max.
OmniPoint Switches – How good are they?
When I first stumbled upon Cherry MX Speed switches on the CORSAIR K70 RGB RAPIDFIRE with 1.5mm actuation points, I made a few accidental presses in game due to how sensitive the switch felt. After getting used to that, CORSAIR then upgraded their switches to 1.0mm actuation points on the K70 RGB MK.2 LOW PROFILE.
And now, SteelSeries Apex Pro comes with 0.4mm actuation point switches (if you set them so) – which is mind-blowing to see how fast the response times of these switches are.
But the best thing is that you don't have to fix yourself on a specific actuation point on the switches. They are fully customisable PER key switch, yes, you read this right. You literally can change all switches to 0.4mm actuation points, or set specific keys like WASD differently than the rest.
I love it when keys are registered as quick as possible in game, because any milliseconds wasted can mean life and death. In fast-paced games like Overwatch for example, being able to execute your ultimate skill at the right moment is crucial. While you can try setting your "Q" key to 0.4mm actuation point, you can also set it higher (up to 3.6mm) if you find that you accidentally press the key too often.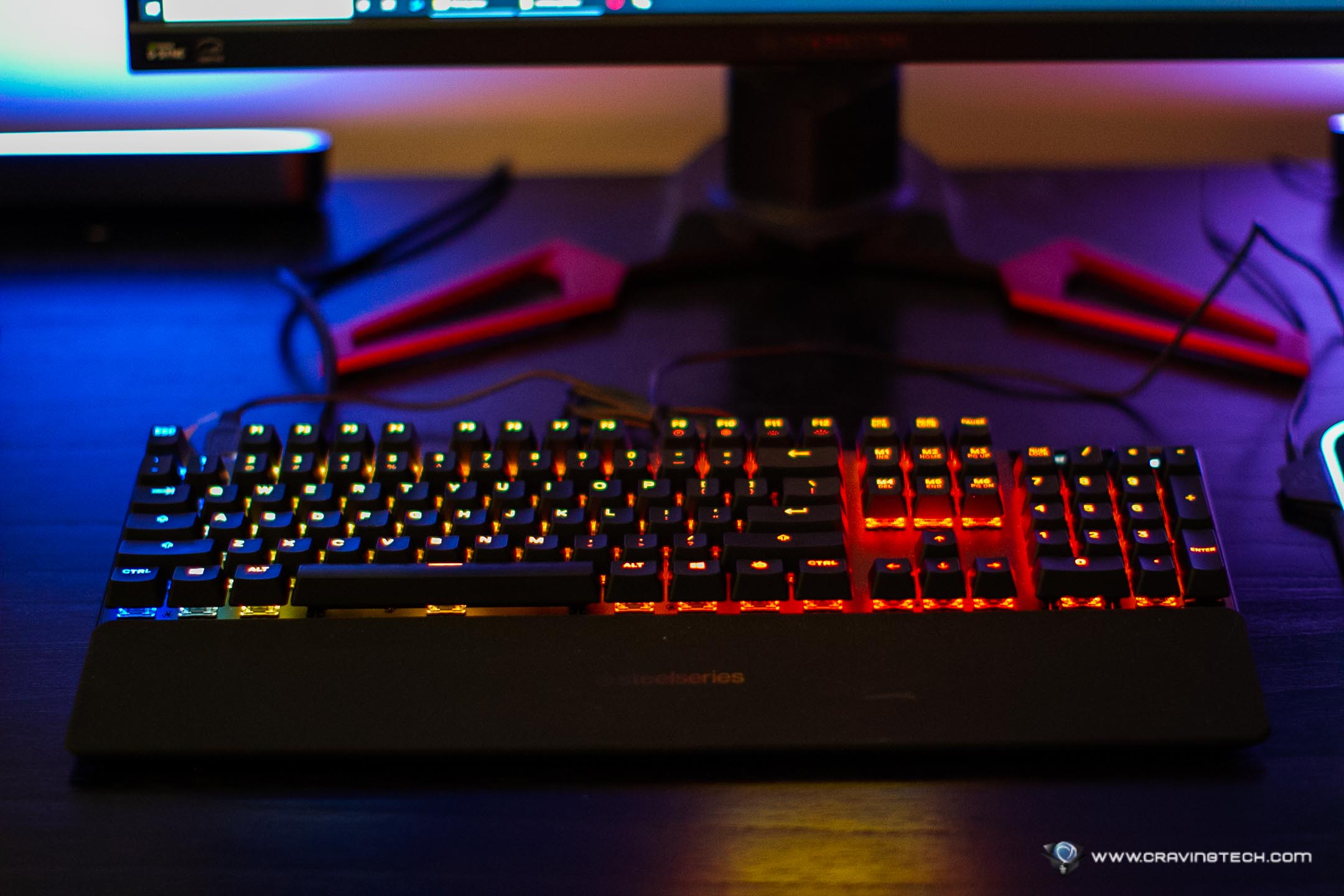 0.4mm actuation point is almost touch-sensitive and if you don't like the feel for typing, you can always create a profile with different actuation points so you can have a deeper, tighter press before the key registers.
I ended up having all keys with 0.4mm actuation points except for the "Q" key in Overwatch as I don't want it to trigger accidentally so I set it a little bit higher. I used a handy Notepad to feel how sensitive I want my keys to be. I also hate having to press the "Shift" key hard with my pinky, so I want the actuation point to be as sensitive as possible.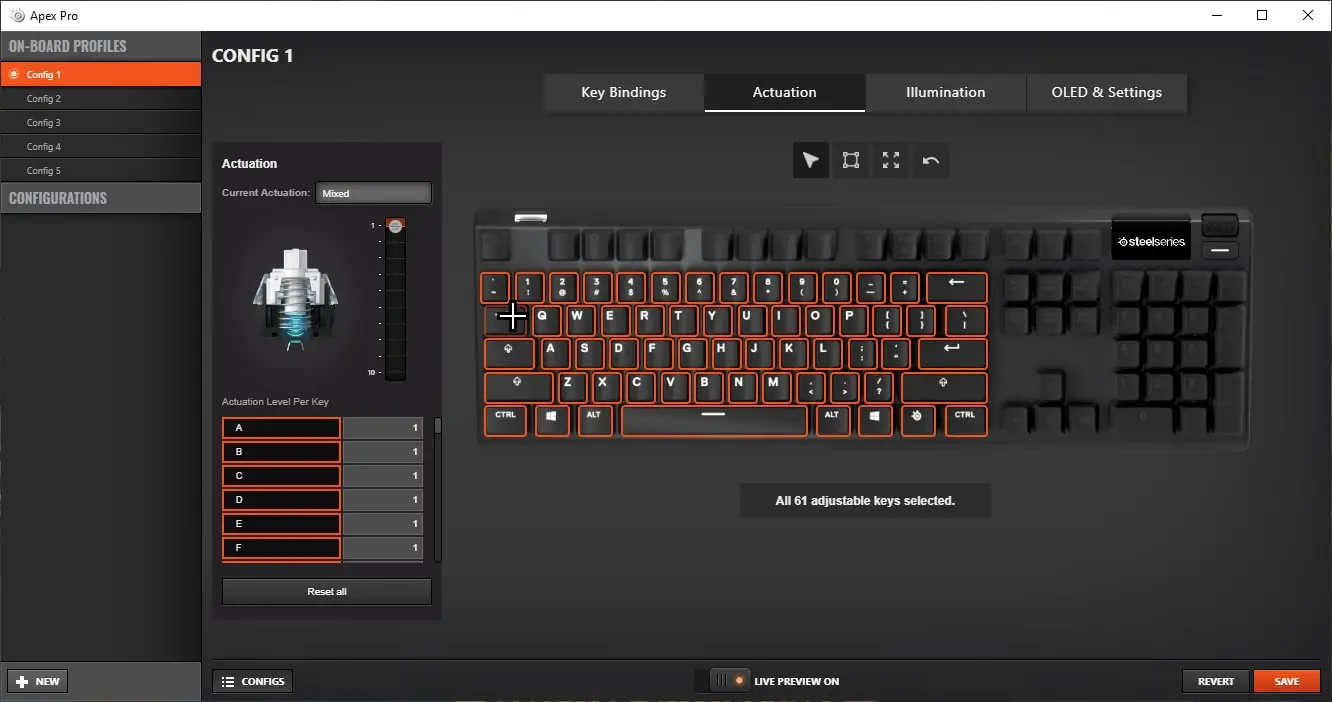 All these actuation customisations can be done easily through the SteelSeries Engine where you can just select all supported keys to start with, and then alter some like WASD keys to have lower actuation points. The app uses a scale 1-10 for the sensitivity.
Also note that not all keys on the keyboard are OmniPoint switches (most likely to cut the cost down). The F-keys and keypads, for example, are not.
Apex Pro OmniPoint switches don't feel like a CherryMX Blue or Razer Green tactile clicks, but more towards a smoother CherryMX Red or Speed. So if you want bouncier switches with prominent clicky sounds like the CherryMX Blue, you might not like the OmniPoint switches.
SteelSeries Apex Pro Review Conclusion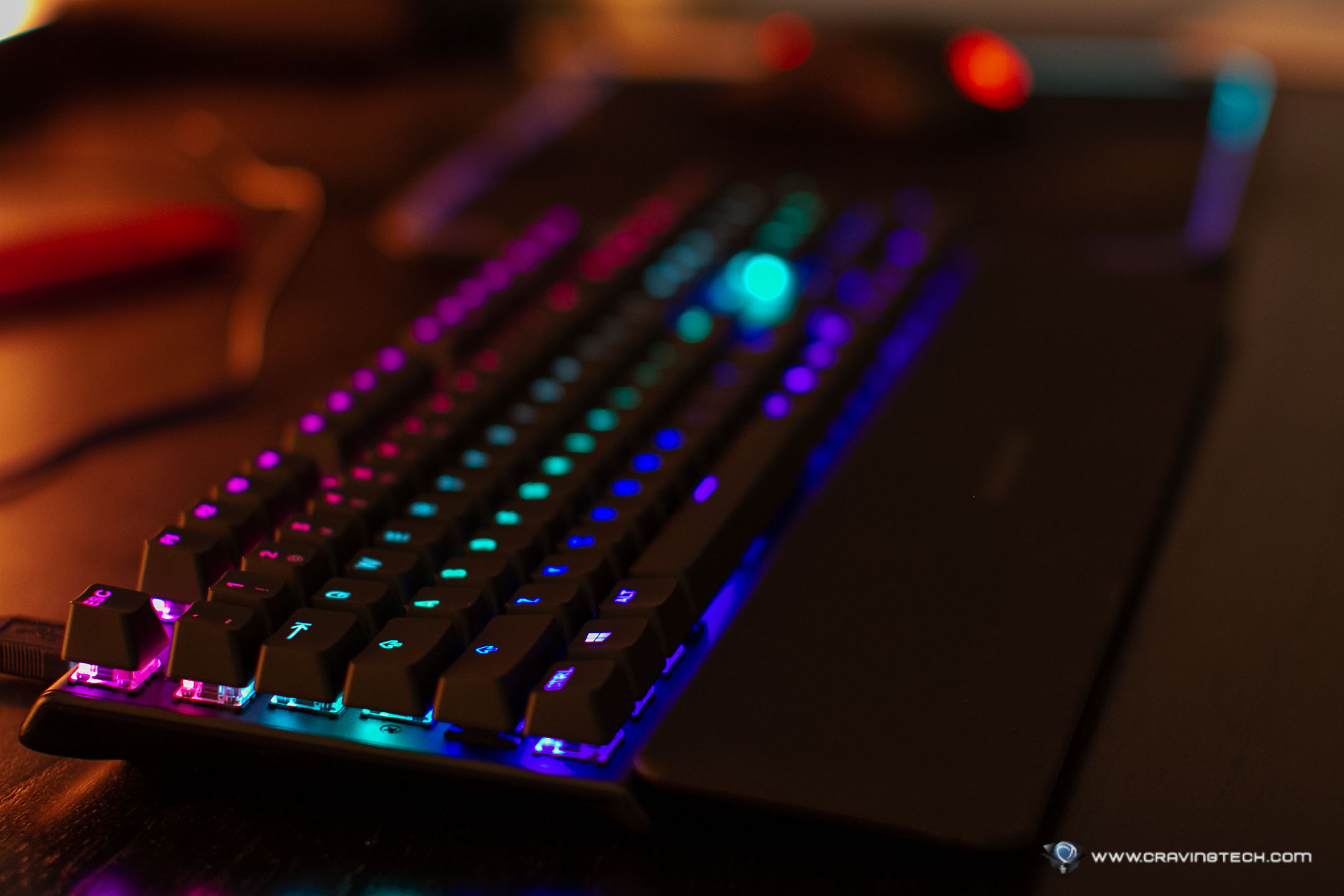 SteelSeries Apex Pro tries to be the SteelSeries' best flagship mechanical gaming keyboard and it's successful at that.
It has a very durable construction, per-key RGB illumination, magnetic premium palm rest, and a luxurious & modern feel.
The OmniPoint switches are definitely the main highlight of the show and we love them. These switches have the fastest response times in the market and also the most durable with 100 million keypresses.
Premium look and feel, durable construction, media controls, OLED screen, RGB illumination per key, palm rest, and the fastest response switches. SteelSeries Apex Pro has it all. It's definitely SteelSeries' best mechanical gaming keyboard to date.
Having the SteelSeries Apex Pro mechanical gaming keyboard makes you feel like you really have your own, personalised keyboard. You can adjust the actuation points to your preference easily through SteelSeries Engine, striking a good balance between experience and execution.
Your keyboard, your call. And that's the beauty of SteelSeries Apex Pro with OmniPoint switches.
SteelSeries Apex Pro is available now for AU$319 at many retailers around Australia and SteelSeries.com. Also available at Amazon.
Disclosure: SteelSeries Apex Pro review sample was supplied for reviewing but all opinions are mine and not paid
SteelSeries Apex Pro
Summary
SteelSeries' best flagship mechanical gaming keyboard so far with adjustable mechanical switches and other goodies
Pros
Great design, material, and feel
Fastest mechanical switches in the market
OmniPoint switches' actuation point can be fully customised
Love the roller key to easily adjust volume control
Easily detachable Palm rest (magnetic)
Cons
Cool OLED screen, but not very useful
Pricey