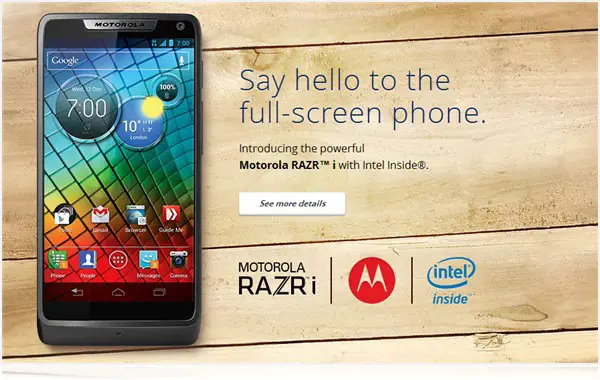 The Motorola RAZR™ i, being marketed as a "full-screen" smartphone by Motorola, houses an Intel® Atom™ processor with 2.0 GHz speed. It also has a Super AMOLED 4.3-inch screen with virtually no border. That means you'll have a much bigger screen to be used for browsing and other viewing pleasure.
With such a huge screen, browsing or watching videos on the Motorola RAZR™ i will give you a wonderful spacious feeling, if you are into using smartphones of that size. I personally think it's awesome to be able to view and edit your photos on it too with the right app. However, you may find it a little bit uneasy to use with just one hand as you need to jiggle the phone a bit to reach the top corners.
The Motorola RAZR™ i is powered by 1 GB RAM with 8 GB of internal storage. You can extend the storage further by grabbing a microSD card (up to 32GB supported and swap some cards around if you need to access different files and such).
It also has an 8MP rear camera and 0.3MP front camera for self-portrait or making video calls. According to the product specification, the camera can snap 10 pictures in less than a second – allowing you to snap those important moments with ease.
The Motorola RAZR™ i is running on the Android Operating System.
Here is a short promotional video on the Motorola RAZR™ i:
Note: This post is sponsored by Motorola