Note: This is a guest post written by Dwayne Thomas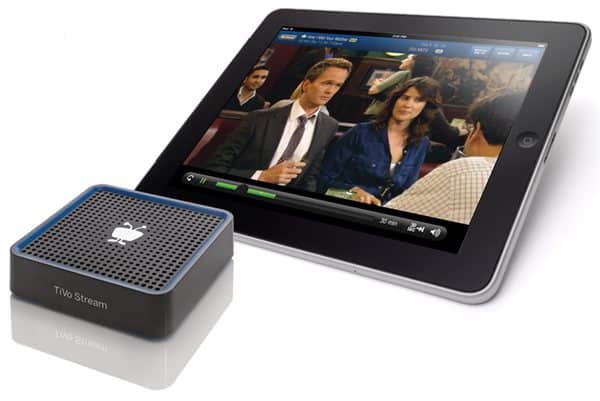 TiVo is making a play for your iPad. A new piece of hardware called the TiVo Stream allows you view and record TV on your mobile device.
TiVo is entering an increasingly crowded field; after all, there are already a number of ways to watch TV on smartphones and tablets. Let's examine the pertinent details of the Stream, and see how TiVo measures up, and where it might fall short.
Streaming TiVo to your iPad
Flexible Live TV.
The TiVo Stream allows you to view live streaming of whatever TV channels you already get, and even allows you to watch a different channel on your device and your TV.
Turn Your iPad into a DVR.
The TiVo Stream also lets you record programming to your device. Because it's a transcoder, the media will be "compressed" to take advantage of more efficient streaming and smaller file sizes. In other words, it will be easier on your connection and your storage space.
Quality Assurance?
The downside of compression is that your HD programming won't end up the same high quality by the time it gets to your mobile device. TiVo doesn't give any specifics on the resolutions or file formats, so even SD (standard definition) programming might take a hit in picture quality.
Some Assembly Required.
The TiVo Stream is not a standalone device; it requires a connection to the TiVo Premiere set-top box. This may be a "con" if you're not already a TiVo customer, especially given all the other streaming options.
Other streaming options?
Yes, several, including apps from major cable tv and satellite providers such as Comcast, Time Warner, Cablevision, DirecTV, and Dish Network. Then there's the TV shows offered by online video services such as Netflix, Hulu, and Amazon. And finally, the other set-top box and Smart TV solutions from Roku, LG, Google, and Apple themselves. There isn't much chance that you don't already have access to one or more of these services, and TiVo Stream doesn't really do On Demand. But in TiVo's defense, not all provider apps will stream all their channels, nor do they all offer DVR functionality.
Lights Out.
Nearly all of the aforementioned streaming services have had run-ins with the content providers. Viacom, in particular, absolutely hates streaming and has pulled programming from many services (from Time Warner's app to YouTube) while the respective lawyers work things out. TiVo has felt some pressure because of the "time-shifting" impact on ad revenue, and the addition of a streaming option could further enrage TV programming providers. Expect some temporary or even permanent gaps in the channel lineup.
All-in-all, we're excited by the potential of TiVo Stream to give us alternate ways to watch the TV channels that we're already paying for. You get the option to record your favorite shows to your iPad (or whatever you use) for more convenient viewing later, and/or at least the chance to watch something else when other people are hogging the main TV.
Note: This guest post was written by Dwayne Thomas. a tech enthusiast and staff writer for cabletv.com.  He welcomes your feedback on Twitter @DwayneThomas15.
[AMAZONPRODUCTS asin="B008RWHC0E"]