Note: This is a guest post written by Sohail Qaisar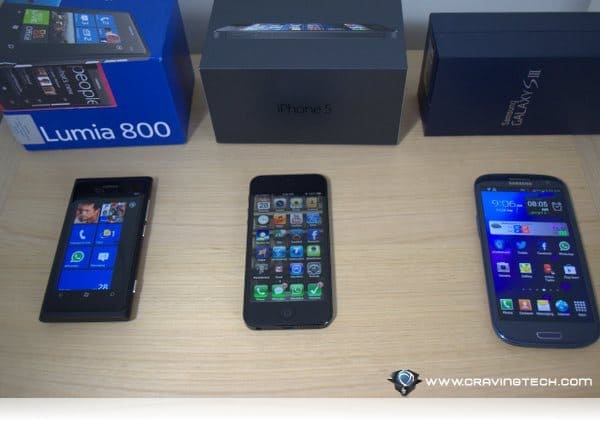 A comparison of the key features that major mobile operating systems offer – When it comes to finding a one-size-fits-all mobile operating system, it can certainly be a frustrating struggle, and the user might end up buying brand new mobile phones to fulfill their connectivity requirements.
Understanding connectivity is of significance here as it could mean anything from just sending/receiving calls and text messages to browsing the internet, playing games and performing smart computing tasks.
Android OS
Google's open-source mobile operating system has climbed its way rapidly to the top, occupying around 65 per cent market share globally. Being the preferred choice of techies, it allows them to tweak their mobile phones and customize user experience to the max. It also provides several features that appeal to beginner-to-intermediate users as well, for instance its strong integration with all Google services.
User interface — Android offers a touch- based UI, but it's not always as impressive as iOS due to bad management of threading. Android's 'Project Butter', however, claims to have resolved this issue and works much more smoothly, but could still be improved to catch up with the swiftness of iOS and Windows Phone. However, Android's widgets and custom home-screens offer a way more personalized experience as compared to iOS.
Security — Since Android is based on the Linux platform, it's natively more secure than any Windows-based Mobile OS. Additionally, its integration with Google services helps it offer even better security. However, its popularity has made it vulnerable to more mobile malware. Also, rooting the phone is likely to make it vulnerable to more security breaches.
Ease of upgrade — Upgrading Android is quite easy, usually a matter of a single download and a few clicks. Usually a phone is offered not more than one or maximum two upgrades from the manufacturer, but then Android phones are easily 'rooted'.
Development — Android's software development kit comes with an Android emulator, which gives developers the opportunity to develop apps without actually owning an Android phone a feature that is attracting more and more people to Android. Furthermore, Google has given the freedom for everyone to create apps and upload them on the Google Play market place.
There's no filtering used to select the apps, which often leads to malware-infected apps making it to the market place. However, Pakistan is not among the countries from where merchants can sell apps. As a result, Pakistani developers get their apps uploaded through intermediaries in other countries who usually keep a certain percentage whenever that app is sold
iOS
Being one of the oldest market players, it has now fallen behind Android in terms of market share, but it is undoubtedly among the top used mobile operating systems. However, it has not been offering much innovation lately and both iOS 5 and iOS 6 were a disappointment from the innovation perspective. Strengths of iOS include:
User interface – Users find iOS interface intuitive, user friendly and smooth as compared to that of Android.
Security – iOS is generally considered to be more secure than Android, with an interactive permission-based access control for applications and a mandatory approval during the process of installing an app. However, jail-broken iPhones are vulnerable to malware because exploits used to jailbreak iOS could be used by hackers to attack.
Ease of upgrade – Upgrading iOS is a simple procedure, just like Android. It can either be upgraded using the update feature and following step-by-step instructions, or using OTA (over the air) communication. iOS devices which are a few makes old cannot upgrade to the latest version, but newer upgrades of apps continue to support older versions of i0S.
Development — Apple allows only those applications to be shared in their App Store that meet certain criteria. Also, iPhone apps can only be sold through the Apple market place. An increasing number of developers from Pakistan are choosing to create iPhone apps as the policy of Apple allows them to directly upload their apps to iTunes.
Windows Phone
Microsoft is potentially not behind in this race, even after entering the market late. Windows Phone 8 is the latest mobile OS launched by Microsoft, and it is slowly and gradually taking over
the BlackBerry share because of the features discussed below:
User interface – Windows mobile OS has what Microsoft calls a linger-friendly' user interface. It has pretty smooth navigation and a single click could trigger an entire operation, which gives Windows Phone an edge when it comes to speed. Its feature 'Live Tiles' is also a popular one as it allows users to get real time updates from various apps, all in one place – the home-screen.
Security – Windows mobile offers a feature to define security policy for a phone, which decides the rights to be given to different sets of applications. It also allows over-the-air device management, which basically is managing the device remotely through a centralized location, and allows remote wiping of compromised devices as well.
Ease of upgrade – Upgrading to the latest version in Windows Phone might lead to disappointment at times, just as it has in the case of Windows Phone 8. The current versions of Windows Phone could not be upgraded due to some advanced hardware requirements. However, WP 7.8 is going to be released for existing hardware and it will contain some of the features of WP 8.
Development – None of the other mobile operating systems can really beat the IDE (integrated development environment) and development tools provided by Microsoft for Windows Phone. However, it still lags behind when it comes to applications, as not many apps have been created for Windows Phone as of yet.
BlackBerry OS
RIM's BlackBerry OS is the oldest choice of executives who live and breathe with e-mails. Push e-mail technology is the primary reason of BlackBerry's popularity.
User Interface – BlackBerry's user interface is e-mail friendly, but could be considered average otherwise.
Security – The Blackberry OS can be relied on for secure corporate usage, especially secure e­mail. BlackBerry OS 7 was rated the most secure mobile operating system earlier this year. BlackBerry OS 10 is also said to offer multi- layered security that applies on both software and hardware label.
Ease of upgrade – Like Windows Phone, the BlackBerry OS is not allowed to get upgraded from 7 to 10 either. This makes upgrading less flexible.
Development – Since BlackBerry is used mostly by executives, not much development work has been done on its apps.
Note:  This guest post was written by Sohail Qaisar mostly writes on technology review, he is also contributing useful material on different software training, send him an email on [email protected]
[AMAZONPRODUCT=B007VCRRNS]
[AMAZONPRODUCT=B0097CZBH4]
[AMAZONPRODUCT=B007XVOXG6]