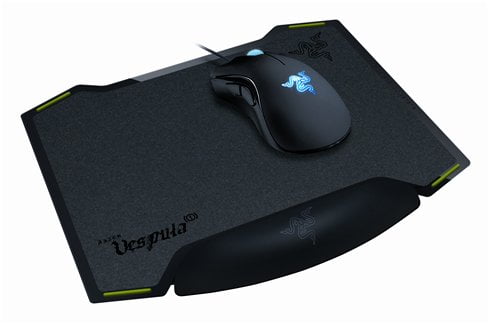 Razer, the world's leading manufacturer of gaming peripherals just announced the launch of Razer Vespula today. No, it's not another gaming mouse, but close. Razer Vespula is a lightweight, gaming grade mouse pad. It is kinda unique because it's a dual-sided design, complete with a wrist rest. It's been years since I've been using a wrist rest so I'm really keen to try this on and also to find out whether the pad is better than my Razer Goliathus. I've been confirmed by Razer for a review unit coming my way from Razer in a week time so stay tuned for the arrival!
Below is the official press release from Razer.
RAZER VESPULA™ GIVES GAMERS THE BEST OF BOTH WORLDS WITH AN ADVANCED DUAL-SIDED SURFACE
Carlsbad, Calif. – Jan. 19, 2010 – Razer™, the world's leading manufacturer of high-end precision gaming and lifestyle peripherals, today announced the Razer Vespula, a lightweight, gaming grade mouse mat. The dual-sided design of the Razer Vespula provides gamers with the choice of a Speed Surface for faster mouse movements or a Control Surface that picks up even the most precise of mouse movements.
"The Razer Vespula was designed with gamers in mind that need a single solution for every game they play. Different genres call for different gameplays. The advanced technology in the improved dual-sided mouse mat gives gamers the choice of a smooth Speed Surface or a textured Control Surface, which delivers just that flexibility," said Robert "Razerguy" Krakoff, president, Razer USA. "The Control Surface is great for gamers that use small, precise movements, while the Speed Surface is an ideal match for gamers that prefer large, sweeping motions."
The Razer Vespula enables extended gaming sessions with a gel-filled memory conformance wrist rest for top performance without fatigue or potential strain and comes with the proven sturdiness and extra durability of its prequel the Razer eXact Mat.
About The Razer Vespula
The Razer Vespula Gaming Mouse Mat is designed to give gamers comfort, choice and performance in even the most demanding of gaming conditions. Constructed with a matte, non-slip hard coat and an enhanced dual-sided design, the Razer Vespula provides gamers with the choice of a Speed Surface or a Control Surface. The Speed Surface is designed for smoother, fast-paced action that maximizes freedom of movement with a slick finish, while the Control Surface provides tactile feedback with a coarsely textured surface that is best for ultra-precise movements. The Razer Vespula also comes with a memory conformance wrist rest for long-lasting comfort, even during extended gameplay.
Razer Vespula
COST: US $34.99; EU €34.99
AVAILABILITY: Worldwide
Product Features:
Matte, Non-slip Hard Coat
Advanced Dual-sided with a Speed Surface for faster mouse movements and a Control Surface for precise mouse movements
Memory Conformance Gel Wrist Rest
Abrasion Resistant