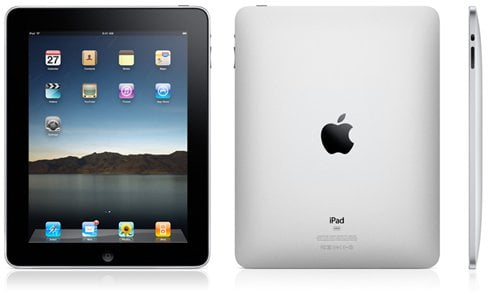 Ugh! How I want to pat the iPad! It really looks sleek and cool (you've got to watch the video below this post). Apple's CEO, Steve Jobs, announced the availability of the iPad on Apple's special event today.
iPad Specifications
Height: 9.56 inches (242.8 mm)
Width: 7.47 inches (189.7 mm)
Depth: 0.5 inch (13.4 mm)
Weight: 1.5 pounds (.68 kg) Wi-Fi model; 1.6 pounds (.73 kg) Wi-Fi + 3G model
iPad Features
Easy web browsing with Safari combined with your finger. This takes browsing to the next level with touch screen mobile devifces.
Check and Write emails easily and intuitively. Since you can carry the iPad around, you can always check emails where ever you are, when ever you want to.
Share and Store photos. Easily share photos with others online, even on social media pages.
High quality display for watching Videos. Large screen, good resolution, what else can you ask for?
Many many more on Apple's iPad page!
I guess the video speaks much better than I do about what iPad actually is. Have a look at the video here:
Apparently not many people are interested with the iPad as forums are filled with both "Yays" and "Nays". In fact, a funny video about iPad back in 2006 has made its way in YouTube, far before the Apple's conference: