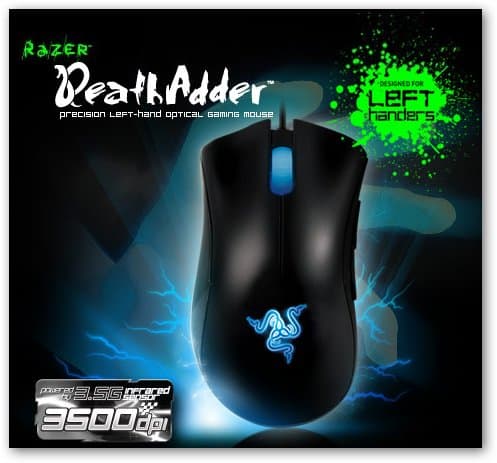 Razer just announced today the left handed version of its most popular mouse, the DeathAdder. So if you've been a left hander biting your nails looking at those shiny new ergonomic gaming mouse for right handers, this is your chance! No more going to a shop and get an ambidextrous mouse for your gaming needs. Now you can have one of the best of the best for gaming!
About Razer DeathAdder Left Handed Edition
The Razer DeathAdder Left Hand Edition is the world's first gaming grade mouse for left-handers. Rest assured that because it is crafted solely for you left-handers it will erase all doubt that a right handed gamer might have an edge because of the mouse he uses. The Razer DeathAdder has been the weapon of choice for gamers seeking a combination of comfort and unbridled gaming precision for a long time. And since the difference between victory and defeat is determined in a heartbeat, nothing must slow you down. The 3500dpi Razer Precision™ 3.5G infrared sensor translates your every movement into frags with pinpoint accuracy. Enjoy extended gaming sessions in comfort with a mouse crafted for the elite world of competitive gaming.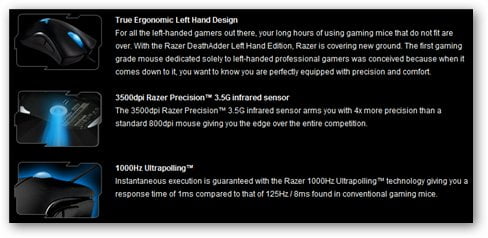 Razer DeathAdder Left Handed Product Page
[AMAZONPRODUCT=B003BIFI6E,B002Q4U5DK]