As gorgeous as the new iPhone 12 Pro Max is, you don't want to scratch or chip the screen for sure. It's an expensive piece of device and since you'll be carrying it everyday, chance is that you'll have an accident at some point.
But with these protective cases and screen protector from EFM, you should feel safer. And while you are this article, also check their variety of charging accessories.
EFM Cayman case (with D3O® 5G Signal Plus)
If you've got the new iPhone 12 Pro Max, you definitely want to make sure that you can utilise 5G to the fullest. Apparently, 5G is quite sensitive and having cheap, thick cases might hinder your 5G experience. This case, however, is integrated with D30 5G Signal Plus that allows 5G signal to pass through the case to the device, reducing signal loss by up to 37%, according to EFM.
This is personally my favourite case that I'm using at the moment, replacing my Otterbox Symmetry Clear case. It has a slim design and also lightweight (iPhone 12 Pro Max is already heavy as it is so I don't like thick & heavy cases).
Apparently, the case is tough and had been 6M (6 metre) drop tested, plus it has PC backplate with anti-scratch and anti-UV coating. The back is clear too so you can showcase your new iPhone freely.
I also like that the buttons are still easy to press and responsive, because other protective cases tend to make button pressing much stiffer.
EFM Cayman retails for A$69.95.
EFM Aspen case (with D3O® 5G Signal Plus)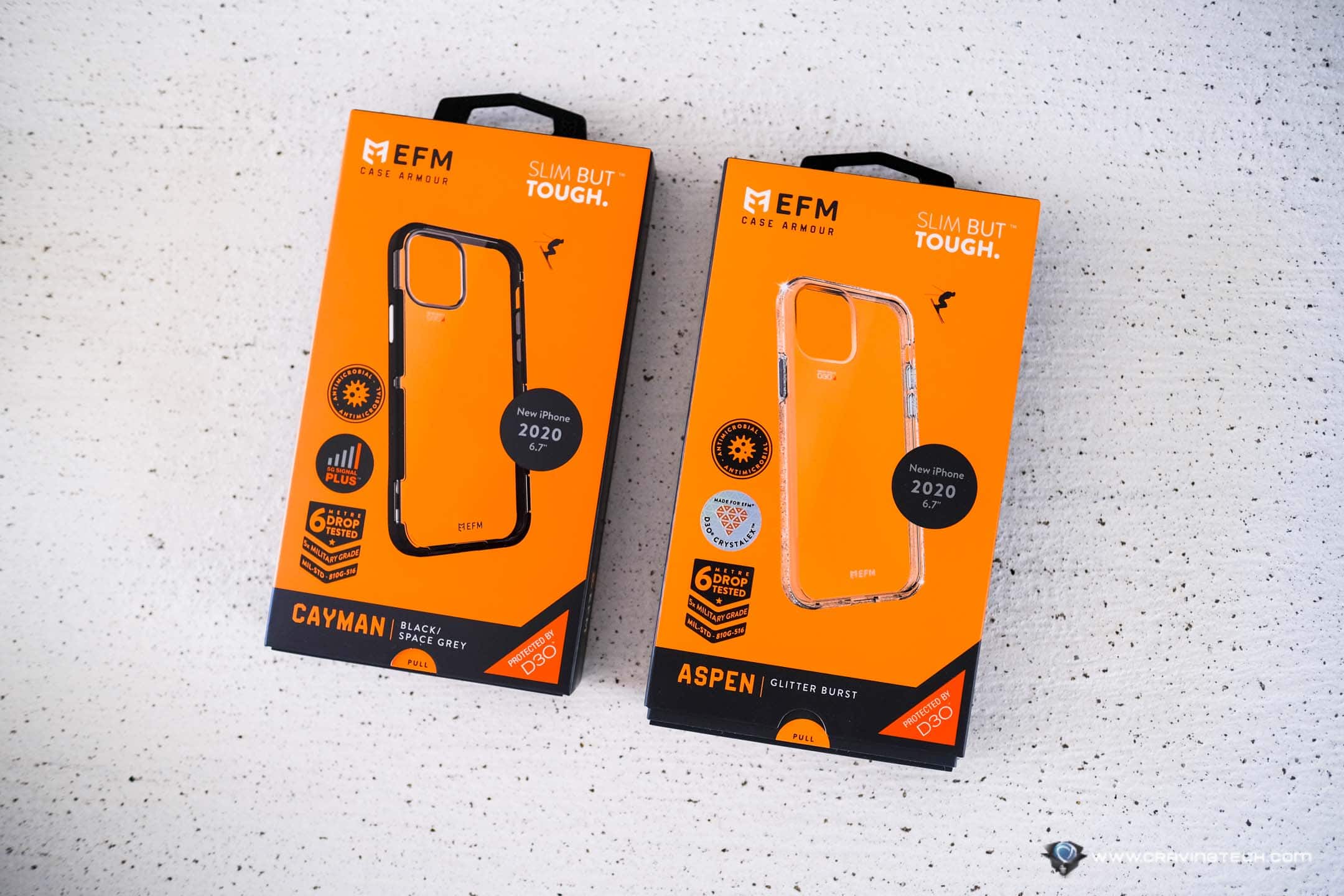 Similarly, the EFM Aspen also utilises D30 5G Signal Plus to ensure you have the best 5G experience. It has a slim bumper of 2.9mm thickness and a slim back plate of 1.5mm thickness.
It's also been 6 metre drop-tested to MIL-STD-810G-516.
The case has a unique, reinforced camera flash ring to prevent camera lens damage. If you tend to use the flash a lot, this case might be the one for you if you want that peace of mind.
EFM Aspen retails for A$59.95 and if you like glitter, there's a version of it too.
EFM TT Sapphire+ Clear Screen Protector
EFM TT (True Touch) Sapphire+ Clear Screen Protector has a scratch-proof Sapphire coating and high impact rating, as crazy as that sounds. With Sapphire hardness coating, the screen protector offers maximum protection from scratches and scuffs.
An applicator is also included to help you apply the screen protector on your own. I also like its design that doesn't "highlight" the iPhone's notch like the Belkin UltraGlass screen protector.
EFM TT Sapphire+ Clear Screen Protector retails for A$49.95.
EFM 30W Ultra Fast Wall Charger
This EFM Wall Charger has a total output of 30W of power, spread into two ports. The first port is a USB-A port with 12W output and the second is a USB Type-C port with 18W output. You can charge two devices simultaneously.
It features the ultra-fast USB PD (Power Delivery) technology that intelligently determines the perfect output needed by your devices. This prevents overcharging and reduces wear on your phone's battery.
The packaging includes a 1 metre USB Type-C to Lightning cable so you can use it straight away with your new iPhone 12 Pro Max.
EFM 30W Ultra Fast Wall Charger retails for A$64.95. There is also a 60W charger option if you need more power.
EFM 10W Wireless Portable Power Bank with Desktop Stand
Want a desktop charging stand and portable power bank in one? This EFM power bank is equipped with a 10,000mAh internal battery and Qi 10W wireless charging support. It's convenient to be carried around to top your new iPhone when you need the juice.
Back at home? Slip the power bank to the desktop stand, which will also charge the power bank. But more importantly, you can also place your phone at night on the stand to charge.
Really cool, and just handy. Make sure to check our review out on the older model if you want to see it in detail.
EFM 10W Wireless Portable Power Bank with Desktop Stand retails for A$129.95.
Disclosure: Samples were supplied for the article but all opinions are mine