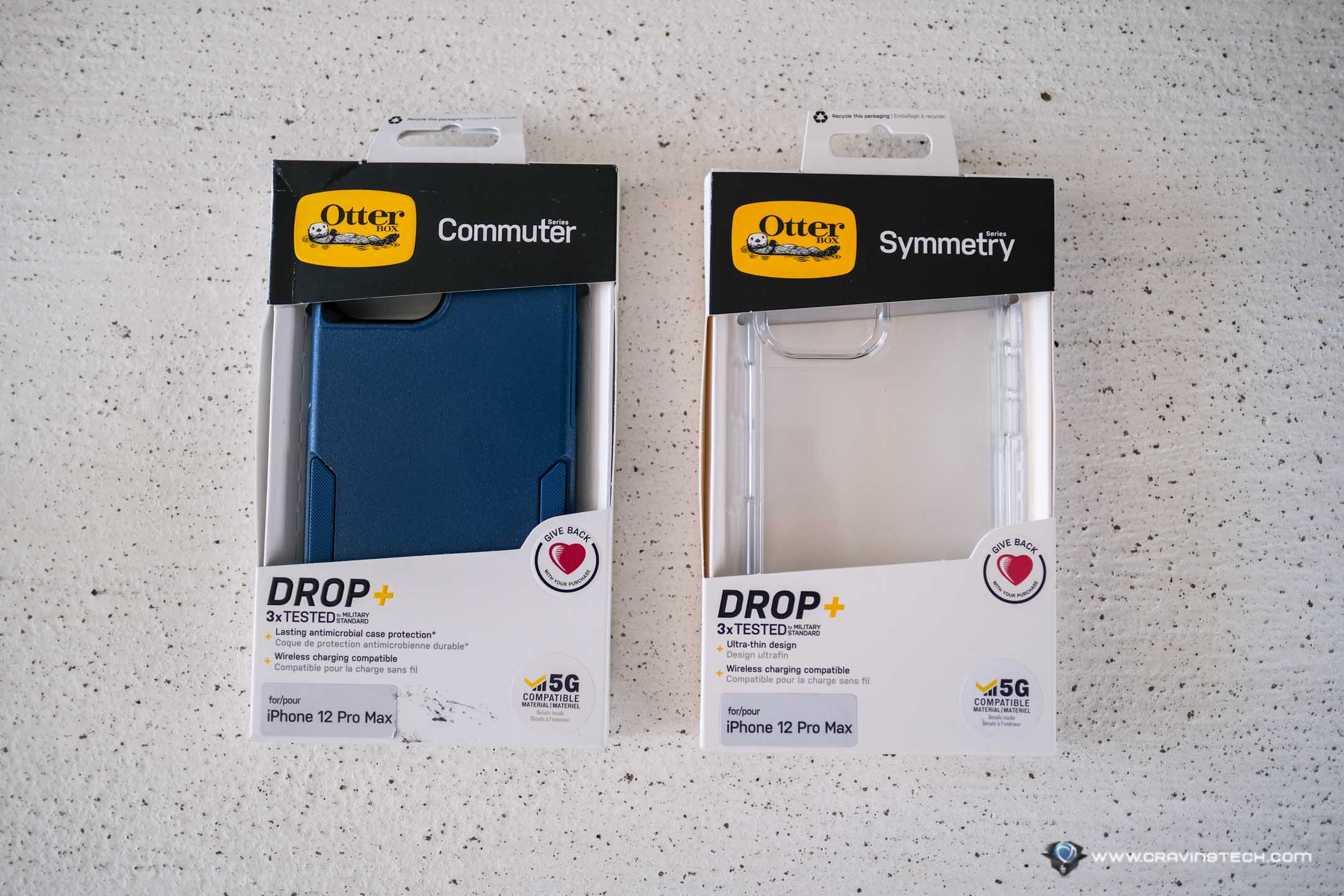 Got your shiny, new iPhone 12 Pro Max recently? While it looks gorgeous inside out, you may want to protect it with a case – before unwanted accident happens.
We've got a couple of cases from OtterBox today to protect the new iPhone 12 Pro Max from bumps and even from drops.
Otterbox Symmetry Clear Case for iPhone 12 Pro Max
If you like clear cases to highlight those shiny iPhone 12 Pro Max body, the Symmetry Clear case should fit the bill. It's designed purposely to display the iconic, new iPhone 12 design.
The case itself is quite thin but offers durability too against bumps and even drops as it's been tested 3x as many drops as military standard.
The case also has raised surface to protect the camera lens as you place the phone on a flat surface, and also to protect the screen (mine is currently protected by Belkin UltraGlass screen protector).
I like cases where I can still press the buttons easily (either protected by another layer on top, or exposed) and Symmetry Case offers that.
Thanks to the texture of the case, the iPhone 12 Pro Max now has a better grip. There is even an extra rubbery texture area just below the power button for your right thumb, which makes it even grippier.
The case has big openings for speakers and charging port, so you shouldn't have any problems plugging any third-party charging cables in.
iPhone 12 Pro Max Symmetry Series Case from OtterBox is available for A$69.95 RRP.
OtterBox Commuter Case for iPhone 12 Pro Max
The Commuter Case is definitely tougher and offers more protection than the Symmetry Clear. It is heavier, bulkier, but I can feel how durable the case is which should give you more peace of mind when travelling with your shiny, new iPhone more often.
Raised edges around the phone protect the camera and your screen so you can safely place it on the surface.
Drop-tested (3x as many drops as military standard), this one is tough to beat.
It has a dual layer, soft inner slipcover and hard outer shell to absorb and deflect impacts. The charging port also has an extra cover to protect it from dust, dirt, and water. I've never had problems with my charging port exposed before, but if you want more protection, you might like this one. It's recommended that you have a wireless charger though because charging would require you to open the cover up each time, which might be a minor annoyance.
The buttons also get extra protective shell on top of them, which make them stiffer to press, but in exchange for protection.
Despite of the thickness, wireless charging still works so far on all my wireless charging pads, though my KIKR S1 Stand can't get through the thick shell somehow.
iPhone 12 Pro Max Commuter Series Case from OtterBox is available for A$59.95 RRP.