XGIMI MoGo Pro Review – XGIMI MoGo Pro is the world's first 1080p Android TV portable projector with built-in Harman-Kardon dual speakers. It's also awarded the CES 2020 Innovation Award Honoree, meaning this is the one you should keep an eye on.
XGIMI MoGo Pro offers projecting in Full HD (1920×1080 resolution) with 4K video format support, and man it looks really good. The moment we had it on in our house, my wife and I regretted our decision for buying a 55″ TV for our main bedroom a few months ago. This is so much cooler and we can use the space on top of that cabinet for something else. Ah, well.
Short Video
Packaging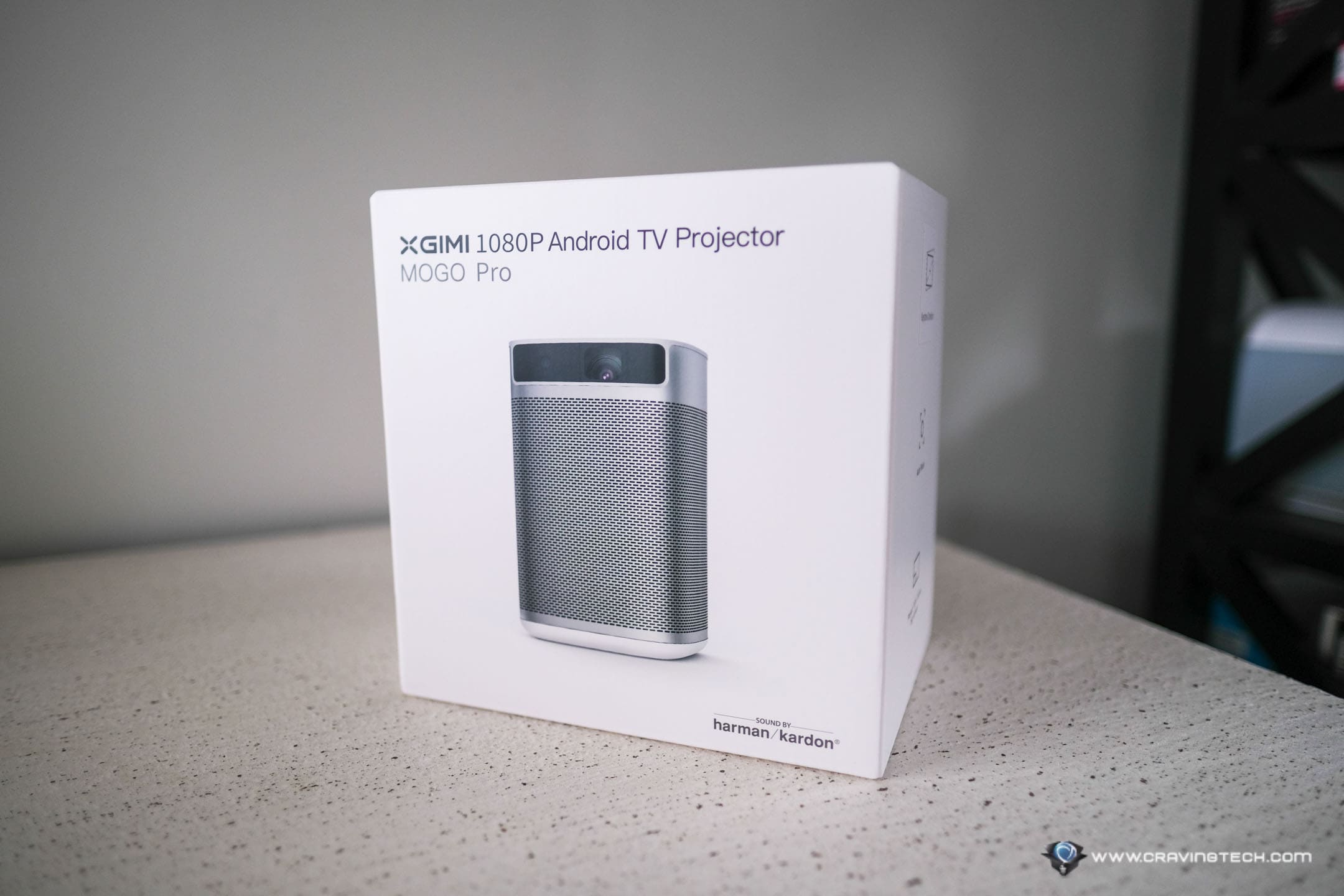 Packaging includes the power cable that can be used to charge the MoGo Pro and a remote. HDMI cable and the remote battery are not included.
Product Specs
Optical Parameters
Display: DLP
Specialty: 3D
Luminance: 300 ANSI LUMENS
Display Chip: 0.23″ DMD
Standard Resolution: 1920 x 1080 (1080P)
Compatible Resolution: 2K/4K
Projection Parameters
Projection Ratio: 1.2:1 (76-INCH @2M)
Keystone Corrections: Vertical: ±40º, Horizontal: ±40º (2D)
Off-axis: 100%
Projection Method: Forward, Backward, Hang Ceiling
System Parameters
CPU: AMLOGIC T950X2
GPU: MALI-G31
RAM: 2GB
Storage: 16GB
System: Android 9.0
Mirroring Display: Chromecast
Sound Parameters
Ports
Input Ports: DC X 1, HDMI X 1, USB 2.0 X 1
Output Port: Headphone X 1
WiFi: Dual-Band 2.4/5GHZ, 802.11A/B/G/N
Bluetooth: Bluetooth 4.2/5.0
Electrical Parameters
Noise: < 30DB
Power Dissipation: 55W
Power: AC100-240V, 50/60HZ
Other Parameters
Size: 146X105.5X94.5MM
Net Weight: 0.9KG
Design & Features
The MoGo Pro design reminds me of the SONOS Play:1 speaker. The projector is definitely portable, weighing only 0.9kg. It's something that I'd carry with for a road trip so we can watch movies and TV episodes in a motel/hotel room. While carrying a Google Chromecast sounds easier, it's usually tricky trying to connect it to the room's TV and its network.
Its portability is also useful when you have a presentation or meeting in a room without a projector. And if you need to show something (like a document, presentation, etc) to a prospect or client, you don't need to sit so closely together to share that single laptop screen anymore. The MoGo Pro supports HDMI so you can just plug an HDMI cable from your laptop to the MoGo Pro. Once you plug the HDMI cable into the MoGo Pro's HDMI port, the display automatically switches from the default Android TV.
There is also a USB port where you can plug a USB flash drive onto the unit for playing local videos, or you can project from your devices through its built-in Chromecast.
But of course, XGIMI MoGo Pro is most likely be used for entertainment purposes, which is why it is also powered by Android TV. With Android TV, you can install apps (some are already pre-installed) like Disney+, YouTube, TED, etc so you can watch movies or videos directly from the projector.
A handy remote is included with access to all operations (including Google Assistant) and the AMLOGIC T950X2 processor with 2GB of RAM offer smooth interactivity throughout. Hard playback controls are also available on top of the unit. They are not backlit so it's a bit of a challenge to see in a really dark environment.
Netflix does not work on the MoGo Pro natively though, so don't bother installing the app as you will get a pop-up error saying "This version of Netflix app is not compatible with your device". There is a small FAQ booklet that let you know of four workarounds to get Netflix running:
Through an HDMI cable (plugged to your laptop)
Through Roku or Fire TV Stick
Use the Chrome browser to cast Netflix from your laptop
Through Kodi (which XGIMI states as the best way to use Netflix on the XGIMI MoGo Pro)
I've only tested watching Netflix using an HDMI cable to my GIGABYTE AORUS 15G which seems to me is the easiest way, unless you don't want to carry a cable around.
XGIMI MoGo Pro offers 300 ANSI Lumen power and for a portable projector, this is really good. Assuming a low lit room (or without lights), the MoGo Pro projects really clear, stunning image clarity. Even during darker movie scenes in The Dark Knight, everything can still be seen clearly.
To manage your expectations, note that if you are watching movies in the daylight with plenty of lights coming through your windows, the 300 ANSI Lumen does not cut it. But if you can close the curtains or make the wall area a bit darker, you are good to go.
The cool thing about the XGIMI MoGo Pro is that the farther you place the unit from the wall, the bigger the projected area is. Which means you can comfortably have a virtual 100″ screen and the projector will automatically re-focus itself within seconds. I would imagine how cool this is when we have 30-40 people trying to watch a TV episode like Game of Thrones together. So far, the autofocus always works well when I test it on different walls with different distances.
Thanks to the built-in dual speakers from Harman-Kardon, you can truly enjoy the movie experience without having to carry extra speakers. But there is also a 3.5mm port so you can plug it to your favourite headphones when you need to watch the movie without disturbing others, or to better-sounding speakers like the AudioEngine A5+.
The sound coming from the speakers itself is pretty good (it's Harman-Kardon we are talking about here). While it won't rock your room due to its size, it is more than enough to let you enjoy the movie you are watching.
According to XGIMI, battery life is around 2 to 4 hours, depending on usage. I think it states you can get 4 hours on the energy saving mode, but I tried watching Avengers: Infinity War from Disney+ and the projector shuts down after around 2 hours (on standard setting). But of course, you can always plug it to power!
XGIMI MoGo Pro Review Conclusion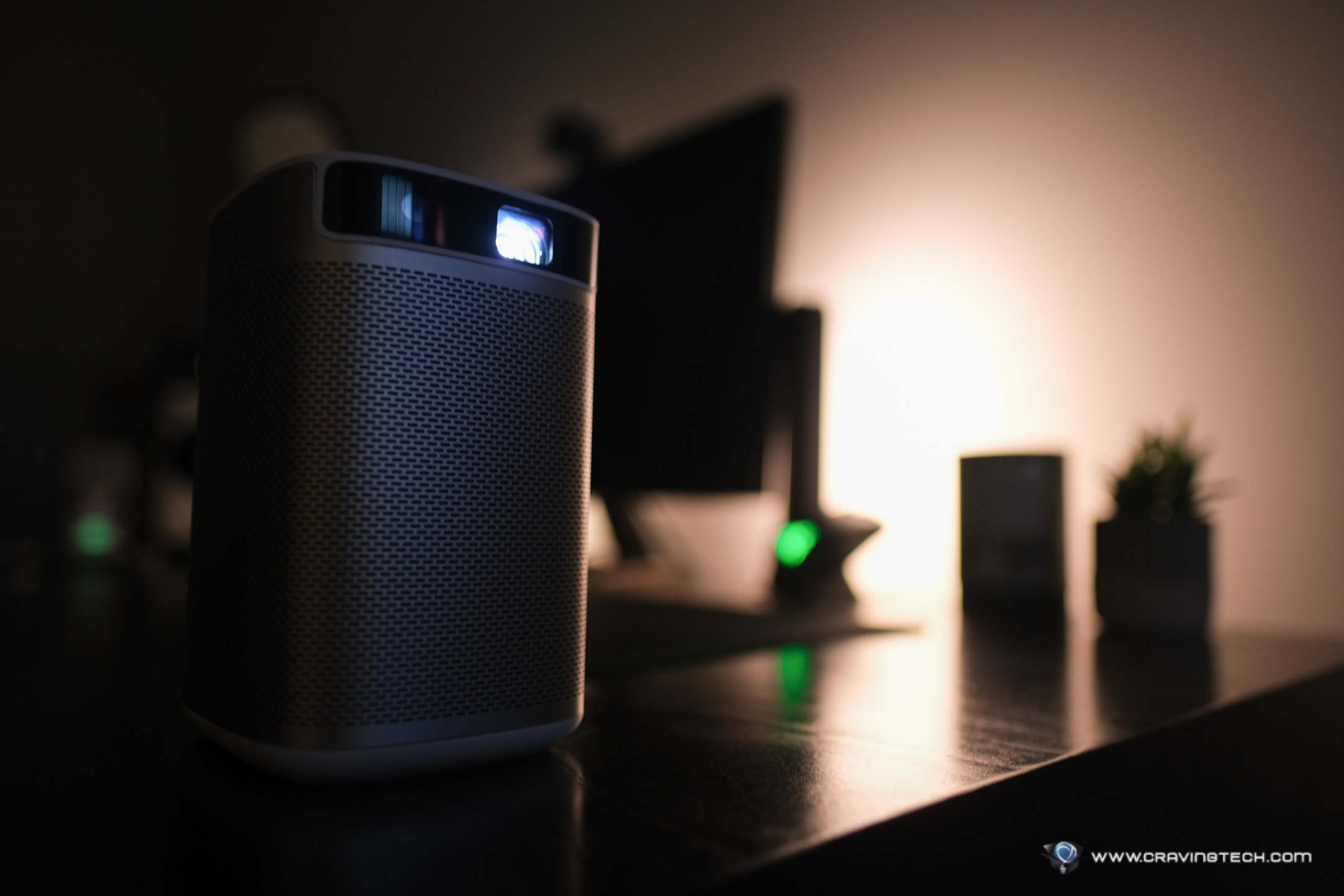 I've never had my hands on a portable projector before because I thought it's not worth getting due to the image quality, sharpness, and clunkiness of having it plugged to a laptop all the time. XGIMI MoGo Pro has definitely changed my perspective on portable projectors.
XGIMI MoGo Pro projects sharp, bright, and clear image in 1080p resolution with autofocus and you can pretty much adjust your viewing area just by placing it closer or farther from the wall.
It is portable thanks to the 10,400 mAh built-in battery, has built-in dual speakers by a well-known brand Harman-Kardon, and multiple inputs (HDMI, Chromecast, USB, Android TV). It's great for entertainment, but also for professional or casual use where you need to project your computer screen for others to see such as a presentation, photos sharing, documents, etc.
Thanks to the portability and versatility, XGIMI MoGo Pro is a handy companion to have when you travel. You can enjoy a movie or two while being outdoor without power, or to continue watching your favourite TV episodes in a motel room.
You can even use it to project slideshows, karaoke videos, and more in an event as we used it here on a 30-40 people wedding event:
XGIMI MoGo Pro retails for AU$1399 RRP but can be purchased at PCByte for a promotional price of AU$699 including free shipping. PCByte is having a Black Friday sale (officially launches on 27 November 2020) which will end on Cyber Monday, 30th November, offering discounts up to 70% OFF and free shipping on selected products.
Disclosure: XGIMI MoGo Pro review sample was supplied for reviewing but all opinions are mine
XGIMI MoGo Pro Review
Summary
1080p portable projector with Android TV and built-in Harman-Kardon dual speakers
Pros
Clear, bright display
1080p
Portable with built-in battery, but can be plugged to power
Built-in Android TV, with remove included
Built-in Harman-Kardon dual speakers
Good specs provide smooth interactivity
Support multiple inputs: HDMI, Chromecast, USB, 3.5mm audio
Auto-focus
Cons
Not so much on stereo separation despite dual speakers
Netflix not working natively
Battery life is around 2 hours on standard settings