EPOS B20 Review – EPOS has just released their flagship streaming microphone, EPOS B20, designed for gamers and content creators.
It's a plug-and-play USB microphone with a premium look and feel but more importantly, offers high quality audio that would make you ditch your headset microphone.
EPOS is well known for its premium audio and video solution and I had no doubts they would deliver the sound recording quality. And they do deliver on the B20.
EPOS B20 Streaming Microphone comes with a desk stand but of course, it is also fitted with a standard 3/8 thread for connection to a boom arm.  The microphone stands sturdily on the desk stand and can be disassembled for transport fairly easily. It's quite good if you have to travel to an event and want to cover it in your hotel room, for example.
On the microphone itself, there are controls for volume, gain, microphone mute, and pickup pattern. All these are easily accessible at all times in front of you. Well, technically, the gain and pickup controls are located at the back but these are the ones you probably don't change much on the fly. I like that the mute button is easy to reach as I like to mute myself quickly when I'm sneezing or coughing.
There is also a built-in headphone jack for real time monitoring.
Unlike the Blue Yeti Nano and Elgato WAVE:1 that I have, EPOS B20 supports four different pickup patterns: cardioid, stereo, bidirectional, and omnidirectional. Cardioid pickup pattern is perfect if you are streaming solo (or recording a voice) but there are other options for covering different activities, like a one on one interview, collaborative team game streaming with the microphone in the centre, and so on. The versatility of the B20 means you can always use it for any kinds of content creation, both casual and professional.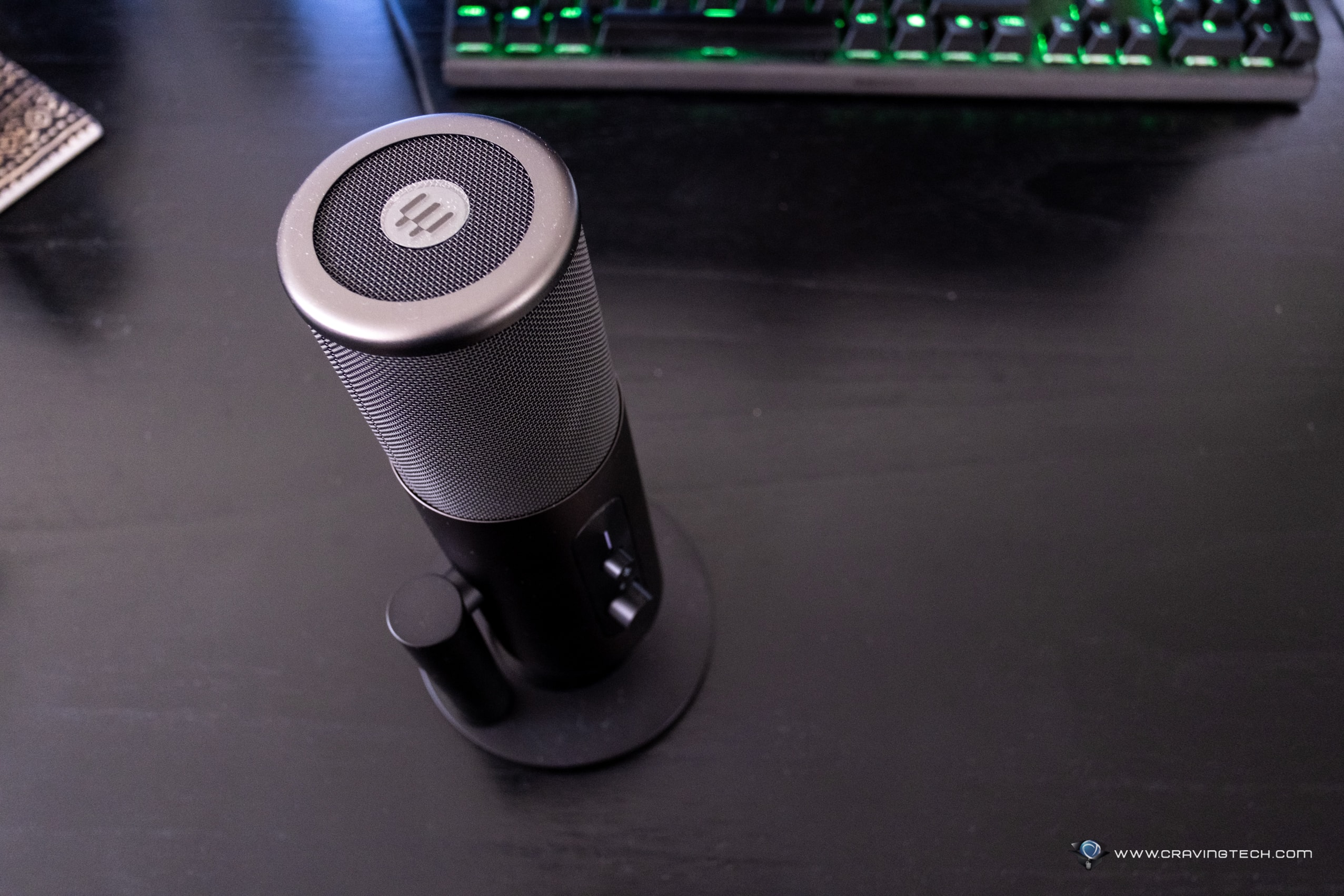 While playing games with a mechanical keyboard (SteelSeries Apex Pro) positioned behind the microphone, the Cardioid pattern did dampen some noise from the mechanical switches but they can still be heard for sure. The condition should improve if you are using a boom arm and have the B20 positioned further away from the keyboard.
Sound wise, the EPOS B20 boasts studio broadcast quality (24bit, 48kHz) and will pick up frequencies from 50Hz to 20KHz. It's been designed to pick up speech while minimising background noise so your voice sounds clear and crisp.
According to EPOS: "The B20 captures audio at a sample rate of 48KHz – 48,000 measurements of the audio signal per second – which comfortably reproduces the entire frequency range audible to humans, using a resolution of 24-bits (16 million different values) rather than the more common 16-bit standard (65 thousand different values). This is 256 times as much precision, giving a dynamic, rich, clear audio signal in studio broadcast quality that captures every nuance of the human voice."
Most of the advanced settings can be tweaked via the EPOS Gaming Suite for PC software where you can make adjustments to noise gate levels, playback EQ, voice enhancer, etc. It's simpler to use compared to Blue Vo!ce software on the Yeti Nano, but not as advanced. Also note that you need to set the product as the default on Windows Sound control panel or else EPOS Gaming Suite would complain.
I find that the voice recording quality is really good and crystal clear – perfect for that clear team communication if you are playing competitive, team-based shooter games like Overwatch, CS:GO alike. I've also used it on a Microsoft Team group video call and loved the clarity. With enough Gain, I found that I also didn't need to speak out loud, which is perfect when my one-year-old son is sleeping next door.
And thanks to the premium, professional look without shiny, bright LEDs, EPOS B20 is perfect for professional content creators or streamers.
EPOS B20 Review Conclusion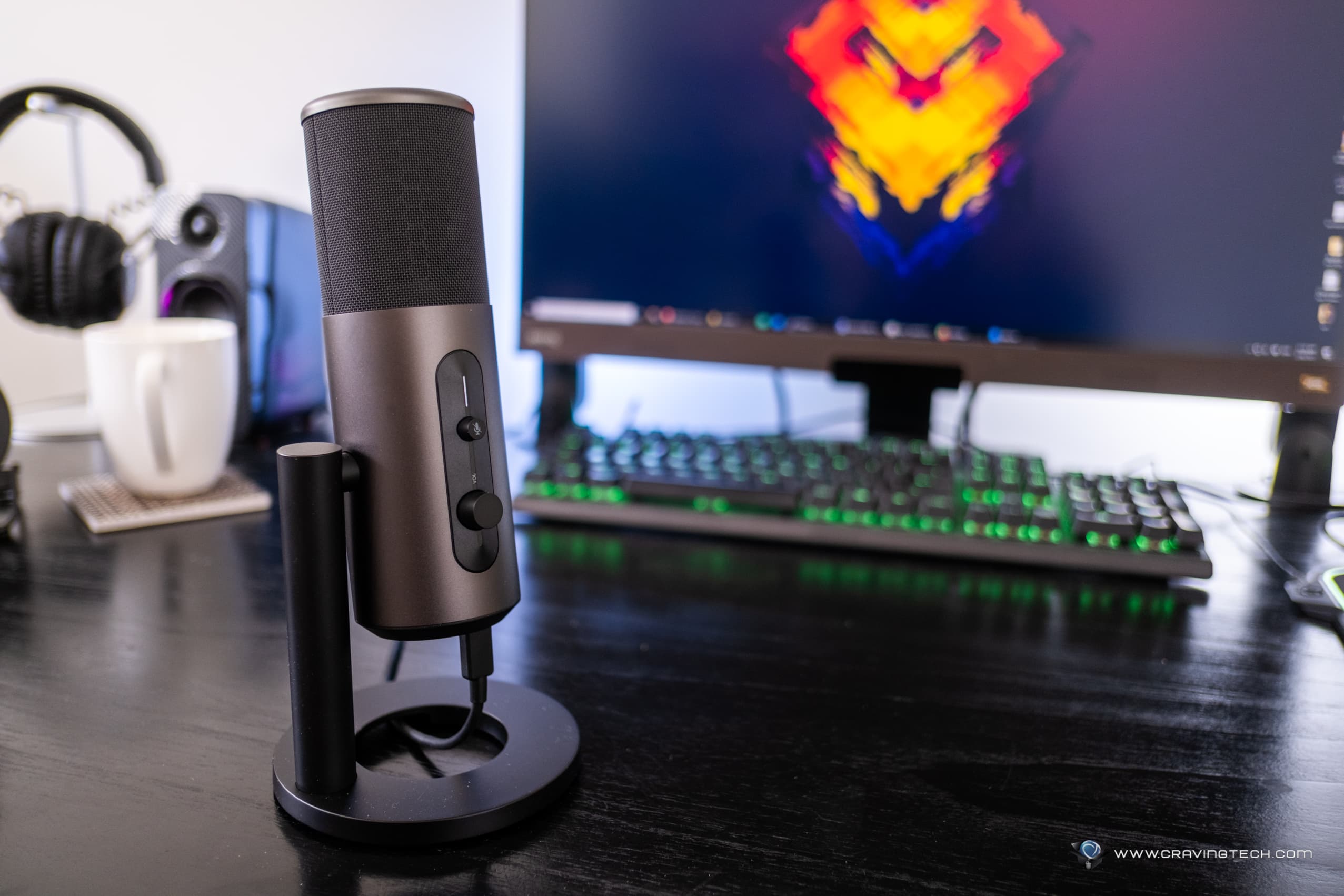 EPOS B20 is a studio quality microphone, yet with an easy, plug-and-play USB connection for all kinds of users: professional content creators like streamers and YouTubers, or just some casual gamers looking to upgrade their team communication audio quality.
The microphone is also compatible with PC, PS4 (and PS5 later through an update), and Mac. It retails for A$329 and available to purchase now on the official EPOS website and from select retailers around Australia.
UPDATE: EPOS B20 is now compatible with PlayStation 5 through a firmware update with version 1.0.6 released on August 19, 2021.
Disclosure: EPOS B20 review sample was supplied for reviewing
EPOS B20 Review
Summary
Crisp and clear USB microphone from EPOS with multiple pickup pattern options
Pros
Looks premium and professional
Crisp and clear audio quality
Supports four pickup patterns
Has easily-accessible Mute button and monitoring
Sturdy desk stand
Boom arm support
Lengthy USB cable
Cons
More pricey compared to its competitors