Technics EAH-AZ60 Review – I've reviewed tons of earphones/earbuds here at Craving Tech but I've never had one from Technics (which is actually a premium audio brand from Panasonics) before. And to be honest, I was really surprised at how good the sound quality is coming from these earbuds.
This is from the company that have more than 50 years of Hi-Fi audio engineering experience. The EAH-AZ60 I have here is their high-end model with noise cancelling technology and supports LDAC codec for High Resolution audio.
Technics EAH-AZ60 Review – Packaging Contents and Unboxing
Technics EAH-AZ60 Review – Design & Features
Technics EAH-AZ60 earbuds can't be considered slim and they look like regular earbuds in the market. However, it's the inside that matters and you definitely need space to house the goodies within for an awesome audio quality, call quality, and battery life.
On each earbud, there is an acoustic chamber, harmoniser, and 8mm driver that deliver rich, expansive sound for the best music listening experience.
Plus, there are multiple microphones such as the Talk Mic, Voice Detection Mic, Feed-Back Mic, and Feed-Forward Mic on each earbud too. This is to help users who like to make/receive calls to be able to have great communication experience. According to Aaron Waters, Panasonic's Product Marketing Manager Audio and Video, the built-in JustMyVoice technology "will actively detect and capture your voice, while analysing and isolating surrounding noise to deliver crystal clear audio communication."
It's a cool feature if you like to chat while outside or commuting, as JustMyVoice tech will reduce the crowd and ambient noise greatly so you can be heard clearer. In a quiet room though, this will make your voice sound a bit more hollow than usual. You can check how your voice sounds with the feature enabled or disabled through the app, which I find quite handy.
And for you as the wearer, there is active noise cancelling feature that blocks ambient noise with wind noise reduction technology. It's doing an excellent job when I tested wearing these earbuds outside during a windy Melbourne day. I also tested the earphones near the Panasonic's portable air purifier, the Portable nanoe X Generator, and the humming noise (which is rather loud) is completely gone!
The noise cancelling intensity can be customised with the Technics Audio Connect app and there is also setup to set this accurately to your preference.
When you need to hear announcements or your surroundings, you can quickly switch to Ambient mode which actually sounds very natural as if you are not wearing earphones at all. I tried to compare them by taking the earphones off and turning the Ambient mode on. Surprisingly most of the time, they sound the same which I really like compared to some earphones/headphones that amplify ambient sound and making it sound weird.
I have lots of smart devices at home so it's great to be able to listen to music but can also activate Amazon Alexa with just a touch. Siri is also supported but Google Assistant is not mentioned. Speaking of touches, Technics EAH-AZ60 have touch controls by tapping an earbud and that can all be changed from the app.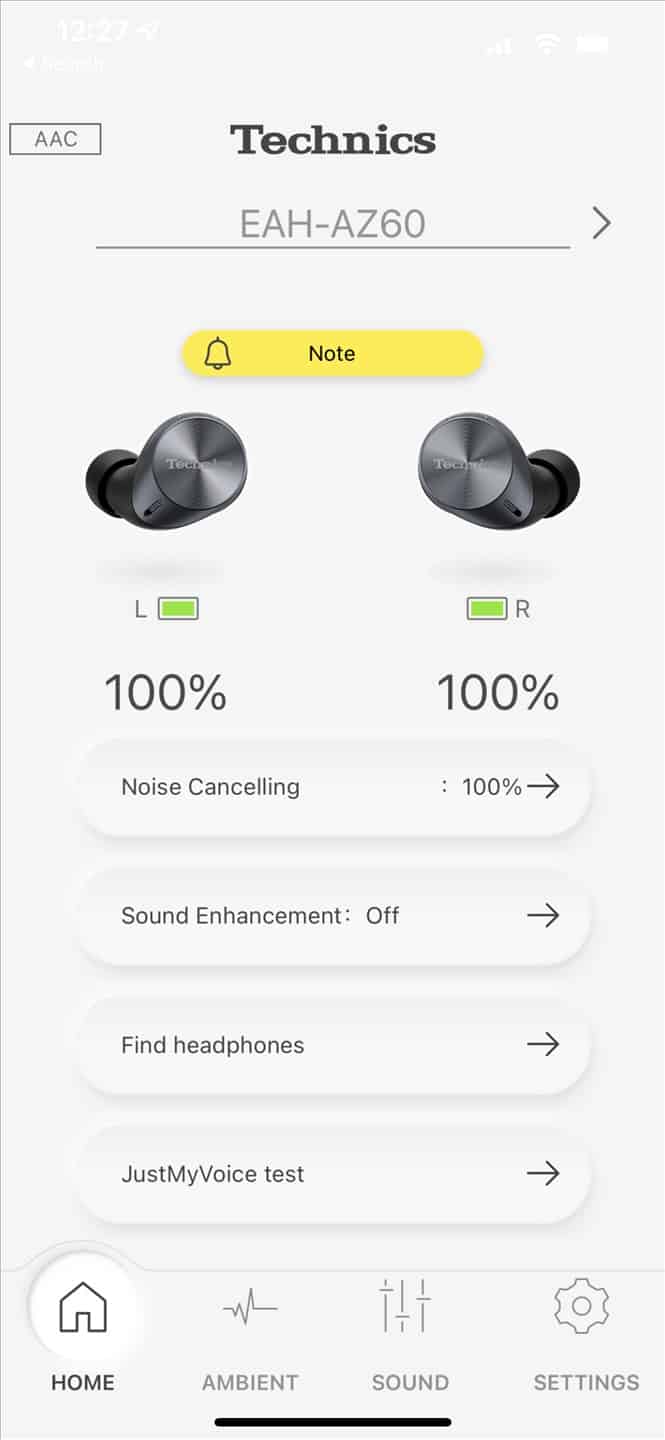 The latest Bluetooth 5.2 support means you can pair up to 10 devices, gives you stronger Bluetooth signal, and offers low-latency when watching movies or playing games.
The earbuds can be used individually so you can leave one earbud in the case and the other sits in your ear. It's quite handy if you want to save battery or if you want to be able to hear when your baby cries while listening to music (though I guess you can always use the Ambient mode for this one).
Technics EAH-AZ60 Review Conclusion
I'm honestly surprised by the Technics EAH-AZ60. Being used to listening and reviewing audio products from audio brands like Bose, Jabra, or Sennheiser, I had low expectations with these earbuds. However, all my doubts went away as soon as I listen to my favourite songs (even without LDAC) and check its Active Noise Cancelling/Ambient modes out.
Technics EAH-AZ60 sounds really, really good. It has that power and punch to output clear sound, and a punchier Bass without being overwhelming.
The touch sensors are intuitive and work all the time, plus they can be customised easily through the app. There's a single, double, and tripe tap to configure, plus they can do different things if you do it on different earbuds.
And I like how the Active Noise Cancelling doesn't give you that air pressure feel when turned on, and how the Ambient mode sounds very natural as if you are not wearing earphones at all.
There is no wireless charging and the earbuds are bulkier than some, but you do get great sound quality and other features inside to back it up. Technics EAH-AZ60 retails for A$379 and available now for purchase in Australia.
Disclosure: Technics EAH-AZ60 review sample was supplied for reviewing
Technics EAH-AZ60 Review
Summary
Premium earphones with amazing sound quality with AAC and LDAC support (Hi-Res Audio), active noise cancelling, and tech to improve call quality
Pros
Amazing sound quality
Excellent ANC without the air pressure feel
Natural Ambient mode
Rich app, full with customisations and easy-to-understand advanced settings
AAC, LDAC Support, Hi-Res
Bluetooth 5.2
Seamless device switching
IPX4 rating
Cons
Earbuds are bulkier and slightly heavier compared to others in the market
No wireless charging support on the case