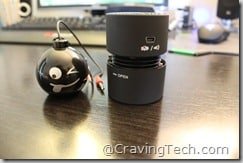 The I526 and B-2 Boom portable speakers from Agile Tech are very small yet very loud, perfect for travellers who often want to listen to their music collection on a media player or even on their laptop.
I526 – MP3 Portable speaker
Specifications:
Fob: US$4.85 (MOQ: 1K)
2.0ch li- battery Speaker
Battery capacity: (280mAh) ( Support 2 hours play back after full charger)
Output Power: 1W *2
Speaker Driver: 1.5" *2 / 4ohm 2W
S/N?60dB
Product size: 45MM*45MM*60MM
The I526 can be expanded further by twisting it, adding an extra bass to the mix:
There is only 1 slot on the I526 to recharge (by connecting it to your computer's USB port) or to be plugged to a media player or your phone.
The I526 plays music through my iPhone really well and loud. For a speaker this tiny and cheap, the I526's volume is actually quite good for a small and closed room. I can barely hear the bass on my music though even when it's already been expanded, so don't expect too much from the I526.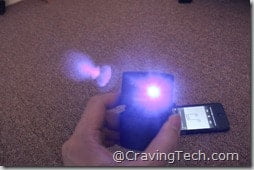 I find that the LED light is too bright once you turn the I526 on. It's nothing serious but just make sure your eyes are not staring on it. I also find that when you place the I526 to listen to music, half of the speakers are covered on the surface. Thankfully, the volume is still loud enough even when half part of the speaker is blocked.
For just $4.85, the I526 is great for travellers who want to listen to their music in their hotel room. It's small and you can hook it to your phone or your laptop. You'll also get a pouch to store the I526 and its cables.
B-2 – Boom
Specifications:
Fob: US$3.85 (MOQ: 1K)
1.0ch li_battery Speaker
Output Power: 1W
Speaker Driver: 1.5" / 4ohm 2W
S/N?60dB
The Mini Bomb Speaker is a cute looking speaker, designed to look like a bomb.
Like the I526, the B-2 mini bomb speaker is compact and easy to carry. It even has a keyring which is quite handy as the ladies can hook this up on their bags and have access to a mini speaker anytime.
To recharge the B-2, hook it up to a computer's USB slot like the I526.
The volume is quite loud too and has a similar output level like the i526. Again, not much bass can be heard (if at all) and of course you cannot expect much from a $3.85 speaker.
The B2 Mini Bomb Speaker is probably the cutest mini speakers that I've ever seen yet. That makes this speaker a nice gift to someone special as I'm sure they'll love the design as much as I do.
It has the same bright LED light like the I526 so again, try not to stare at it with your eyes.
Overall, these two speakers are portable, loud, and also very cheap. No bass can be heard but this shouldn't prevent you from getting them if you are looking for some small speakers for easy listening. They are perfect for travellers or when you want to hook some music in a small waiting room.
Note: Samples were provided for the review