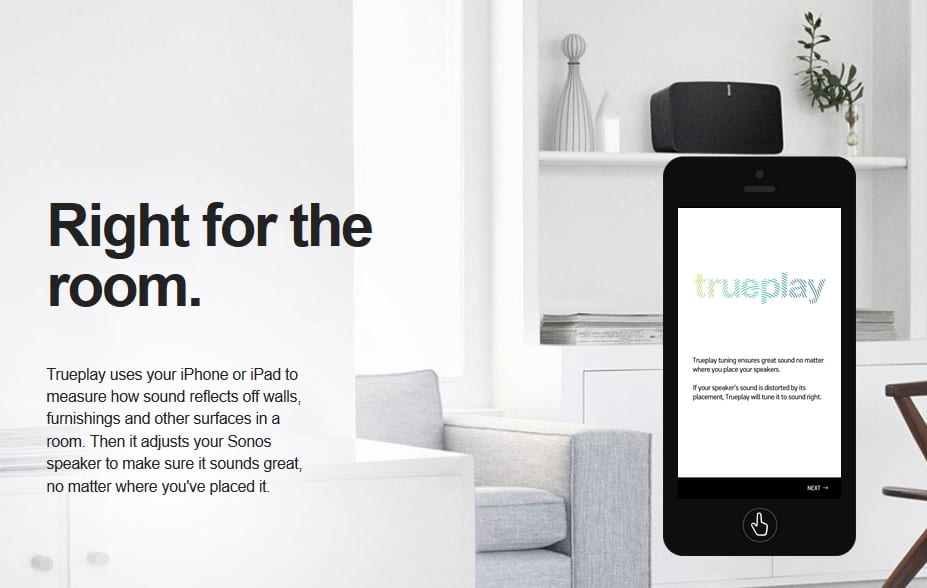 Are you one of the million owners of Sonos speakers like the PLAY:1, PLAY:3, or the more recent PLAY:5? If you are, then make sure to check your Sonos Controller app for an update.
The update will include support for Sonos' new Trueplay technology which allows you to fine-tune all your Sonos speakers in the house with the right configurations sound best for the room they are each in.
If you place the speaker in the bathroom, it will be adjusted for that condition. Or even if you have to place the speaker in the corner of a room or behind objects, Sonos Trueplay will try its best to tune for that.
The tuning process will need a device (iOS devices at the moment) to listen to the special tones emitted by a Sonos speaker. Trueplay then adjusts the speaker to sound best in that room.
To check Trueplay out and try this yourself, update your Sonos app on iOS, and then go to Settings > Rooms Settings to start it.
At any time, you can re-tune the speaker (if you change its placement) or even turn Trueplay off.
Sonos smart speakers now definitely get smarter, being able to identify the acoustics of the room they are in, and adjust themselves through Trueplay.