OPPO R9 Review – Selfies are inevitable, not ever since our smartphones had front-facing cameras that just get better and better.
OPPO's latest smartphone which was launched in Australia about a couple of weeks ago, the OPPO R9, will not disappoint you if you take lots of selfies with your phone. Thanks to its 16 Megapixel Front-facing camera, your selfies will be taken to the next level of quality.
Sure, the unusually large Megapixel count will not matter if the R9 uses low quality camera lens. Thankfully, it doesn't. Combined with OPPO ISOCELL technology that reduces interference between pixels that reduces noise and adds clarity to the selfies you take, you'll take great selfies in no time.
OPPO R9 Review – Unboxing
OPPO R9 Review – Packaging
OPPO R9 Review – Design & Features
Taking great selfies is not the only thing that the new OPPO R9 offers though. It also has a fingerprint sensor that can unlock in just a crazy 0.2-second mark. It's so lightning fast that I actually wondered whether I've enabled it correctly the first time I tried it.
Here is how fast it is on a short video I did:
Want to know how fast #OPPO #R9 0.2 secs fingerprint unlock is? @OPPOMobileAU pic.twitter.com/DBgNsR8YAY

— Michael Aulia ?? (@michaelaulia) May 4, 2016
I was worried whether the algorithm makes compromises in security just for the sake to make it faster to recognise and unlock. However, with the help of a few friends to test, it seems that this is not the case. The sensor only recognised my fingerprints and rejected the others.
OPPO does say that the security will get better and better (more accurate and safer) as you keep unlocking the phone with your fingerprints.
I really love how fast it is to unlock the phone without having to enter PIN codes or drawing patterns over and over a hundred times a day. Fingerprint unlocks should be on every smartphone, really.
Design wise, the OPPO R9 somewhat bears a resemblance to an iPhone and I already had a few people commenting about this when they first saw my OPPO R9 handset. From different angles, it does have a similar design to the latest iPhone 6s (or Samsung GALAXY S7 for that matter). It's not something to complain about as an OPPO R9 owner, because the phone is a beauty to behold. The phone is also slim and feels very light.
The edge-to-edge display (thin bezel) looks good in paper, but in reality it has caused me some accidental touches more than it should be. I either accidentally triggered the soft-touch buttons (ex: Android Back button) or covered the light sensor which made the screen go darker (usually when holding the phone in Landscape mode to play games). I did learn as time passes to hold the device in a certain way to prevent these from happening.
OPPO R9 has a curved body (compared to the more square-y OPPO R7s) with 5.5″ AMOLED display, and comes in Gold or Rose Gold colour. Specs are really good with a 4GB RAM and an Octa-core processor. Like the R7s, it has a Dual SIM tray that can be used either with a second Nano SIM or microSD card to expand its built-in 64GB storage.
As good as these sound however, I could still notice loss of frame rates when playing games on the OPPO R9. The experience on the OS is smooth overall, thankfully.
The phone is running OPPO's latest ColorOS 3.0 layered on top of Android 5.1. I love the look-and-feel of ColorOS 3.0 with fluid-like interface and easier on the eyes. However, some apps have problems with getting push notifications such as Swipes To-Do and Snapchat. Most of the time, it looks as if these apps get closed after some time and I have to re-open them to get all the push notifications in. This may have been caused by a feature on ColorOS 3.0 to save battery life.
OPPO ColorOS 3.0 Official Video:
https://www.youtube.com/watch?v=B9mJtk-89OA
Funnily, OPPO R9 rear camera only has a 13 Megapixel sensor (f/2.2) compared to the front's 16M f/2.0. Here are some pictures I took with the OPPO R9 (HDR was set to Auto; Photos were resized, but not edited). Overall, OPPO R9 takes great pictures, even at low lit conditions – although noise starts to appear as expected from a mid-range phone.
As you can see below, noise starts to appear although the details are still pretty good overall:
Battery life has been great on the OPPO R9 (2,850mAh) and thanks to OPPO VOOC Flash Charge technology, topping up the battery doesn't take long at all. So far, the phone can definitely last more than a day on moderate usage.
OPPO R9 packaging comes with a transparent, silicone case with a perfect fit and offers better grip to the phone. The case has the right openings and offers good amount of protection. A screen protector also comes pre-applied on the screen with zero air bubbles. Nice! Thank OPPO for these, because the phone comes in complete package that you don't have to waste time and money having to buy extra accessories and go through the horror of applying screen protection by yourself.
OPPO R9 Review Conclusion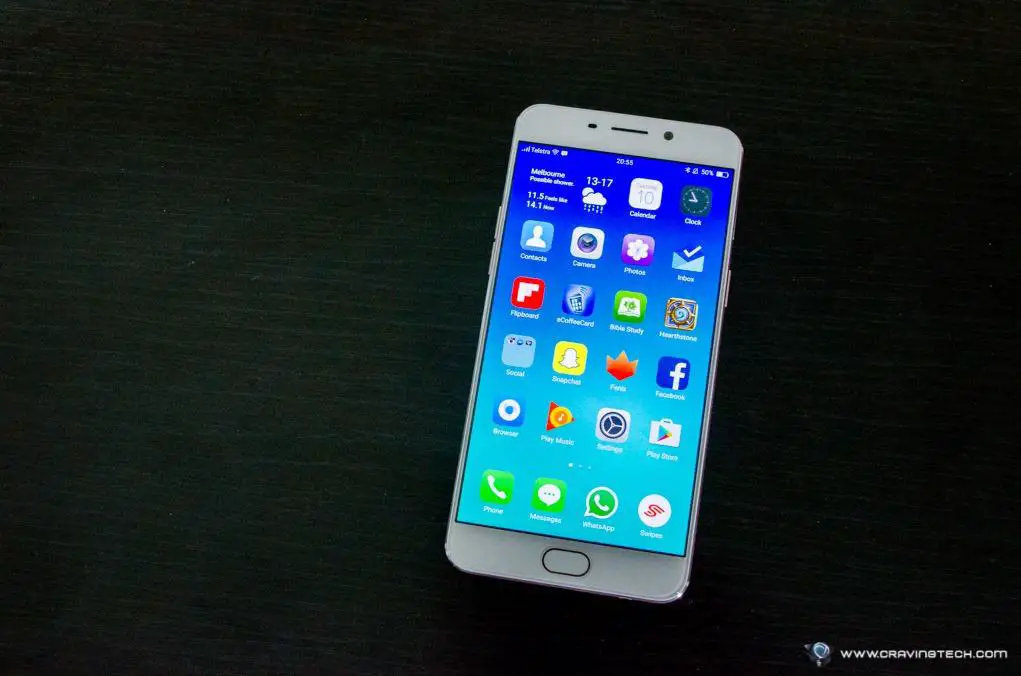 The OPPO R9 is a great looking smartphone with slim, curved edges, and a gorgeous 5.5″ AMOLED display. The fingerprint sensor is top-notch (fast and accurate) and the front camera gets a lot of love from OPPO for selfie takers.
The phone aims for the mid-range market, however, causing a jittery performance in certain activities (such as zooming in and out on a PDF at Google Drive or playing graphic-intensive games). It also takes great, but not excellent photos. Their high-end device is supposedly still the OPPO Find 7 but it's already quite outdated compared to the other competitors in the Android market.
If you don't want to shell $1,200 for a high-end smartphone, the OPPO R9 is available for just $599 at JB Hi-Fi stores. It still looks like a high-end smartphone and has features like one, even if you are not a selfie addict.
Disclosure: Review sample was supplied for sponsoring but all opinions are mine
[AMAZONPRODUCTS asin="B01DO87WJ6″]