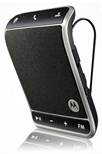 Motorola just announces a new product called the TZ700, an in-car Bluetooth speech system which allows you to listen to your music, manage calls (make, answer, and reject calls), and also dictatates your text to send messages to your friends, colleagues, or clients. The Motorola TZ7000 claimed to create a crystal clear in-car call experience, thanks to its dual-microphone noise cancellation technology.
Motorola TZ700 Features
Noise cancelling (dual-microphone), even in a noisy driving environment (such as when have your windows opened)
Multipoint technology – allows you to pair with 2 Bluetooth enabled devices without the need for re-pairing.
Can play music via A2DP
Can stream your music through your in-car audio system (via the FM transmitter)
MotoSpeak™ can read aloud your text messages and you can even reply by dictating your text responses. Application needs to be downloaded to your mobile device.
2-Watt speaker
Totally hands-free (use voices to answer/reject/make calls)
Up to 20 hours of talk time and up to 3 weeks of standby time
The Motorola TZ700 seems like a great companion when you have to spend lots of your time travelling in the car (whether to a meeting or to a client's place). This way, you can listen to your music while always on stand-by to answer or make calles at the same time.
Motorola TZ700 is available now from www.motorola.com, RRP $129.99 including GST.
Source: Motorola press release