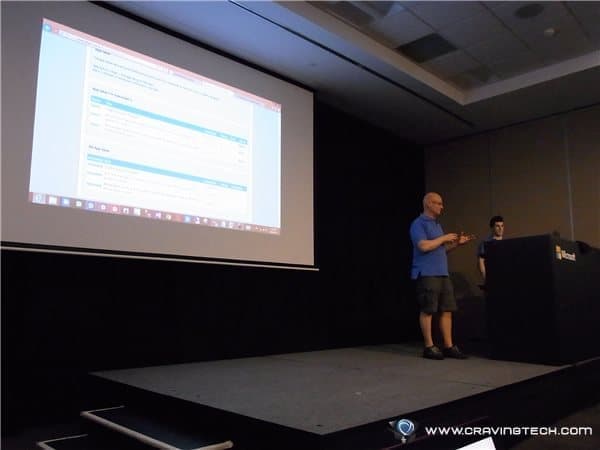 Dave Glover and Nick Randolph
To help Windows Phone developers, Microsoft takes the initiatives to create a place where consumers can submit ideas (either just for fun or to find real developers to actually develop for then) where as Windows Phone developers can just focus on developing the presented ideas.
Some great resources pointed by Dave for Windows Phone developers in Australia:
Windows Phone Australian Developer Community where you can submit and have a look at ideas published by many. As a developer, you can also get yourself listed (wp.msdeveloper.com.au)
DevelopedDownUnder.com
You can also email Dave for a nomination to be Featured at the Store (he can be reached at [email protected])
At the moment, there are already around 100,000 apps in Windows Phone Store with about 160,000 developers (Windows Phone Store was formerly called Windows Phone Marketplace). On average, there are about 300 apps are submitted per day.
Pretty much every country in the world (180+ countries) have access and can download your app compared to the iOS and Android platforms. You can then use Microsoft or 3rd party Ad platforms to drive more revenue to your app. More on this can be read from my Day 3 coverage yesterday.
There is also an Enterprise opportunity where you can deploy your app to Enterprises without having to go through the Store and have your own licensing agreement with them. You still need a certificate which ensures that apps cannot be jailbroken or installed without having to pay for the license.
Microsoft is also going to provide mechanism so you can preload apps (on Device or on SD card) or featured in the OEM or MO (Mobile Operator) store.
Windows Phone 8 Platform
Compatibility
Windows Phone 7 apps will run on Windows Phone 8
Performance
Shared Windows Core, Native Code Development, New APIs
 Expandable
Ability to create versions optimised for the new Hardware and Software capabilities. Use of Visual Studio 2012 to build Windows 8 and Windows Phone 7.5 & 8 apps.
Deploying your app to the store (to be certified and approved) will be faster and the Windows Phone Store will have better predictable service (in case people misspells your app when searching for an app, for example).
Top 10 ways to make money today and tomorrow
Use Trial API (stats show 70x more downloads, 7x more revenue)
Use Live Tile (good marketing tactic when user's home screen has your app on a tile. Top 50 apps are 3.7x more likely to have)
Use Push Notifications (Make your app's live tile more alive. Top 50 apps are 3.2x more likely to have)
Use Ad Control with Location (more local relevance drives higher eCPM)
Adopt Metro Faithfully (Metro apps are featured more frequenty)
Publish Globally (Fastest growth occurring in new markets). For example, if you have a local travel app and localised it to Australia only, some visitors who want to come to Australia and download your app cannot, which is a pity.
Localize Smartly (Language, currency, symbols)
Right Size your App (Apps < 90 MB work well on all devices – this is about when your app is running in memory, not about the app file size)
Act on Feedback (Prompt for reviews and feedback..and fix)
Update Frequently (Top 50 apps are updated every 2-3 months)
This really looks like a good time for you to start developing your own apps for Windows Phone!
Update – All Microsoft TechEd Australia 2012 coverage posts:
TechEd Australia 2012 Day 4 – Other sessions coverage
Disclosure: I was invited and sponsored by Microsoft to attend and cover TechEd 2012