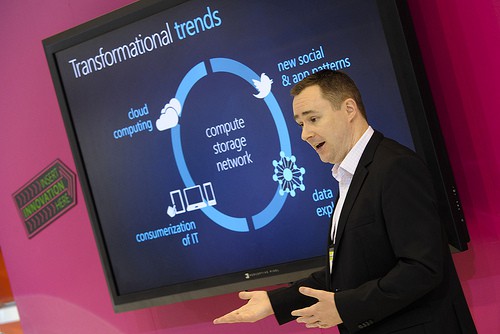 Windows Server 2012 – Philip Goldie from Microsoft Australia today talked about the latest Windows Server 2012 to the media this morning after breakfast. There are certainly exciting stuffs happening this year for Microsoft with the launch of Windows Server 2012, Windows 8, and Windows 365.
Philip explained that the release of Windows Server 2012 is a move towards Cloud OS, especially where the current transformation trends are geared towards cloud computing, new social & app patterns, consumerisation of IT, and data explosion.
Jeffrey Woolsey
Windows Server & Cloud
Microsoft Corporation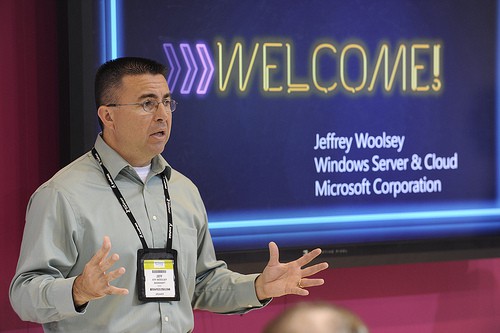 Server 2012 was named as Server 8 during the planning stage, which was the crucial stage of Windows Server 2012. Jeffrey explained how they wanted to (and did) spend a whole year talking to customers to understand their challenges and problems that Microsoft need to solve.
With millions and millions of customers on XBOX Live, Outlook.com, Microsoft Office 365, and other services, these are no small tasks to handle. Thanks to Hyper-V that has been running succesfully for over 4 years all over Microsoft services, including microsoft.com itself, these services are running smoothly at all times.
Cloud OS, according to Jeffrey, should be able to:
Transform the datacenter (virtualise everything)
Enable modern apps
Unlock insights of any data (to be more efficient)
Empower people-centric IT (provide a people centric solution and security)
What makes the Cloud OS unique is:
Flexible development
Unified dev-ops & management (provide system center and console to manage the deployments)
Common identity & security (active directory – take your identities to the cloud)
Integrated virtualisation
Complete data platform
Sometimes you deploy a service yourself and get overpowered by millions of hits a week that you weren't expecting before. If you move your application to Azure, Azure will automatically expand to suit the needs of these crazy hits and load.
Windows Server 2012 is ready now; Microsoft has spent lots of time early on to make sure that the hardware vendors are in (with logo-certified servers), system integrators are trained to deploy, service providers deploying to datacenters globally, software vendors certifying their applications to take advantage of the new features in Server 2012.
Richard Fox-Smith, I.T manager, from Kennards Hire (kennards.com.au) and Michael Chanter, General Manager, from Frontline shared their experiences with us in using Microsoft Server 2012 to solve their problems and also the reason behind their decisions to move to Microsoft Server 2012.  Richard loves Server 2012's Hyper-V Replica, manageability, flexbility, portability, and scalibility.
Shiran Herath, CIO, from McGrathNicol (a boutique advisory firm) and John Fahey, Technology Manager, also shared their experiences in using Windows Azure & Windows Server 2012. Shiran loves the seamless connection between Windows Azure (public cloud) and Windows Server 2012 (to manage McGrathNicol's).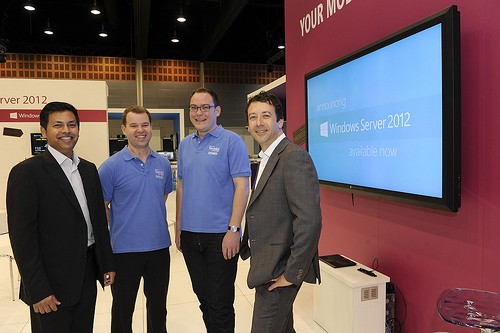 Windows Server 2012 makes it much easier to manage and deploy the server for small and medium businesses using the new server manager. This can be done remotely. Microsoft Server 2012's new feature, Cluster Aware updating, also makes it easy to update clusters automatically.
Microsoft Windows Server 2012 was officially launched last week.
Update – All Microsoft TechEd Australia 2012 coverage posts:
TechEd Australia 2012 Day 2 – Windows Server 2012
Disclosure: I was invited and sponsored by Microsoft to cover TechEd Australia 2012. Photos taken from Life@Microsoft Australia Flickr.