Most of us have already registered in one or more rewards program like Flybuys, Qantas Frequent Flyer, Razer zVault, Nintendo's, and many more. Earning points while doing what you've been doing (like playing games with Razer's reward program or buying groceries) is great – you practically earn without even realising it.
Sure, the points that you have to collect before you can redeem it for something useful are massively hard to earn and a "waste of time", but if you don't have to do anything extra, why not?
Microsoft Reward program is new, but has a similar concept. By doing what you've been doing such as browsing the web or running searches, you can earn points slowly but steadily.
Joining is free and at the end of the day, you can redeem your points to buy games on the Microsoft store or for other purchases like gift cards and Skype credits.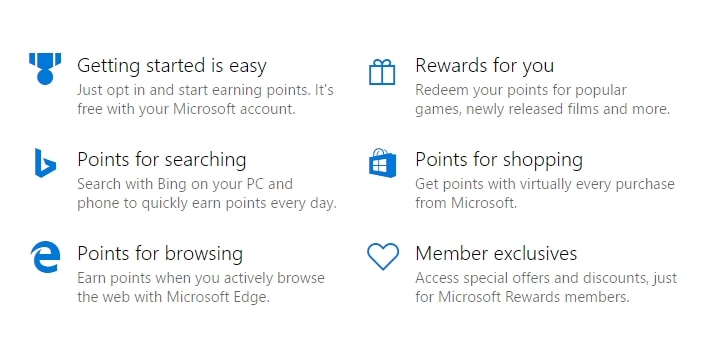 Here are some ways to earn Microsoft Reward points:
Search the web with Bing. Level 1 members can earn points for up to 10 searches each day and Level 2 members can earn points for up to 50 searches per day. You earn 3 points per Bing search.
Use Microsoft Edge web browser to browse and you can start earning points (more detailed guide on earning points with Microsoft Edge here). It looks like you'll earn 5 points per hour of browsing (up to 150 points per month).
Buy content at the Xbox Store and Windows Store. You'll earn 1 point per $1 spent.
Buy from the local Microsoft Store (by giving the email address associated with the Microsoft account). Surface Hub excluded.
Visit your Rewards account dashboard and check some offers (like visiting a page or answering a quiz)
To get to Level 2, you need to earn at least 500 points on that month. Level 2 members can earn 5 times more points on Bing, save up to 10% on reward redemptions, and get access to exclusive offers.
You can check your points earned on the account page or when you are browsing to Bing with the Microsoft Edge browser: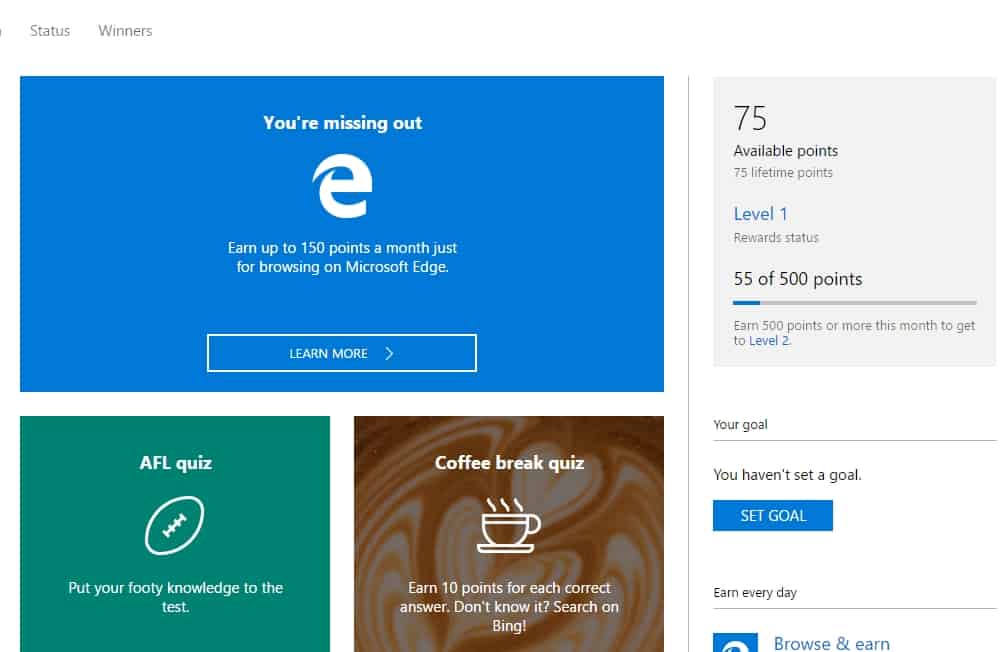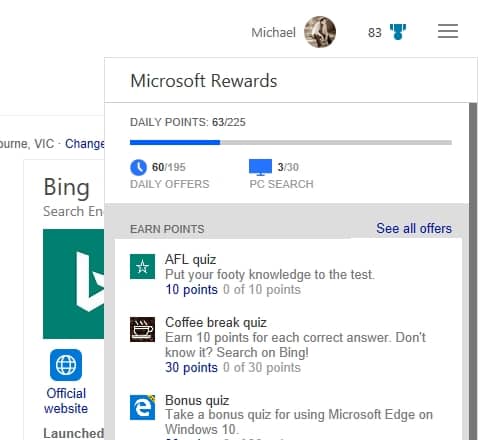 To those who are comfortable with using other web browsers like Firefox, Chrome, or Opera/Vivaldi and Google for their searches may have to pass on the offer. But if you are willing to try and make a change, the Microsoft Rewards program is a good incentive.
The problem is that you do have to save up 2,380 points (Level 1) to get a $3 Windows Store Gift Card or 3,820 points (Level 1) just for a $5 Xbox Store gift card. But if you've been browsing with Internet Explorer or Microsoft Edge and using Bing, then why not?
Microsoft Rewards is only available in the U.S and Australia at the moment but more countries are planned in the next few months, so stay tuned for that.