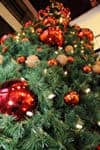 I just want to say Merry Christmas to all of you (and happy incoming new year 2011)! Thank you for being here and for the support throughout the year. It's been a year of struggle for me personally but it has been a great year for Craving Tech (not to mention that it's also the 1st anniversary of the Craving Tech's "branding" this month!).
Looking forward for another great year ahead, a year of opportunities. Have a lovely holiday, everyone!
If you want to know the true meaning of Christmas, don't miss watching this video where I played as God for the Everything by Lighthouse drama skit below.