Having more than 1 remote at home? Perhaps 1 for your TV, 1 for your video player, 1 for your sound system, 1 for your console… I should stop here as the list can go on and on. Thanks to Logitech, our digital life can be so much simpler with their Harmony remotes product range. I was given a chance by Logitech as part of their reviewers' program to play around with the Logitech Harmony One Advanced Universal Remote.
The AU $299 tag might surprise you, though and leave you pondering: "Do we really need such a luxury remote?" Let's find out.
Logitech Harmony One Review – Look and Feel
The packaging looks huge but the Harmony One remote itself is fairly small in size:
It has a distinct color, coated mostly in black. It looks modern and elegant, adding an extra touch to your lounge room. The shape is ergonomic – really comfortable to hold. Not to mention that the remote itself is fairly light to lift and hold for a period of time.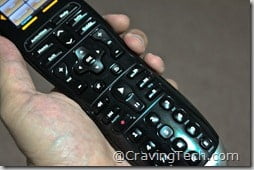 Logitech design this remote really well – buttons are grouped based on their functions and some important ones are in different sizes and shapes with the other (for example the Play button). They are back lit too automatically once you pick up the remote up which is great if you like to watch TV or movies with the lights off.
The LCD is a full color touch screen and really simple to use. There are no complicated settings and buttons are all in texts so you don't have to make a guess of what a button does. As such, it may look quite boring but practically, it's much clearer to see and easier to navigate.
The Harmony One is also rechargeable and the packaging provides a nice charging station for the Harmony One.
Logitech Harmony One Review – Setup and Configuration
Before you can start using it, an initial setup is required to program the Harmony One. According to Logitech, they currently support 5000+ brands and 225,000+ devices. Unless you own a legacy gadget, there is a high chance that it will be supported by the Harmony One.
I was having problems in trying to set-up the remote at the first time. After doing some Google search, I found that the installation didn't work because I had my Windows temporary folder path changed. So if you experience freezes on the Harmony software installation, change your Windows environment paths back before installing. If you don't know what I'm talking about, just ignore this paragraph completely and suffice to say, you will not get this installation problem :)
Setting up the remote involves searching your devices in the Harmony remote program and set them up. The instructions were really clear (step by step) so even if you are not a technical person, you should be able to set the remote up easily. I could find my Samsung HDTV, my Sony Blu-Ray player, and (surprisingly) my WD Elements Play.
You can manually set the buttons on the Harmony One through the interface too if you want to customize it a bit further: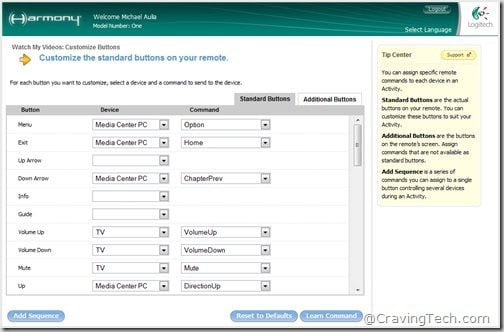 You can also set an "Activity" which involves handling multiple devices at the same time. For example, when you want to "Watch a Blu-ray movie" (you can name it anything) you want:
Your TV to be turned on and its source changed to HDMI1
Your Blu-ray player to be turned on
Your sound system to be turned on
When you've done watching the movie and want to go back to watching TV, an activity called "Watch TV" should:
Turn the Blu-ray player and sound system off
Turn the TV on (if necessary).
It's really simple and intuitive. Rather than having to switch to each device to turn it on or off, using the Activity feature saves you time and effort.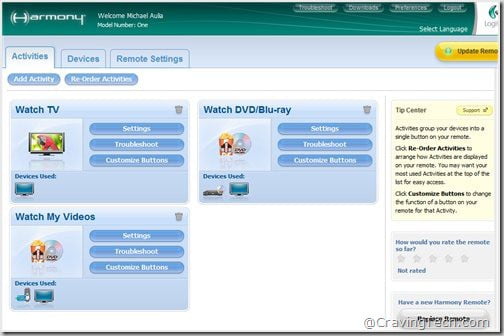 For example, here is my set-up for watching movies on my WD Elements Play: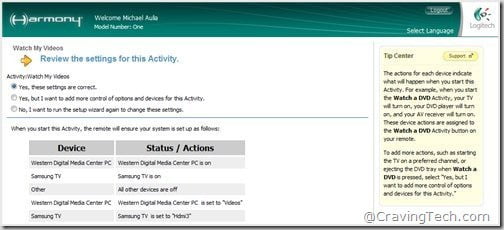 Logitech Harmony One Review – Overall experience
Overall, I'm very pleased with the Logitech Harmony One. It's really intuitive and practical. I know I've only eliminated 3 remotes here but I know friends who are using 5 remotes in the house! The Harmony One can actually replace up to 15 devices according to its specification page.
It definitely supports lots of devices and also has great features within. The ability to auto set multiple devices through the Activity feature and advanced manual customisations are the big pluses on the Harmony One.
Thanks to the manual button assignments, I'm able to fully remove my WD Elements Play completely (I use the automated settings and added a few more to make the set-up complete). There are also other advanced settings to play around such as setting up sequences (to lower the volume of a device, etc) and setting favorite TV channels up on the remote with the channel icon.
The initial set-up might take a while but definitely rewarding at the end. There is also somewhat a learning curve since you need to re-learn how to access certain settings using the Harmony One remote. It can be a bit daunting at first but try to force yourself to leave your old remotes and use the Harmony One instead.
Why clutter your lounge room with many remotes? One remote to rule them all! I'd definitely recommend grabbing the Logitech Harmony One up.
Note: Sample unit provided for the review. Logitech Tester Number LPT10308.