Livescribe 3 Smartpen review – Back before I actually owned a tablet or an Ultrabook, I wrote my sermon notes in a small notebook. When I got back home, I then had to re-type what I've written to be uploaded to my church's website (I'm the webmaster). Or, when I had to write the minutes of a meeting, I often had to do the same (i.e writing on a piece of paper and then re-typing it as a document for our archive).
Or how about that time when you don't understand what you wrote on your lecture notes and wish your lecturer can utter the words back from your notes? At ease, friends. Here is Livescribe 3 Smartpen to the rescue.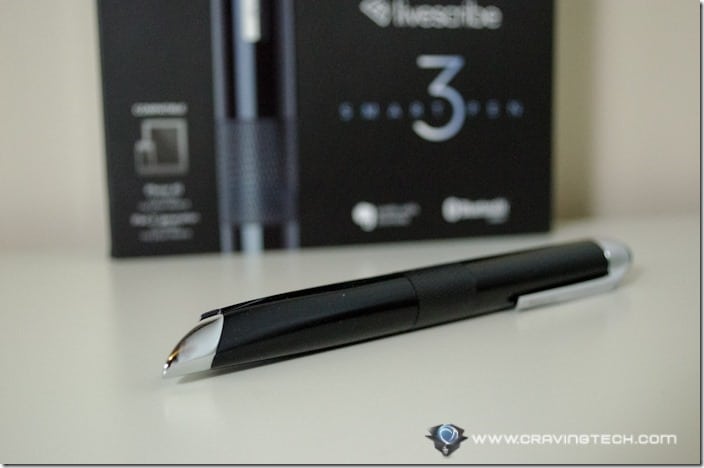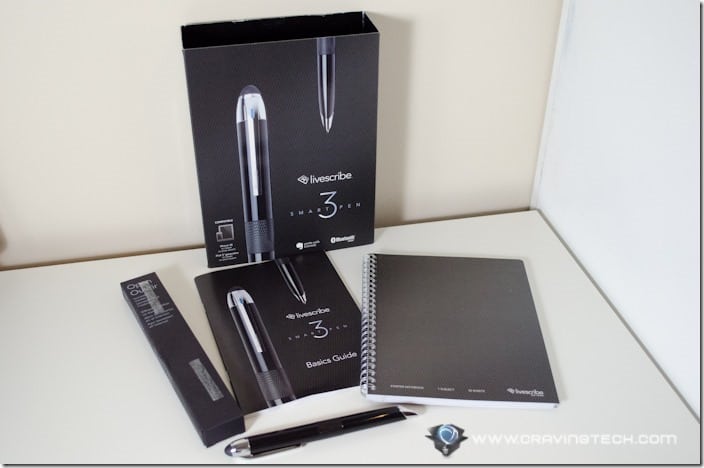 This is not the first smartpen that Livescribe has made. The previous Livescribe magic smartpens that I've reviewed before were the Livescribe Echo and Livescribe Sky. They all have similar concepts, but are done differently. So what does the Livescribe 3 do this time?
With the Livescribe 3 smartpen, you can write notes on a notebook while having the exact copy of your handwriting on your smartphone or tablet (at the moment it can only support iOS 7 devices such as the iPhone, iPod Touch, and iPad, though Android version is in the works).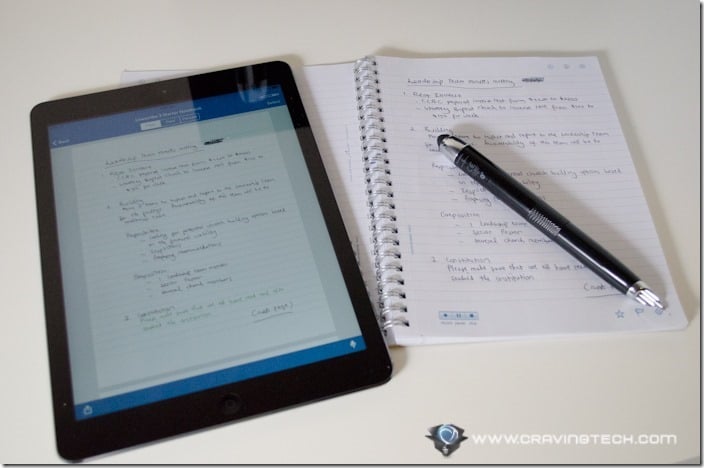 You can also record the audio while you write and replay a specific part of the recording with the tip of the pen. What makes it magical is that you can replay the recorded audio at a specific point in time from your handwriting (this is done through your device's microphone, not from the pen itself like the Echo). Exciting, right? Notes with audio recording will be marked in green. You can also use the app to auto translate your handwriting into digital text, which can then be attached or even uploaded as a PDF document in Evernote.
Livescribe 3 Smartpen is actually a real pen with real ink. The pen is pretty light to hold, despite of the huge size as a pen, and is actually quite comfortable to write notes with.
Twist the body to reveal the tip (with changeable ink cartridge) and also to turn the pen on. You are required to install the free Livescribe+ app on your iOS device to start connecting to the Livescribe 3 Smartpen via Bluetooth. The pen is rechargeable via microUSB.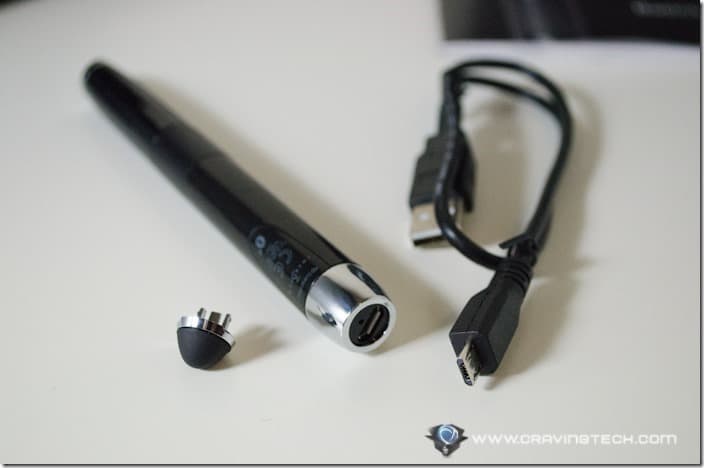 Thanks to the Livescribe Dot Paper (the notebook), everything you write and draw will be captured instantly. Yes, you need this to make sure that the magic can happen. Thankfully, the Livescribe paper is affordable (can be bought at Officeworks Australia and other retail stores) and you can also print your own dot paper if you are on a tight budget.
What you write on the paper will magically appear on the app (with about 2-3 seconds lag on my tests). This is like having an exact copy of what you write at the palm of your hand. Should you ever lose your notebook (or leave it at home), you will still have your notes with you.
You can convert the handwritten text into digital text with ease. Simply swipe the row of text through the app's Feed tab and it will be done instantly. Unfortunately, there is no "Auto translate all" so you need to do this part by part. Obviously, depending on how bad your handwriting is, the app may not be able to translate perfectly. The translation engine is, however, very good. If it makes translation mistakes, you can edit the note within the app and save the changes. Once you are done translating, you can attach your notes on your email draft, or upload them to Evernote.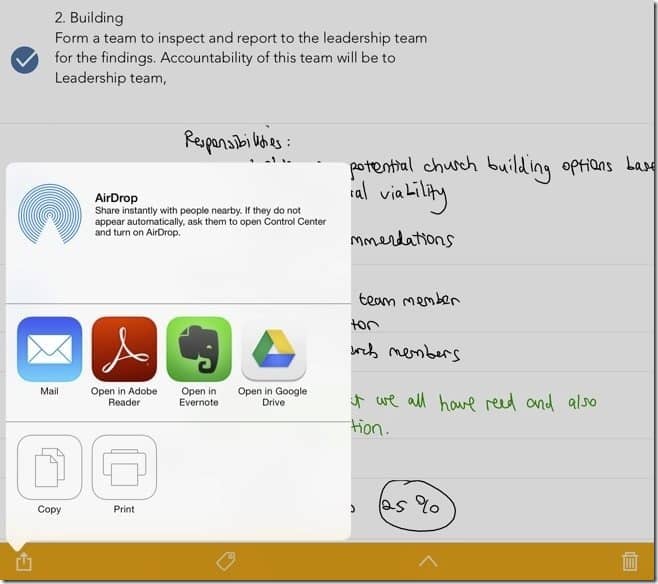 Livescribe 3 Smartpen Review – Conclusion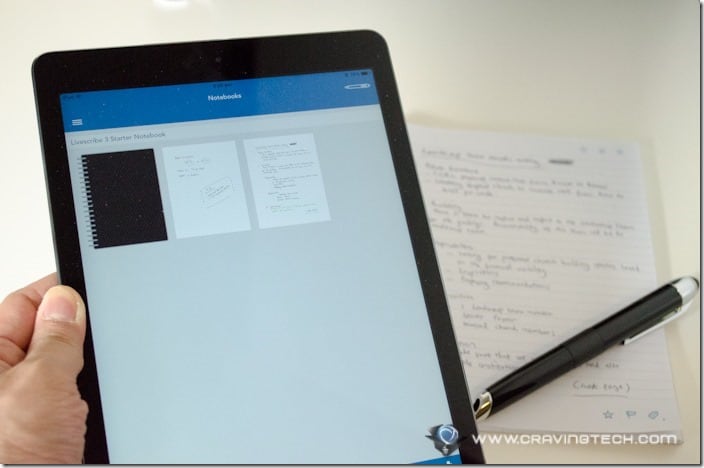 Having Livescribe 3 Smartpen with an iPhone or iPad feels like having your own notes with you at all times. It's an exceptionally useful device for students, note takers, and journalists. Bloggers or journalists who attend product launch events can play back a specific audio recording to get the correct quote from a spokesperson. Students who write lecture notes can write in point forms and play back the recorded lecture when they need to during exam preparations. The possibilities are endless here.
Whether to get a Livescribe 3 Smartpen or not is an easy decision. You know what it does and what it does not. If it's going to make your life easier, then there is no reason not to grab it. If you still prefer an old, traditional, pen and paper or if you don't really need one because you always type your notes on a laptop (or a mobile device), then you probably don't need to grab the Livescribe 3 at all.
[AMAZONPRODUCTS asin="B00FG38L16″]
Disclosure: Livescribe 3 Smartpen review sample was provided for the review