Kingston KC2500 NVMe SSD Review – Using Gen 3.0 x 4 controller and 96-layer 3D TLC NAND, Kingston KC2500 NVMe M.2 SSD delivers fast performance with 3,500 MB/s read and 2,900 MB/s write speed. Yes, it's fast.
There is also a 2 TB capacity option if you need a huge storage space with fast read and write performance. There were times where you could only install your operating system on a small capacity NVMe SSD and store your data on a bigger, slower hard drive. But not anymore.
With photos and videos currently being used everywhere including social media, you might want to store them somewhere fast, where you can do post-processing after. While a traditional SATA SSD like the Kingston KC600 is good enough, it only has 550MB/s read and 520MB/s write speed (limitation on the SATA interface). You can imagine the huge speed increase when moving from SATA to the M.2 interface. Editing photos and videos should feel quicker.
Using CrystalDisk Benchmark tested on my AMD Ryzen 3800X system, I did get more than the promised performance from Kingston – 3,521 MB/s read and 3,012 MB/s write speed.
Both on paper and from the live result, Kingston KC2500 (3,500/2,900 MB/s) is one of the fastest NVMe SSD on the PCI 3.0×4 controller I've ever reviewed on. Its read speed is slightly even faster than the Seagate FireCuda 510 (3,450/3,200 MB/s) and leave WD Black SN750 (3,400/2,800 MB/s) behind.
Here are the visual comparisons with the other NVMe M.2 SSDs I've reviewed at Craving Tech: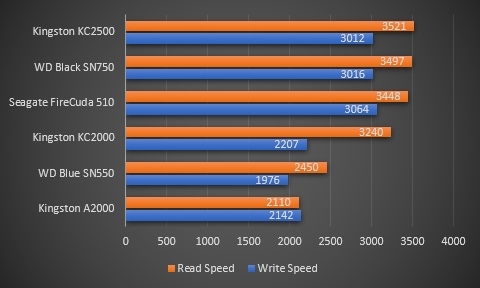 Kingston KC2500 is a self-encrypting drive that supports XTS-AES 256 bit Hardware-based encryption and TCG Opal 2.0 security management solutions from third parties like Symantec, McAfee, etc. There is also a built-in Microsoft eDrive support for use with Windows 10 BitLocker feature.
So, whether you are using the drive for gaming or for professional work, you've got yourself covered.
An Acronis True Image cloning software licence is also provided in the packaging, in case you want to migrate your operating system from an old drive to this. Those who are still using a traditional HDD or a SATA SSD would find the migration process simpler with the help of Acronis True Image without having to reinstall your operating system from scratch (though I always recommend doing this for a cleaner setup).
Kingson KC2500 Review Conclusion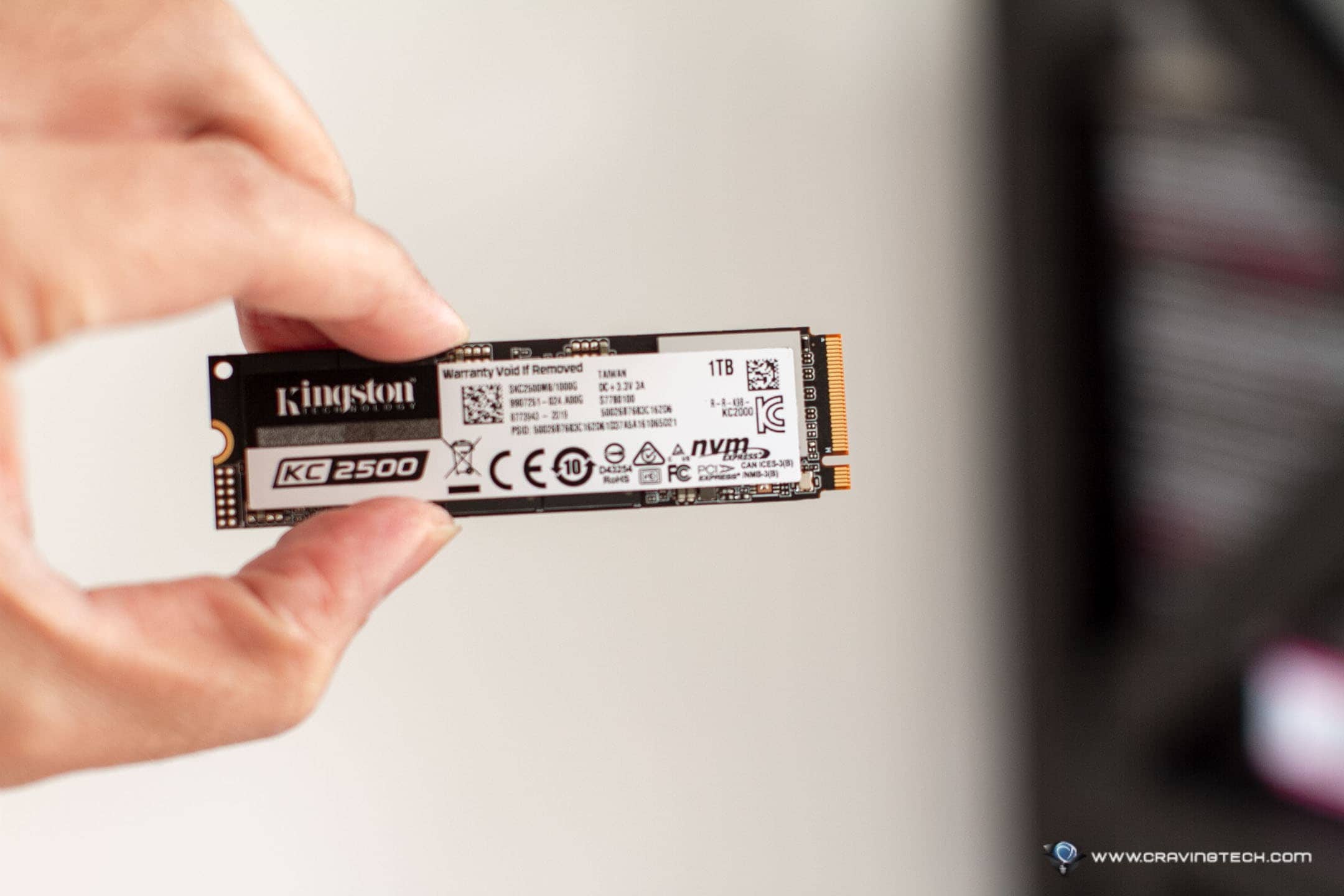 Kingson KC2500 NVMe M.2 SSD is the fastest NVMe on the PCIe Gen 3.0 x 4 in terms of read speed I've ever reviewed on – followed closely by the WD Black SN750 and Seagate FireCuda 510.
It is a self-encrypting drive with XTS-AAES 256 bit Hardware-based encryption support and TCG Opal 2.0, in case you want to secure the data inside your drive. Plus, BitLocker (Windows 10 Pro built-in volume encryption feature) is also supported if you are not planning to purchase any third party solution. But if not, the drive will be a perfect gaming drive as well, thanks to the super fast read speed. Loading save games and maps should take only a few seconds or instantaneous now.
Kingston KC2500 comes with a 5-year limited warranty and retails for around AU$289 (for 1TB capacity). It's available now at many retailers around Australia.
Disclosure: Kingston KC2500 review sample was supplied for reviewing but all opinions are mine and not paid
Kingston KC2500 NVMe M.2 SSD Review
Summary
One of the fastest NVMe M.2 SSD on the PCI Express Gen 3.0 x 4, especially its read speed
Pros
Super fast read speed
Excellent performance overall
Supports a full security suite
Up to 2TB capacity is available