Griffin WatchStand Powered Charging Station Review – The Griffin WatchStand is a simple and elegant accessory to keep your desk tidy from cable clutters.
Having to charge my Apple Watch and iPhone 6s with separate cables means messy cables are all over my table (or on the floor) each day and night.
There definitely is no better cable management than having a stand or station that removes the cable clutter and sits nicely on the desk.
Griffin WatchStand Review – Packaging
Griffin WatchStand Review -Design & Features
Griffin WatchStand itself has a simple design that seems to be focusing more on functionalities. In my opinion, it looks a bit too plastic-y and easy to get smudged, but I guess you'll probably have to pay more if you want to have a more premium look with premium materials.
The built-in cable management encourages you to set the stand up nicely by wrapping the Apple Watch charging cord around the WatchStand's post. However, it is completely optional and you can get good results even if you can't be bothered doing it.
At the bottom of the stand, you can nicely wrap your iPhone charging cable around and plug all the cables (to charge your Apple Watch and iPhone/iPad/iPod) into the 2 USB ports. These USB ports have different outputs: Apple Watch: 2.5 W (5V @ 500mA) and iPhone/iPad: 10 W (5V @ 2.1A) so it's best to plug them accordingly.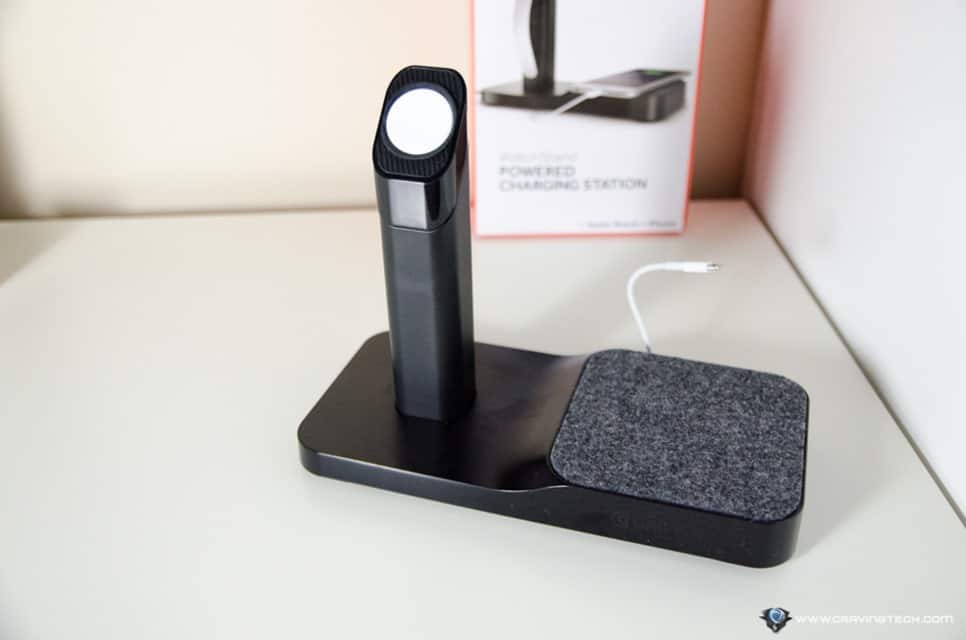 What makes Griffin WatchStand great is the flexibility. The post that is used to charge your Apple Watch can be adjusted to face different directions. This way, you can place the stand on any corner of your desk and it will still work.
If you use the Apple Watch in Nighstand mode, for example, you can adjust the post to face your bed. Or if not, the other way for a better access to the watch.
The post definitely makes it more stylish and cooler to charge your Apple Watch. I'm not a fan of the white-meets-the-black look on top, but Apple unfortunately does not offer the charging puck in Black.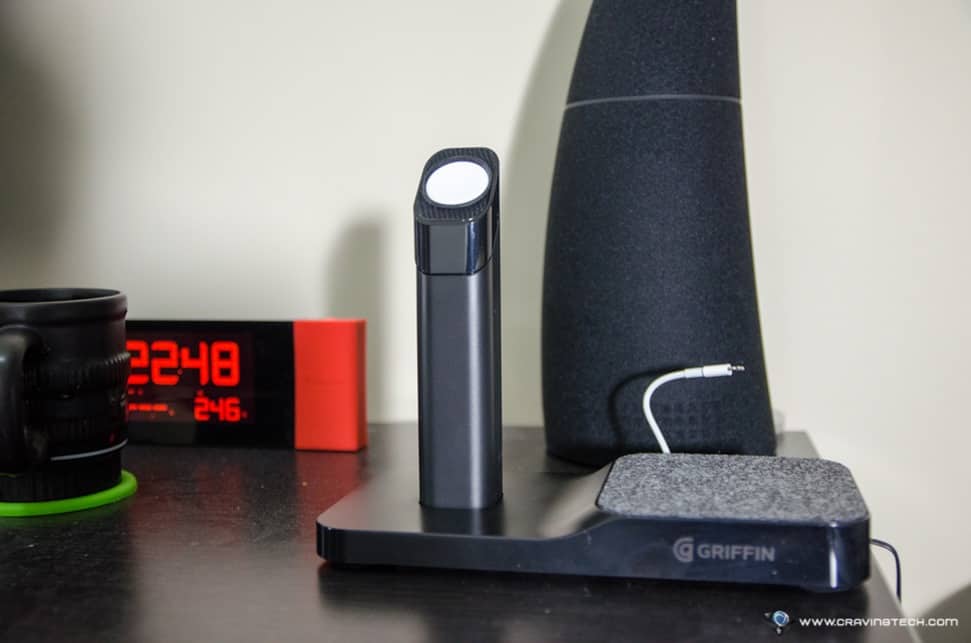 Griffin WatchStand offers a flat, soft platform for you to place your iPhone on while it's being charged (or even as a "resting place" when it's not being charged). I usually prefer my iPhone to face me while I'm sleeping so I can quickly turn my alarm off (or, ahem, snooze it). You can also place the iPhone sideways on an angle, but it makes a horrific sound every time the phone vibrates.
At the end, I .combined my iPhone PADACS desk stand with the Griffin WatchStand for the perfect angle and positioning.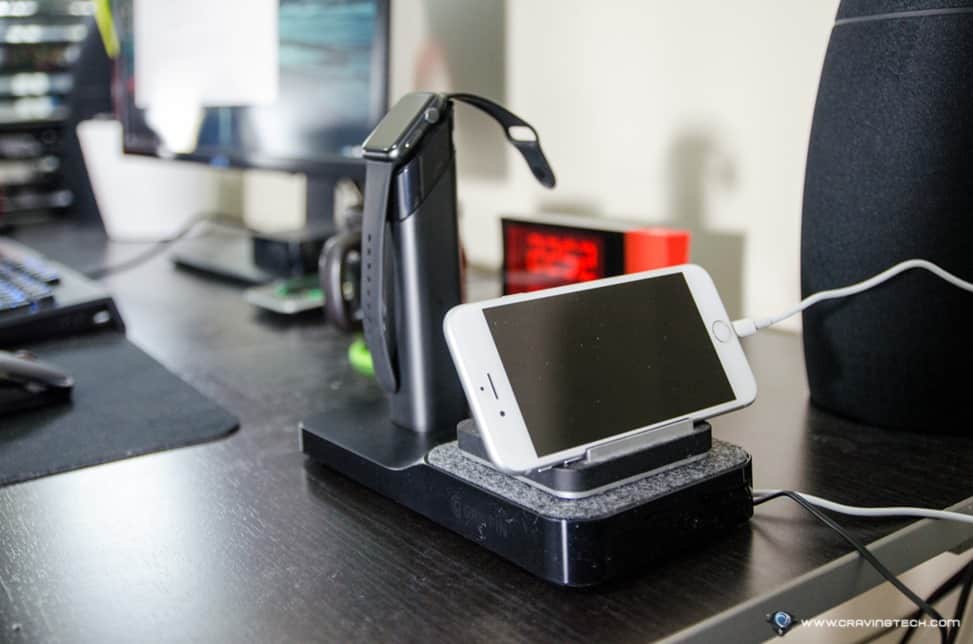 The base has non-skitted padding and has a bit of weight on it, so the whole stand sits steadily on the desk even when it may not look that way from the pictures.
Griffin WatchStand Review Conclusion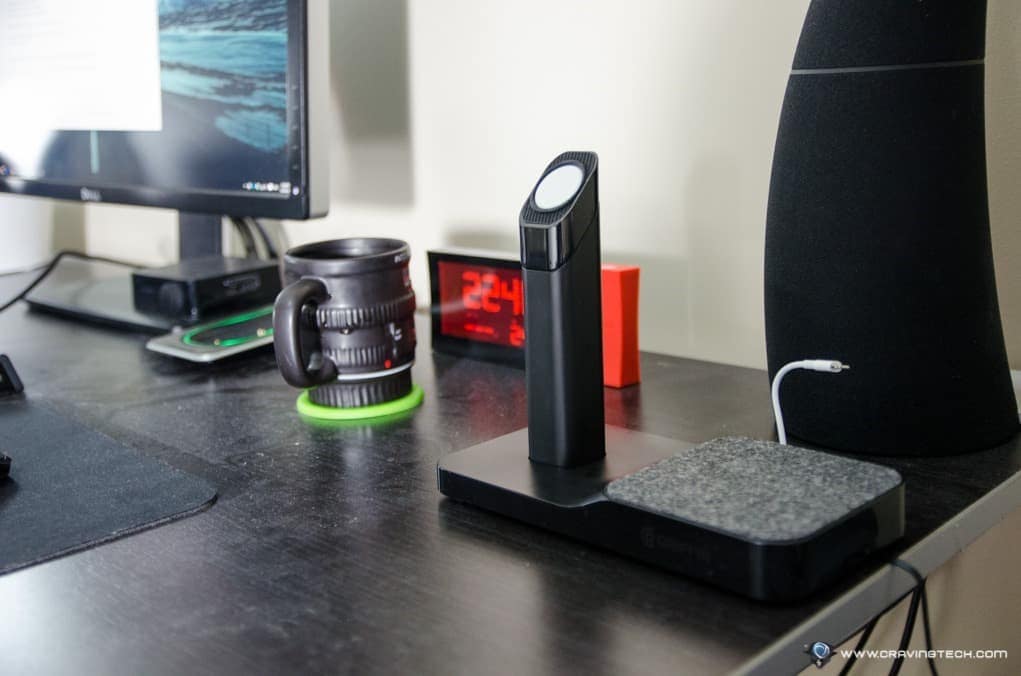 The Griffin WatchStand offers a cool way to charge your Apple Watch and/or your iOS devices on your desk, while removing cable clutter at the same time.
How you want to place your devices is quite flexible and you can adjust the post' direction to fit on any desk setup.
The Griffin WatchStand may not have a premium look-and-feel like the Apple devices, however, it does offer great cable management and elegant ways to charge your devices on the desk.
Disclosure: Sample was supplied for reviewing but all opinions are mine and not paid.