The Smart Case from WaterField Designs is packed with soft padded multi-layered materials, guaranteed to protect your iPhone should it fall to the ground.
Unlike the other cases I've reviewed where the protection layers consist of different padded types (soft and hard), the Smart case is made with multiple soft materials – guarantees protection and also a soft-to-the-touch feel.
The iPhone (supports 3G/3GS and 4/4S) can be slided in and out of the case, with a snug fit. When it's inside, it will not come out even if you turn the case upside-down. Use your fingers to hold the case and also to slide your iPhone out of the case. The inner material also cleans/wipes your iPhone's screen when you slide it out of the case, nifty.
There are three varieties of the SmartPhone; the Slip (the original), Flap (flap it on your backpack), and Clip (can clip on your belt, pants, etc).
You can also get the WaterField Designs Smart Case to protect your iPhone with Bumper Case (you have an option to choose the Smart Case size).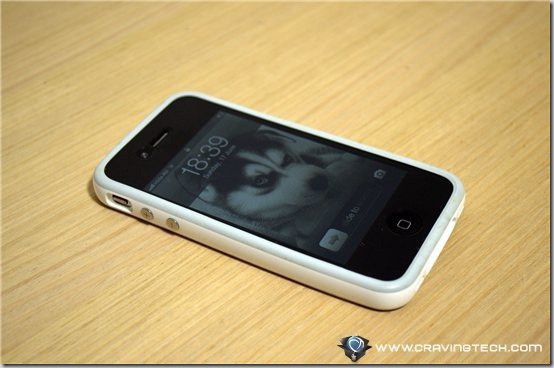 This way, you can enjoy your sexy iPhone with bumper case look but it still be well protected inside the case.
The Smart Case also has a transparent pocket so you can store an earphone or your most important cards in it:
The Smart Case may not be for everyone (as it's definitely not the slimmest case out there), but if you want a stylish case to give you the maximum protection without the bulkiness-rough feel, then you should consider grabbing this case from WaterField Designs.