iolo System Mechanic 12 Giveaway – System Mechanic from iolo is a great tool to tweak and increase the performance of your Windows system. Cleaning up the mess from uninstalling old software or invalid registry entries can only be done by a clean-up tool. Why is this important? Because it reduces the time Windows needs to load the registry (and at times, for your Windows start-up).
Feel free to read Craving Tech's System Mechanic 11 review to find out more about this nifty software, because it can do more than just fixing the Windows registry. Or, you can just hop into the giveaway to win their latest System Mechanic 12 version, that was out not long ago.
What's new in System Mechanic 12?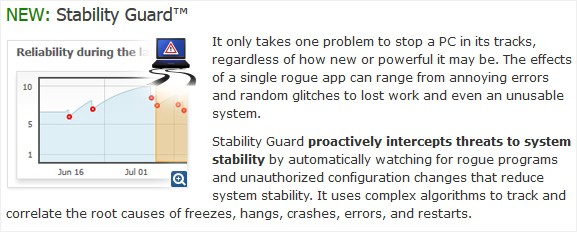 To further increase your PC performance and stability, iolo System Mechanic 12 offers:
Deeper Error Correction – "automatically detects and repairs core-level information corruption to eliminate complex and stubborn PC issues". Things that are definitely unknown for most PC users.
Smarter Bloat Removal – "CRUDD Remover® is now greatly enhanced to detect and remove even more duplicate programs that unnecessarily overload your system". A great space saver, it seems!
Increased System Stability – "Stability Guard™ proactively intercepts threats to system stability to help you keep Windows running rock-solid and problem-free". We all hate those crashes and freezes, right?
Windows 8.1 certified – Windows 8.1 will not be out for public until next month, but it's good to have a future-proof software out this early.
More improvements
In a way, we rarely have time to manage and take good care of your system. Having iolo System Mechanic 12 installed and run in the background will ensure that you'll always have a polished and stable operating system at all times. Rather than waiting for everything to crumble, it is best to have something to make sure that it never happens during your crucial moment.
iolo System Mechanic 12 Giveaway
Thanks to iolo, Craving Tech has been sponsored 5 free System Mechanic 12 licenses to be given away through a competition! As always, simply join in through the widget below to earn entries. Five winners will be picked randomly from the entries, so make sure you get as many entries as possible throughout the giveaway period!
Terms and Conditions:
Eligibility: Worldwide (license keys will be sent via email), except for the state of NSW in Australia and if your country does not allow such promotions
Giveaway starts on 27th September 2013 6 PM AEST and ends on 18th October 2013 6 PM AEST.
The prize is valued at $24.95 each
The prizes cannot exchanged or redeemed for cash.
The winners will be announced on this blog after the giveaway period is over and contacted by email
PunchTab Widget: