ChargeAll Family Desktop Charger is a clean, all-in-one desktop charger for the whole family. Well, still depends on how many gadgets each family member has.
This ChargeAll Family Desktop Charger can charge up to 6 devices at the same time (tablets, smartphones, Bluetooth headsets, and any other USB-rechargeable devices).
Best of all though, it features a unique, interchangeable, plug-and-charge system and clean solution, without messy cables on the desk.
Using just 1 power cable to power the desktop charger, you plug your devices to the charger through this interchangeable tip system. In the packaging, you will be given 10 interchangeable tips to charge any variety of devices you may have. The included tips are:
2x Micro USB
2x Mini USB
2x Apple Lightning ports
Sony Ericsson
Samsung
LG
Nokia 2mm
You can place up to 4 tips on the interchangeable tip system so you can mix-and-match, depends on what devices you have at home. It's a cool and easy system to use. Really practical. Push the rubbery parts (which also makes the charger stay in place) to push a tip out and plug another one in.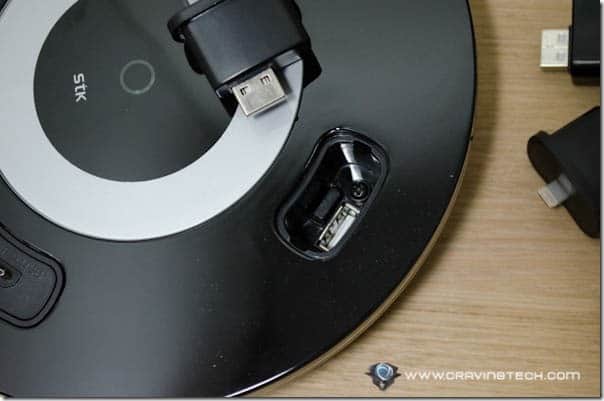 Your device will also rest either on top of the tip itself, or on the charger's surface. There is no support unfortunately, so it is best probably not to plug your big tablet on the tip without any support.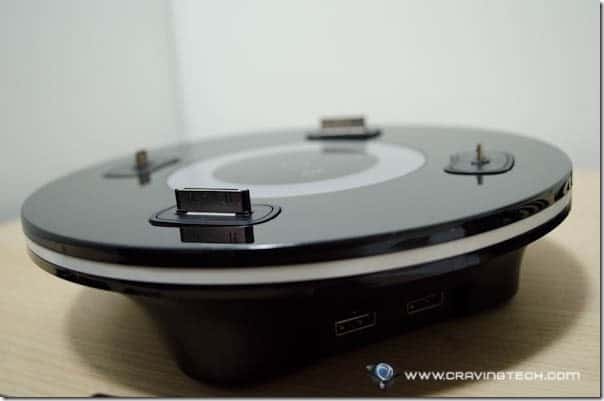 There are also 2 USB slots provided to cater for devices that do not use these tips. This way, you can still plug anything that is rechargeable via USB to the ChargeAll Family Desktop charger.
There was quite a loud humming noise once I plug my iPhone 5 onto the charger though, which may be quite distracting if you place this next to your bed. There is also a problem after I upgraded to the iOS 7 final because Apple has blocked any non-certified third party lightning cable to charge.
Previously, you'd get a warning but still be able to charge. After the final iOS 7 release however, ChargeAll Family Desktop Charger can no longer charge my iPhone 5s (I upgraded).
A pity, but at least it can still charge my HTC One and also the Plantronics BackBeat GO 2 Bluetooth headset. I can also use the standard USB slots on the charger to charge my iPhone 5s with the genuine lightning cable from Apple.
Overall, this is a great all-around desktop charger for those who are looking to reduce the cable messiness on their desk.
Disclosure: ChargeAll Family Desktop Charger Review sample was sponsored for the review by MobileZap but the opinions are 100% mine. Feel free to check out their other range of accessories