HP OfficeJet Pro 8740 All-in-One Printer Review (D9L21A) – Today, I got an opportunity to review the HP OfficeJet Pro 8740 multi-function printer (which is part of HP OfficeJet Pro 8000 Series) and it is the most advanced printer I've ever used so far.
I had some bad experiences in the past setting up printers and how hard it was to connect them to my wireless home network, so I had quite a low expectation this time. But to my surprise, setting up the HP OfficeJet Pro 8740 was as fast as setting up a new phone.
In addition to how easy it is to set it all up, the printer is also user friendly to navigate and has a complete feature set in a rather compact, though heavy unit (about 18.5 kg).
What's inside the box?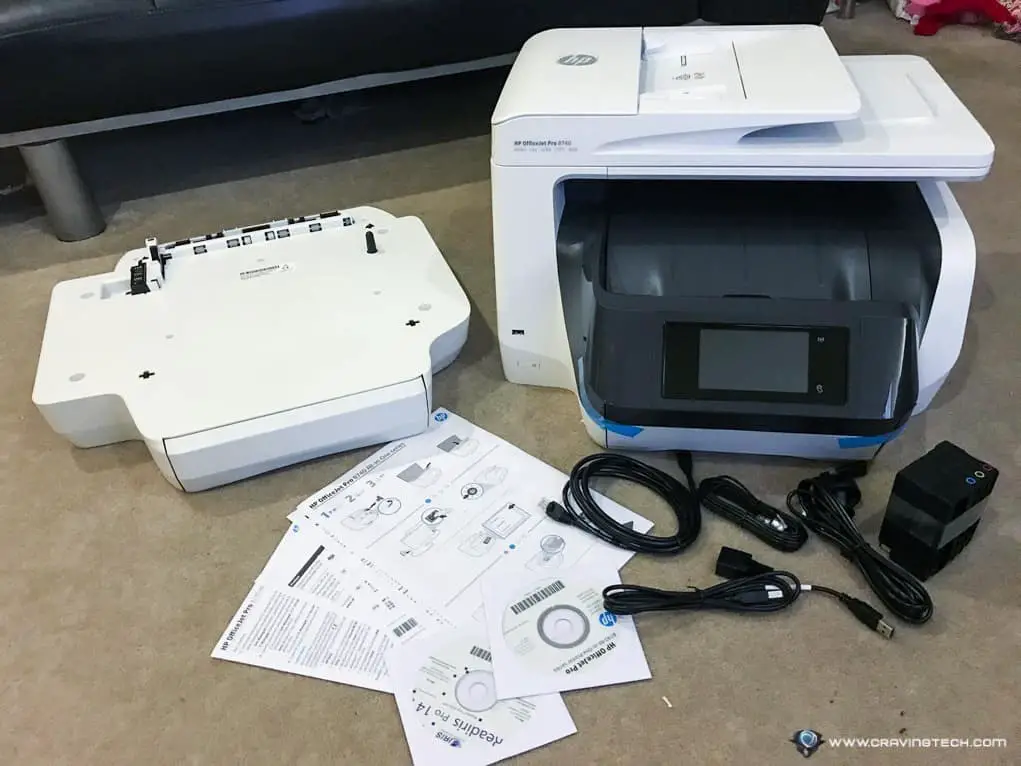 If you order the printer using a delivery courier, you might be surprised at how big the packaging box is and wonder where the printer would fit in your house. However, once you unbox it, the printer is actually not as big and I can even place it on my coffee table. It's designed so that it's taller than wider – which may or may not work with your set up plan.
The packaging comes with the HP OfficeJet Pro 8740 unit itself, an extra tray (fits 250 sheets of paper), manuals, warranty, HP 952 setup Black (up to 1000 pages), Cyan, Magenta, and Yellow instant inks (up to 625 pages), a power cord, and a phone cord for fax.
For HP OfficeJet Pro 8740 driver, you can grab the latest version at HP OfficeJet Pro 8740 All-in-One Printer series – Software and Drivers page.
HP OfficeJet Pro 8740 Design & Features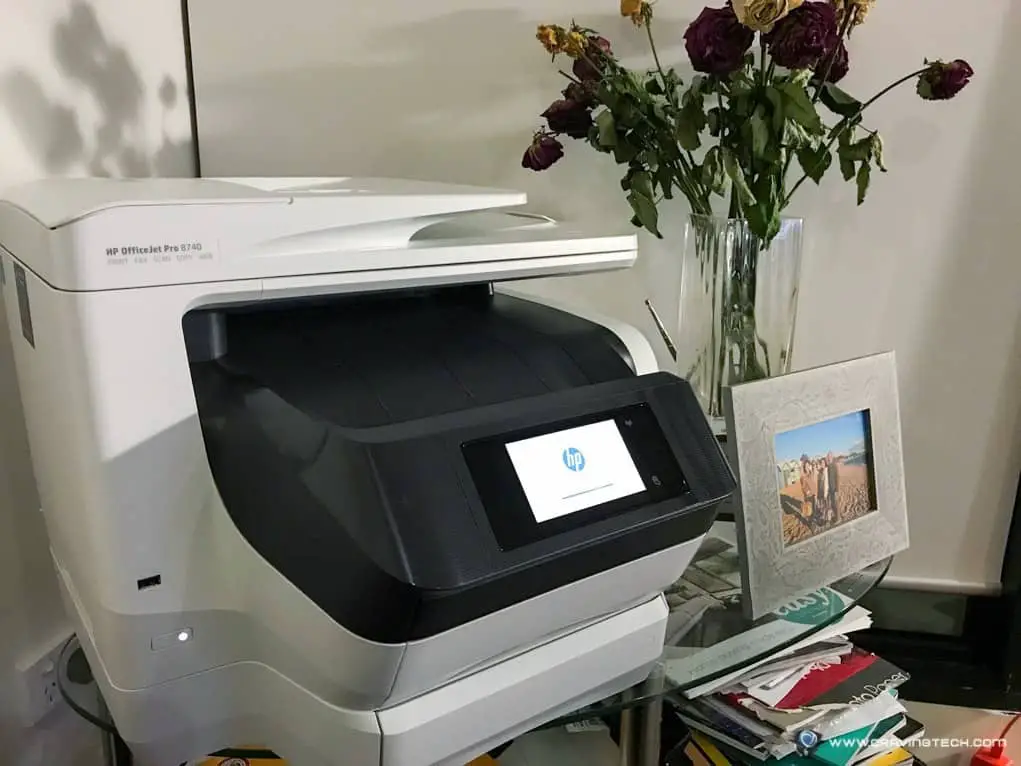 Unlike the lesser models in the family (8710, 8720, 8730), the HP OfficeJet Pro 8740 comes with an extra tray (two trays in total) so you can spend less time hassling with paper sheets change. If one of the trays is empty, a notification pops up on the top of the screen but you'll still be able to print with papers loaded in one tray. If you don't need the extra tray, the 8730 is just as good.
HP OfficeJet Pro 8740 Features
The printer comes with a complete set of features to print, scan, copy, and fax. However, what makes it special is the innovative features set that increases the productivity and efficiency such as the 50-sheet ADF (automatic document feeder), high-speed two-sided printing (duplex printing), jobs scan, and an efficient ink usage that is quite competitive in the market.
Amazingly, this printer also connects to my home wireless network quickly and without a fuss (compared to the Canon PIXMA G4600 setup struggle that I experienced). If you know your ways around setting up printers and network, you'll even do just fine without having to read the manual.
The printer is operated through a user friendly and responsive 4.3″ touch screen. Everything is clearly labelled and grouped into the right sections.
By downloading an app, you can also print and scan your documents from your smartphone, among other things. The app is also user friendly and connects quickly to the printer. If you are not a fan of using apps, the printer offers a lot of other connectivity options such as NFC, direct connection to a number of different cloud services, and even as simple as plugging a USB flash drive in.
You can also set up a contact list with email addresses which allows you to quickly scan documents and then send them to a recipient's email inbox as an attachment. The scanner also scans two-sided in a single pass, which speeds things up if you have to scan many invoices, pages of documents, or contracts. This, in my opinion, is one of the OfficeJet Pro 840 strengths (most printers usually scan two-sided document in two passes).
Despite of HP's claim that the printer is fitted with a technology to make the ink more efficient, coloured printing results are pretty outstanding. The colour reproduction is great and the contrast is spot on. Photo printing is great for personal use but you might want to look at the HP Envy series for a more premium, professional photo printing.
From my previous review on their HP Sprocket, a handy gadget that "prints photos without ink", I'm hoping we would be able to someday have a printer that supports the ZINK Zero ink technology so we can get rid of inks for good. I would image this is definitely possible, but the special papers would make it quite costly for both businesses and personal use.
HP OfficeJet Pro 8740 Review Summary
I really recommend the HP OfficeJet Pro Series to those who have a small business start up or a home office. HP OfficeJet Pro 8740 has a very affordable price considering what you get with it: a high-speed scanning/copying and duplex printing with excellent print results. There are many other multifunction printers that cost twice as much, and often offering similar features.
The unit also has a space saving design and efficiency in ink usage, easy to set up, and easy to navigate. The HP OfficeJet Pro Series (and the 8740 in particular) has definitely shifted my perception on how good can a multifunction printer be, without having to pay a ridiculous price for it. At the time this review is written, the HP OfficeJet Pro 8740 only costs $299 at Officeworks. If you are not in Australia, you can visit HP OfficeJet Pro 8740 at Amazon product page. 
Disclosure: Sample was supplied for reviewing but all opinions are mine and not paid