Canon PIXMA G4600 Review – Canon is a well-known leading company in producing home printers and large-sized printing machines for businesses. They focus on how to deliver user-friendly printers that can be used both at home and at work. And if you fancy a gold-coloured printer, Michael reviewed and loved the Canon PIXMA Gold early last year.
During my early years (while I was still studying), I always chose Canon as my home printer and before I have the latest Canon PIXMA G4600 that I'm reviewing here, I was using the Canon MP230. The G4600 is definitely more advanced and packed with more features.
Canon PIXMA G4600 Review – Packaging
The packaging was huge but the printer itself is actually not as big as the packaging, so you do not need to worry if it's going to take a huge space on your desk.
The packaging comes with the printer itself, some starter inks (GI690 BK, C, M, Y), an installation CD, manuals, a phone line cable, and the power cable. Please take a note that the USB cable to connect your computer straight to printer is not included in the packaging (you have to buy it separately). For the initial setup, you have to connect the printer to your wireless home network.
Canon PIXMA G4600 Review – Features
The speed of printing is important for me, especially when I'm in a rush to prepare reports before my early meeting at the office or when my sister needs to submit her assignment as the deadline approaches. Canon PIXMA G4600 definitely delivers fast printing with an excellent quality. It comes in standard ISO print speed of 8.8 ipm (images per minute) for Black & White printings and 5.0 ipm for Colour printings. The photo printing on a glossy photo paper amazed me because of the sharpness in quality (I'm preparing a decoration for our pastor's upcoming wedding anniversary so I need to print some photos to be put up inside the venue):
Canon PIXMA G4600 delivers high volume printings with minimum cost per print. According to Canon, it can print up to 6,000 B&W pages and 7,000 coloured pages in a full tank. I just printed some photos (about 20 of them) and as you can see, it only consumed a bit amount of ink (the ink tanks are visible so you know how much inks you have left without having to check digitally):
Cloud printing is also featured in this printer, but what makes it unique are the speed and reliable outcome of the printing. Cloud printing can be accessed using the PIXMA Cloud link and Google Cloud print software. The wireless printing is supported for both Mac and Windows machines, and also supports other services like the Canon print service, AirPrint, Mopria, etc.
Canon Print Inkjet/SELPHY app (available on iOS and Android) allows you to print straight from your mobile, add multiple printers, and even checks the printer status. Despite all of these advanced features however, I found it quite frustrating to set up the wireless and cloud printings.
The user guide asked me to go to a website (after I get the "Setting Up for First Use" message on the printer)  which should then help me to connect to the printer. After a few amount of trials, I couldn't finish the setup (I'm on a Mac). I then tried by connecting the printer manually to my home Wi-Fi, but I couldn't find a way to enter numericals for my home Wi-Fi password (sure, I could have changed my passwords to exclude numbers, but I didn't want to). Finally, I could get it working using the WPS pair to my router – but even this took me a few times before it would eventually connect. Apparently, I'm not the only one who has this issue (I was searching for other articles to see if I'm the only one experiencing this). Michael didn't seem to have this problem on the PIXMA Gold MG7766.
I also had a problem with Canon's My Image Garden app as it couldn't connect to the printing service but I was somehow able to scan. Another wish I'd like to have is the brightness on the LCD screen as I remember having to use my phone's flash light to actually see what's displayed while I was trying to set the printer up. It's just not bright enough unless you have plenty amount of light in the room.
The major difference between my previous Canon MP230 and the Canon PIXMA G4600 is definitely the ink system. With the MP340, I had to dispose my ink cartridge after it's fully spent and I had to do it quite regularly. Canon PIXMA G4600 doesn't run out of ink that fast and also has a refillable ink tank system with spill-resistant ink bottle design, keeping it cheap and easy to refill.
What I like most about the refillable ink tank system is the integrated see-through ink tanks that help you easily check the remaining level of ink in each tank. Well, that is another thing from Canon that makes life easier.
Even with the compactness of the G4600, it can still copy up to 99 pages. It also has a 2-in-1 copy on a single page output from double-sided cards such as ID cards or business cards. Document removal reminder detects any document left on the scanner plate and pops up a reminder in the screen with a warning sound. Nifty, and we all need this.
An additional feature that I'm surprisingly still using, is Fax. Canon PIXMA G4600 supports sending and receiving fax so you do not need to buy an extra fax machine (plus, a phone line cable is included). It has 19 locations automated group dialling and supports approximately 50 pages of recipient in memory.
Scanning works wonders too and offers a 600 x 1200 dpi in resolution which takes around 19 seconds for a coloured A4 in 300 dpi.
Canon PIXMA G4600 Review – Conclusion
If you do lots of printings at home and you do not want a costly ink usage, then Canon PIXMA G4600 is a must have at your home or home office. It supports high volume printings with minimum cost per printing, advanced technology like wireless and cloud printing, integrated see-through ink tanks, 2-in-1 copies, and for sure, a sharp, high quality colour printings for your photos.
With the support of printing up to 6000-7000 pages at full capacity, you'll find less trips to the stores to get inks and focus more on printing and your work.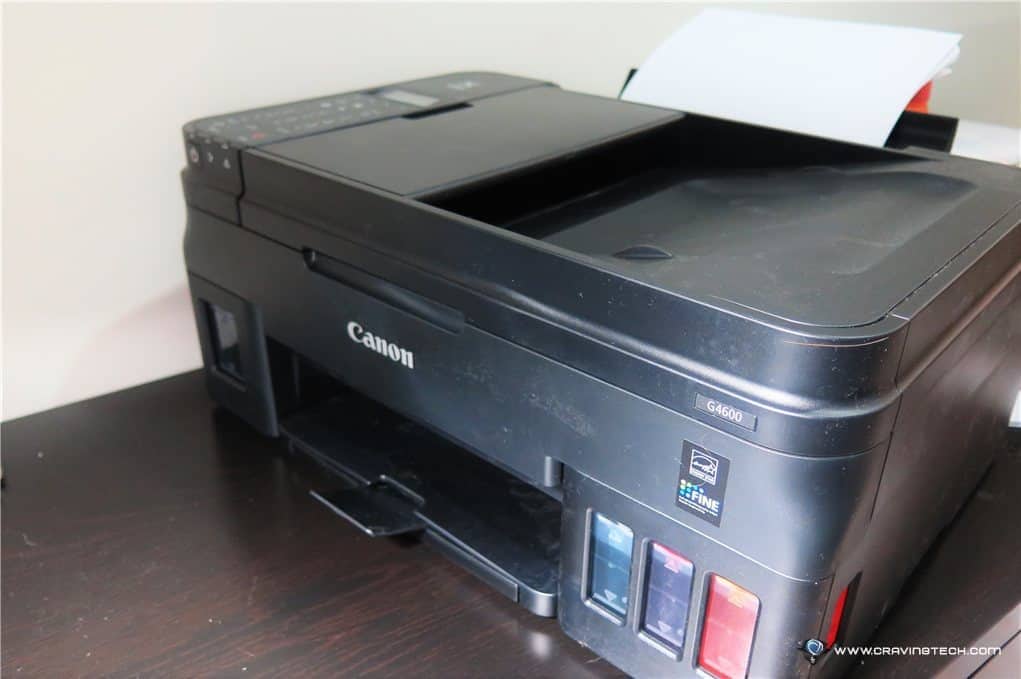 At the end, you've got almost everything covered with Canon PIXMA G4600! You can purchase Canon PIXMA G4600 through retailers in Australia such as Officeworks for an RRP of AU$559.
Disclosure: Sample was supplied for reviewing but all opinions are mine and not paid