Canon PIXMA Gold Review – Gold is definitely the new colour. Almost every smartphone manufacturer offers a Gold option in their smartphone range. I even saw a Gold BMW the other day in a BMW showroom next to where I live (no, I'm serious). Even the upcoming Fitbit Alta fitness band will be available in Gold.
To celebrate this golden year, Canon launches a special edition printer, the Canon PIXMA MG7766, that… comes in Gold.
Canon PIXMA Gold Review – Packaging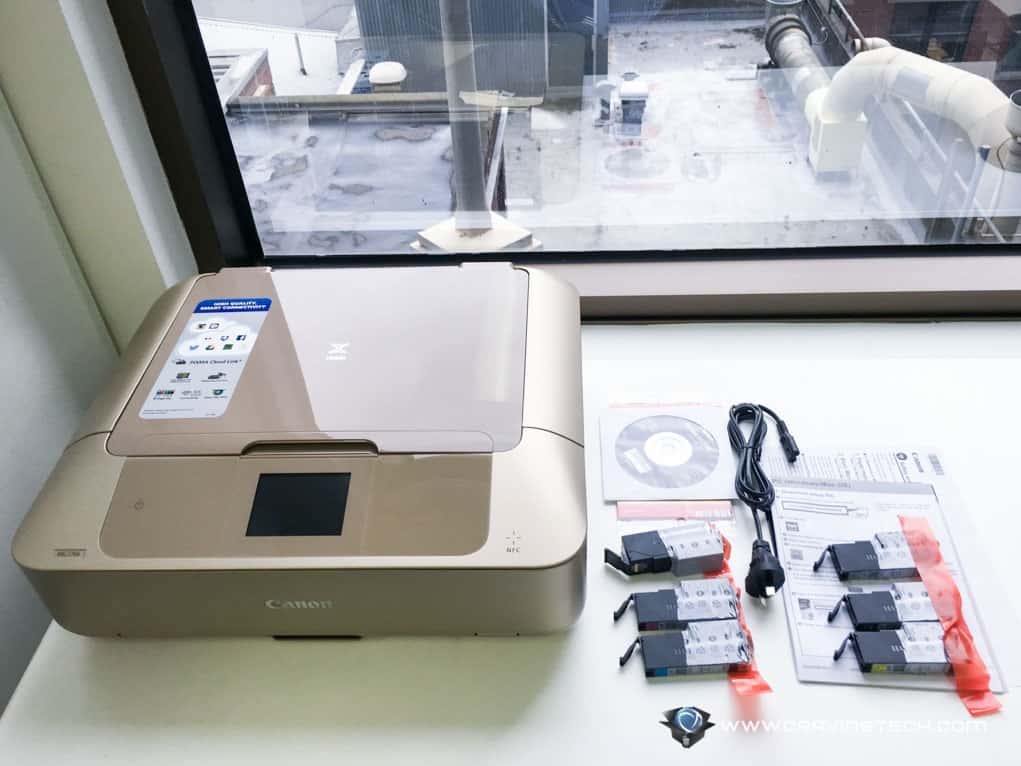 Canon PIXMA Gold Review – Design & Features
Now, not everything looks good in Gold (in my opinion). However, the Canon PIXMA Gold actually looks really good and luxurious in Gold. It actually looks better in real life as the Gold colour is not too striking or too shiny (Champagne Gold?). It is also a mix of Black and Gold, which makes it pop, yet great to behold.
Canon PIXMA Gold is made for home use so it does not have a fax or an A3 tray. However, it is also good for a small business who prints invoices, flyers, and documents. And it also supports printing photos.
Setup is fairly simple and the 3.5″ touch screen LCD also guides you step-by-step to get the printer up and running for the first time.
Six ink cartridges are included, which includes a Grey colour. The Grey Ink delivers true grayscale images to further enhance your colour prints. And unlike most printers I've used, it's easy to open the tray on the PIXMA Gold (the tray is also self-opening which will be opened automatically by the printer if it's closed and you are about to print something).
There aren't really hard buttons on the printer itself, which makes it look minimalistic. Specific soft buttons will lit up depending on the features you are accessing (for example, the Black and Colour print buttons will only appear/lit up when you want to scan or print, for example). This "Intelligent Touch System" feature minimises confusion during the operation and makes it easier for an average Joe to use the printer. I also find that the buttons and the touch screen are responsive with zero frustration.
We've tested the printer in the office, ranging from printing documents to photos (black and white, colours, and a harder test with multiple colours + depth of field). The results were quite amazing – texts in documents are sharp and the photo colours are quite accurate.
Videos of Canon PIXMA GOLD printing:
Setting the @CanonAustralia MG7766 #printer up that comes in super attractive colour pic.twitter.com/8MVPueZuMS

— Michael Aulia ?? (@michaelaulia) February 16, 2016
Putting the @CanonAustralia MG7766 #printer to the test! pic.twitter.com/PzrVGG3aCF

— Michael Aulia ?? (@michaelaulia) February 16, 2016
Compared to our other printer which is 3 times more expensive however, shows that the Canon PIXMA Gold does not print the sharpest quality photos. Zooming in closely and you can see a few lost details. Saying that, the photos are still remarkable and shouldn't detract you from getting the PIXMA Gold. It also manages to print a black and white photo with some shades of Grey really well and supports borderless photo printing.
You can also use the printer for scanning and copying. Once you've installed the Canon My Image Garden software that comes with the CD, you can send your scanned photos directly to a connected PC through Wi-Fi. If you install the Canon SELPHY app on your smartphone, you can also send photos directly to the printer (which we tried a few times during the tests). And there is support to print directly from Instagram, Apple Air Print, and Google Cloud Print. There is also CD Printing available though we didn't test it out.
Canon PIXMA Gold also comes with NFC support, meaning if you have an NFC-enabled device, you can do a "Touch and Print" which is pretty cool.
Canon PIXMA Gold Review – Conclusion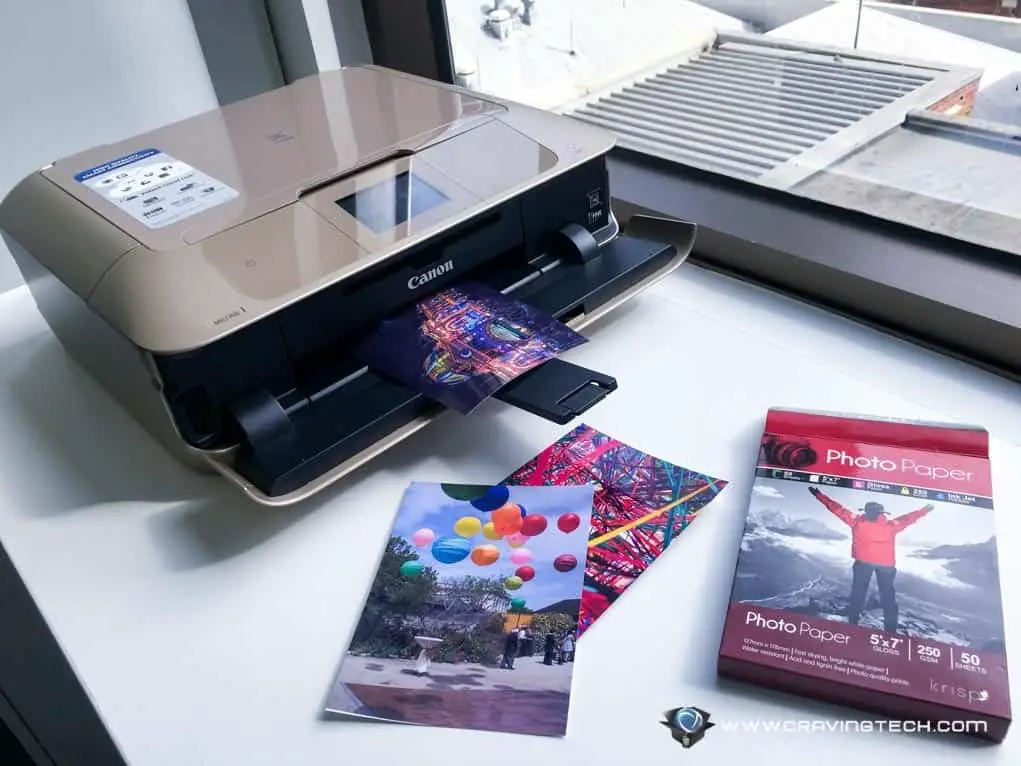 Overall, I'm really happy with the Canon PIXMA Gold. Apart from the obvious premium look-and-feel, it's a solid printer that prints accurate colours, high quality prints, easy to use, and just cool to watch when it does its work (especially when the tray self opens). It does not have a rear feeder or an auto email function directly from the printer, and there were times when I had to re-press the print button as it reported an out of photo paper, but those are minor things that you can leave behind.
While it can do double-sided printing, good photo quality prints, scanning, copying, and all, I have to admit. I fall in love with it because of the Gold colour. It doesn't look cheesy or cheap, but a great complement to where ever you are going to place the PIXMA Gold on. Totally recommended if you are shopping for a new printer under $300 and it's going to sit on your desk.
You can get the Canon PIXMA Gold (MG7766) at Canon Australia Store or Amazon if you are in the U.S.
Disclosure: Review unit was supplied for the review but all opinions are mine.