How to use Gmail with your domain name – Loving Gmail? Ever wonder how to use Gmail to send emails with your domain name address? Or perhaps wondering whether you can use Gmail to read the emails from your domain name? You may have heard that Google Apps can do this comfortably BUT going for Google Apps is tricky and require some MX records change. Not to mention that things may go wrong and your past emails might be lost for good.
There is actually an easy way to use Gmail with your domain name to send and receive emails, simply by going through the Gmail settings. I am happily reading and sending all my blogging related emails on Gmail using my email address at the domain cravingtech.com. Here is how to set-up your Gmail to send and receive emails from your domain name.
How to send emails from Gmail using your domain name address
Go to your Gmail's Mail Settings (click on the Settings icon on the top right of the toolbar).

On the Settings screen, go to the "Accounts and Import" tab.
On the Accounts and Import screen, you should see a section of "Send mail as" to use Gmail to send from your other email addresses.
This is where you can set-up your domain name information on Gmail. As you can see from the screenshot above, I've integrated my email's domain name at cravingtech.com into Gmail.
Click on the "Add another email address you own" to add your domain name's email information on Gmail.
Enter your name and email address of your domain name's and click Next.

You can choose whether you want to send the email via Gmail servers or through your domain name servers. Just pick Gmail as suggested.

It will then send an email to your email address to verify that you do own the domain and that you are the owner of that email address.
Just keep following the steps and you should be good to go, they are simple to follow! That's it, really! From now on, whenever you want to send an email using your domain name, just use Gmail's "Compose Mail" and choose your other email from the drop down menu:

Easy, right? No Google Apps and this way, you can easily switch between one email to another, depends on your recipients! Coupled with the WiseStamp browser add-on to easily add your HTML signature on Gmail, it's perfect!
How to receive/read your domain name's email on Gmail
Unfortunately, there is no direct way to do this except by using Google Apps – but as I said, I don't think it's worth it – you move your emails and everything to Google's. I'd prefer to have my domain emails stored on my web host though I want to use just Gmail to read my domain name emails.
The workaround is to just Forward your emails on your domain name through the cPanel settings. This way, you keep a record of your emails on your web host and can read + reply your emails on Gmail!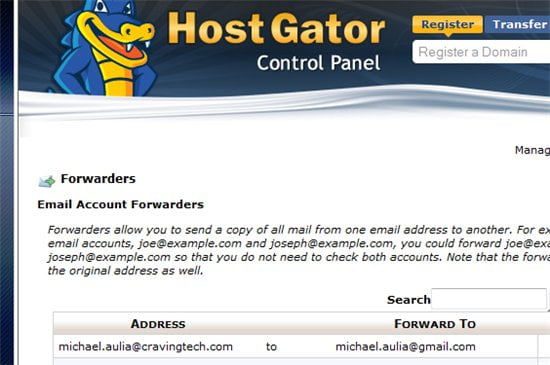 If you are worried about the space it takes, just login to your domain name's email inbox and clean them up. I'm with HostGator with unlimited space so I can't be bothered for now. It's good to have backups anyway in case something happens to my Gmail :)