One of my post (about getting a free Warhammer Online trial key) requires me to constantly sending emails to different email addresses. Whenever I can get a hold of a new key, I need to send basically the same email over and over with my Gmail account.
If you are in the same position as I do, here is what you should do to setup and use the email templates feature in Gmail. It's hidden, but it does exists!
The email templates feature in Gmail is actually called "Canned Responses". It is not enabled by default simply because it's still an experimental feature in Gmail Labs. There's nothing to worry about though as this feature is as safe as it can be. Even if it screws up, you can see it straight away on your screen.
Follow these steps to enable Canned Responses (Email Templates) in Gmail:
Go to "Settings" on the top right menu on your Gmail.
Then go to the sub menu called "Labs".
Search for "Canned Responses" and Enable it. Then, scroll towards the bottom of the page and click "Save Changes".

Now you should be able to see a new link called "Canned responses" under your Subject text field whenever you are writing a new email.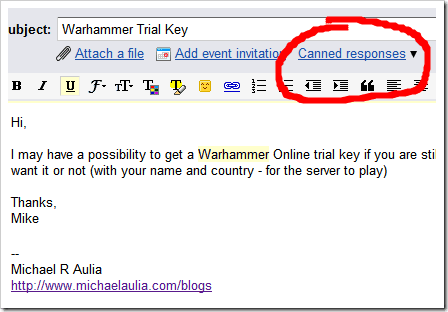 To save an email template, simply write an email that you are going to use over and over in the future, click the new Canned responses link, and choose Save (You might want to click on the "New canned response" if it's a new template).
To use/insert an email template, simply click on the "Canned responses" whenever you are composing a new email, and then click on your saved template under the "Insert". Gmail will automatically add it in for you.