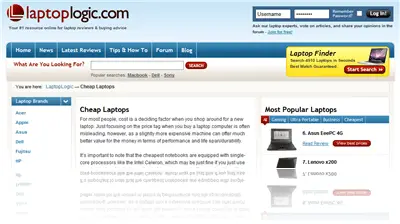 Are you planning to get a laptop some time soon? Or maybe you are currently searching for the best laptop that suits your needs? I dream of having a small laptop that I can carry around with me everywhere (to blog and to do other needs).
If you are currently looking to buy a laptop, then you've got to visit Laptop Logic.
At Laptop Logic (laptoplogic.com), you will find information on variety of laptops from different laptop brands such as Apple, Acer, ASUS, Sony, Dell, Toshiba, etc.
Laptoplogic.com gives you an overview of each laptop model from those popular brands, a global rating from the editors, and some reviews (from the editors and also laptoplogic.com's registered members, if any).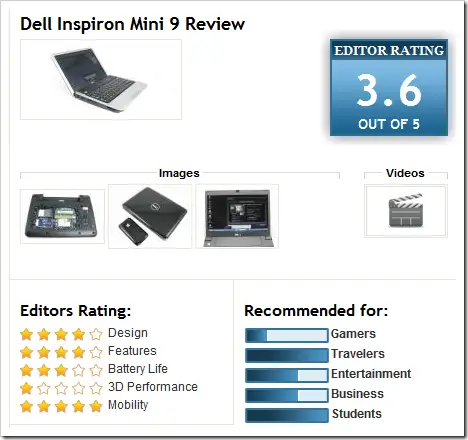 The reviews are very thorough (quite lengthy at times but necessary if you really are interested in buying a specific model) and provide some nice close-up screenshots of the laptops.
Not sure which laptops you are trying to get? No worries. Laptoplogic.com also gives you these wonderful categories so you can quickly identify your dream laptop:
Top Rated Laptops
Editor's Choice
User Favorites
Cheap Laptops
Best Gaming Laptops
Best Business Laptops
Best Ultraportables
If you are tight on budget, you can simply click on the Cheap Laptops link and you will be presented with all the cheaper laptops on your screen. You can then sort them by Date, Price, or Rating.

However, you can't really see the prices yet until you click on the laptops. So it may take you a few clicks to figure out the pricing or whether the price is sorted from lowest to highest or from highest to lowest.

There's also a Laptop Finder feature if you are looking for specific requirements for your new laptop (such as the screen size must be larger than 17″ and has more than 120 GB).
You can even find laptops based on the weight. So if you are going to be very mobile (travelling a lot with your laptop), then you might want to narrow down your laptop selection by this search filter.
LaptopLogic.com provides a very thorough review of well known laptop models from popular laptop brands. If you are planning to buy a laptop, don't go to your nearest electronic store yet. Find out what laptop suits your needs first and also read some reviews about it. Make notes on possible laptops that you might be buying based on this information. Going straight to an electronic store will only drool your eyes and you'll ended up regretting much later (if the laptop doesn't suit your needs).
I'd suggest bookmarking laptoplogic.com in case you are planning to buy a laptop later in the future ;)