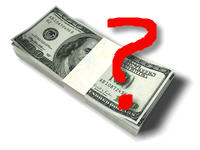 If you are selling advertisement slots, links, posts, or reviews on your blog without using a third party service, then you are actually doing a private advertising. That means you decide the slots to advertise and the price of that slots.
If you are new to private advertising, you usually have this question on your mind: "How much should I charge per week/month to advertise on my blog?" $1? $5? $10?
There is no right or wrong answer for this, but there is an online "tool" that gives you a rough idea on how much you should start charging your private advertising slots.
DNSCoop.com helps you to find out how much you should charge for your private advertising slots
Simply go to www.dnscoop.com and insert your URL on the text field above the page. Click the "Check it" button and you will then see your blog/site's statistics and also how much should you charge per month for advertising.
Too bad that it can only calculate/display stats of your root domain, i.e: cravingtech.com/blog and not my technology blog at cravingtech.com/blog (I did enter www.cravingtech.com/blog on the text field)
A calculator from Text-Link-Ads will then try to estimate the value of advertising text links on your blog/site at the bottom:
Note that:
It's only an estimation
It estimates a value of a single text link (so in theory, you can charge higher for banner advertising)
I think the estimation calculator is based upon your Alexa and PageRank
This should at least give you an idea the value of your blog/site. Of course, depends on your advertisers, other factors may be counted as well (number of feed subscribers, your visitors' demographic location, etc).
If you are serious on starting your private advertising, you should consider getting a plug-in called OIOPublisher. It will manage your private advertisement from A to Z (I'm using it at the moment on my blog). Feel free to check out my review on OIOPublisher here.
Hope you can find some good private advertisers for your own blog/site! If you want to advertise here on my blog, feel free to contact me or simply click on the "Advertise here" banner slot on the Sponsors area!
Thanks to Saphrym who let me know about dnscoop.com!