Highborn is simply one the best and most fun turn-based RPG strategy game I've ever played so far. The developers design the game to be both serious and goofy to play at the same time. Since it's turn based, you do not need to be fully concentrated in playing Highborn so you can play this at your own leisure time. I love playing Highborn while walking to/from the office every day, for example (kids, please don't follow my bad example!)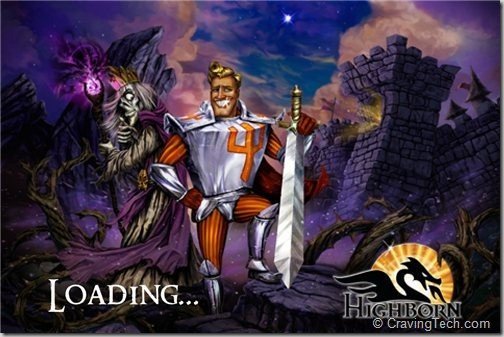 Despite the cartoony feeling, Highborn graphic is actually really nice. It's not a ground breaking game in 3D and you'll experience pixels and jaggies, but the artwork is really elegant and pleasant to see. The animations are nicely done and I totally love the game design.
Highborn is turn based; so once you've done your turn, the enemies will go next, and so on. The map is hex based so units are positioned on a hex tile like Chess (only 1 unit can occupy 1 tile at any given time).
Each unit has different hit points, attack type, defense, movement, and attack range. Archie the hero, having had to wear heavy armor and carry a massive sword, has a more limited movement compared to the Monks unit with their piece of robe (and perhaps they also do some morning jogging every day in their monastery). Terrains also affect movement which makes the game more strategically interesting as you have to position your units carefully.
In Highborn, you are given a few units on each mission and also normally a hero unit which is more powerful but vulnerable. I love games where you cannot train/build units and you have to win with a handful. It adds a great strategic value and requires you to think more when you play. Highborn is such a game and you have to think which unit should you move first or attack first, etc.
Highborn has a variety of units in the game – Knights, Sorceress, Archers, Catapult, Skeletons, and many more. Each unit has its own strength and weakness so you will have to think before you make your move. Some units can respawn after a couple rounds assuming you are still occupying their towers, monasteries, or cities.
Towers and cities also give another tactical advantage as they will give an extra fire support to whoever controls them in the battlefield. There are also spells in the game that you (and your enemy) can cast to change the tides of the battle.
There is enough storyline to keep you going and it's worth reading all the dialogues and also the unit descriptions in the game. They are funny, goofy, and will definitely make you smile at least. At times it can be a bit too much, but the humour makes Highborn a real fun and casual game to play unlike some other strategy games which often make you more stress than ever!
There is also a multiplayer element so you can show your strategies off with others, but unfortunately you can only play with friends (Twitter, Facebook, or OpenFeint) . Since I didn't really know anyone who has Highborn, I haven't had a chance in looking at the multiplayer side of Highborn yet.
There is no leveling up for the units though which is a pity, because it will definitely increase the addictiveness of playing Highborn especially if you can bring the units to the next missions. This also makes it worthwhile to kill all the enemies on the map (although most of the time, you'll have to anyway). There is also no undo after you move your unit so if you press the wrong hex, you are screwed. Thankfully, Highborn is challenging but not difficult enough to make you frustrated should mistakes like this happen. The interface can be confusing too at times because you have to "hold position" if you just want to attack without moving and sometimes I use the hold position when I actually wanted to heal another unit. There is only a limited support for iOS4 so you need to make sure to save the game before you minimize the app or you'll find that you'll be a few steps behind where you left off.
Nevertheless, Highborn is addictive, fun, and totally enjoyable to play. It's humorous but at the same time doesn't mean that it's a cheap and unprofessional game. Highborn is one of the highest quality turn based game so far and I can't wait to see what else the team can come up with next!
Note: Promo code provided for the review