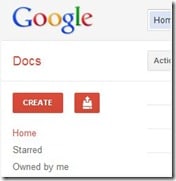 Google Docs new theme – So Gmail, Google+, and Google Calendar have got their looks updated to the "Preview" theme (at least they called it that in Gmail). The latest Google online service to be updated is Google Docs. I use Google Docs quite heavily for all of my important documents as I can easily access them anywhere, including on my mobile phone.
You will not see the new Google Docs' theme right away (I'm sure we'll be forced to change one day), but you can use it by clicking on the link on the top right of Google Docs screen.
Old Google Docs theme:
New Google Docs theme:
Now, like Gmail's, lots of people don't like the new theme because of the spacing (the row heights?). Similarly, you will see fewer documents on your main screen now compared to the old theme.
There is also a Dense version of the new Google Docs theme. Simply go to Settings (the "gear" icon on the top right corner) and tick the "Use denser view (show more documents in your list)" option under the Google Docs row height setting at the most bottom.
New Google Docs theme in Dense mode:
Doesn't look that much difference, but still better than the original one. Again, I don't mind switching to this Google's universal theme even though I have to sacrifice looking at more documents. Besides, unlike Gmail's, you'll rarely want to look at 20 documents at once, right? Most likely you'll only work on a single document by searching for it or create a new one. No big deal.
So, are you going to change your Google Docs theme to this one anytime soon?
Source: Google Docs blog