Of all thousands of applications for the iPad, a converter application is a must have. A currency converter, for example, is one of the compulsory thing to have for most people, including myself. But how about an application that allows you to convert from a currency to another, as well as other measurements that you can think of in the world?
GlobeConvert Pro is an application developed by Ivan Karpan & Evgeniy Lebed for the iPad and it is able to convert:
Currency (all currencies in the world – dollars, etc)
Area (square yards, hectare, acre, etc)
Energy (calories, joules, etc)
Length (metre, yard, foot, inch, etc)
Power (horsepower, watts, etc)
Pressure (kilograms/square meter, pascals, etc)
Speed (miles, kilometers/hour, knots, etc)
Temperature (celsius, fahrenheit, and kelvin)
Time (days, minutes, seconds, etc)
Volume (cubic meter, teaspoon, etc)
Weight (gram, pound, ounce, etc)
Overall, GlobeConvert Pro looks really great on the iPad screen. The interface is really sleek and elegant. The wooden background theme of the app matches really well with the foreground colors and overall look and feel. It's also very well designed as you can access the Converter Type on the left sidebar and the conversion on the right in one screen. Less clicking and more results!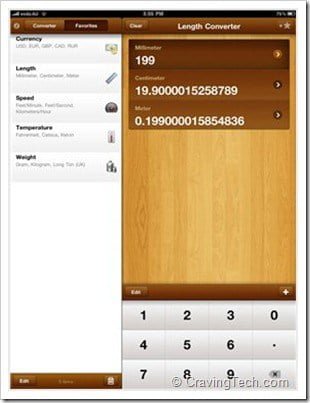 Most converter program only let you to convert from one thing to another at a given time. However, with GlobeConvert Pro, you can see multiple conversion units at one go! For example, you can convert 100 Australian Dollar to multiple currencies and see them all in one screen:
If you are going to travel to multiple countries, having this feature is a blast as you can quickly compare and see different currencies without having to go back and forth converting every single one of them. You can add/remove the currencies that you'll be dealing with the most and these will be saved automatically by the application. Very nifty.
You can also change a conversion unit to another and make that as the "source" of conversion. So for example, if you want to know how much Euro, AUD, and GBP can you get out of 100 US Dollar, you set the USD into 100 and you'll see the values on the other currencies. On the same screen, you can set a value for the GBP, say, and others will be updated automatically. This saves you plenty of time rather than changing the source of the conversion, selecting the currency type, and do the same thing to a different one over and over again.
So from the previous screenshot of showing a 100 AUD conversion, you simply tap on the United States Dollar line and change it to 100 USD. The tapped field will be come the "source" and the other fields will automatically update the conversion values.
There are plenty of conversion types that you can choose from, but you may not use them all. The developers have added a Favorite button so you can mark and filter only your favorite conversion types to be displayed.
I really have no more things to say as to how this application can be improved further. The developers have really put a great thought into this application, both aesthetically and functionally.
GlobeConvert Pro Review Conclusion
The GlobeConvert Pro is a truly amazing converter app for the iPad. It provides almost every single conversion type you can think of, designed in a beautiful and effective manner. Multiple conversions can be done in seconds and everything is well thought of.
Overall, it's a lovely app to be glazed upon, very easy to use, and powerful. I wish that it has a conversion to convert shirt and shoe sizes though but these can easily be added in future releases. It only works in Portrait mode at the moment but who cares. I don't think the layout can be improved in Landscape mode anyway.
GlobeConvert Pro: Currency & Units Converter – Ivan Karpan & Evgeniy Lebed
NOTE: Promo code provided for the review