Another new product in the Microsoft LifeCam family, the LifeCam HD-5000. The LifeCam HD-5000 delivers true 720p HD video, which is perfect if you want to chat with your partner in high quality or even when making video comments, reviews, or messages. Even though it's half the price of the Microsoft LifeCam Cinema, the HD-5000 still delivers great clarity and performance, even in a low lit room. What you'll miss from the LifeCam Cinema is the ClearFrame, Noise Cancelling, and a higher quality glass lens for a much cheaper price.


The LifeCam HD-5000 is quite small in size and perfect as a good companion for your notebook. Its shape is square alike, painted in black. It is made in plastic unlike the LifeCam Cinema with an aluminum finish.
The LifeCam HD-5000 also comes with a flexible rubber clip that also serves like a stand, so you can either clip the HD-5000 to your LCD monitor:

or put it on the desk: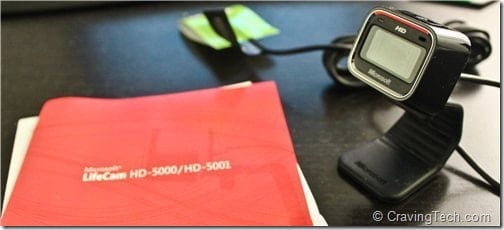 The clip is really flexible so you can be creative in deciding where to attach, according to your work area circumstances.
On the top of the camera is a Windows Live Call button so you can have a quicker access should you want to make a video call to your Windows Live contacts. I couldn't see a way to change the functionality of this button so if you only make video chat with Skype, then you are out of luck.
Chatting in HD is not really a trend yet, mostly because of bandwidth issues, especially if you chat with friends in developing countries. However, the facility is there assuming you have the Windows Live Messenger Wave 4 that supports HD video chat. It's perfect though if you often make some video comments or messages as it is really easy to record HD videos with the HD-5000. Using the Microsoft LifeCam software, you simply click a button and start recording. Files can then be uploaded to YouTube or shared to your friends straight after you have finished recording.
However, even though the LifeCam HD-5000 has an auto focus, it tends to get out of focus occasionally. It's definitely more noticeable after you make some sudden big movements in front of the camera. It also tends to take a couple of seconds for the lens to get the focus right afterwards.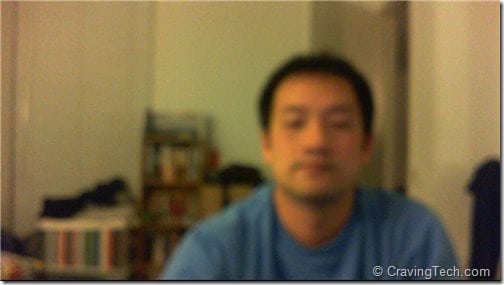 Here is an example of a video that I took when I was reviewing the Maclove Titan iPad stand, showing HD-5000 out of focus problem when there are lots of movements in front of the camera:
Now I believe this can be fixed with a software update because my LifeCam Cinema was like this when I updated the firmware for the True Color technology and the focus got fixed on a newer LifeCam driver version. Let's hope so! Here is the video showing the out of focus problem that disappeared after the update on my LifeCam Cinema:
Microsoft LifeCam HD-5000 Review Conclusion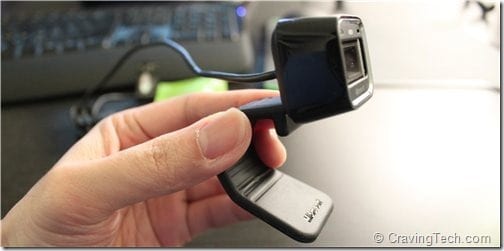 Microsoft latest camera doesn't offer new technologies compared to the other LifeCam series, but it still is a great webcam to have especially if you are looking for an HD webcam to chat. The price is also affordable, which makes the HD-5000 attractive. The rubber clip is quite flexible, allowing you to easily attach the webcam on your monitor or be transformed to a sturdy stand, sitting nicely on your desk.
The video quality is crisp, clear, and colors are maintained even in a low lit environment, thanks to Microsoft's new True Color technology. The audio quality is clear and it's easy to record an audio message using the Microsoft LifeCam software. The microphone also works really well on other applications or online games such as Left 4 Dead 2, for example.  I found that I didn't have to shout or even leaned towards the webcam to make myself heard to my teammates.
The only drawback is the tendency to go out of focus if you make some big movements in front of the camera but let's see whether this can be fixed via an updated driver in the future.
Pros:
+ Affordable
+ Compact in size, high portability
+ Highly flexible
+ Crisp and great quality
+ Has an auto focus
+ 720p HD resolution, widescreen
+ Has embedded microphone with great audio quality
Cons:
– Tend to get out of focus occasionally
– Looks pretty standard
Note: Review unit provided for the review