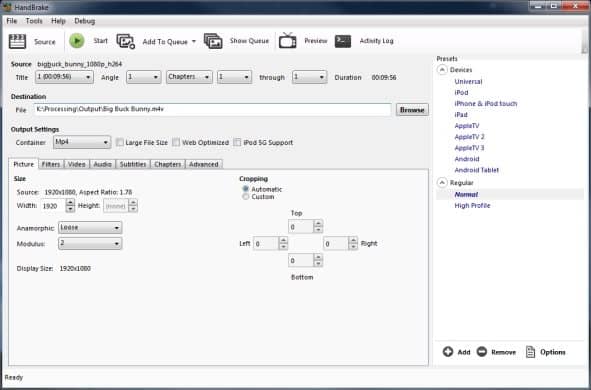 Free Video Converters are rare. Most of them out there only give you some X days to trial before you have to make the purchase. I used VirtualDub back in the days (not sure if it's still around), but it's really great to hear of a modern, free video converter alternative.
After 13 years of being in development (Beta), HandBrake has finally been released officially with version 1.0.
HandBrake gives you the ability to convert between one video format to the other. For example, you can convert a video format on your desktop computer to format that is accepted/playable on the iPhone. Or when you are doing video editing, some applications may only accept certain video formats and that's when HandBrake comes in handy.
HandBrake highlights:
Supports UltraHD/4K
Supports MKV
Subtitle supports
Has Presets for modern devices, web, etc.
Can be installed in Windows, Mac, and Linux machines
I haven't had the need to try it out, but HandBrake is definitely on my top list whenever I need a video converter to do its magic!