Note: This is a guest post written by Sunalini Rana
50 Best Technology WordPress Themes – Technology websites represent the epitome of technology because of the way they so intricately combine the latest technologies of website development and then the way they information or sometimes even technological gadgets on those technologically superior websites.
If you are thinking about diving into this sea of rich technology, you must be willing to look for some features that particularly accentuate the overall elegance and functionality of technology website. Sadly, the market is inundated with WordPress technology themes that only promise to do so many things without actually delivering on them.
So, while you might go on for hours, even in the right direction and with the right information about what to look for in a technology theme, you might still end up buying a theme that is not even worth your time, let alone the money.
In this post, we have tried to help you with just that by providing you with a comprehensive list of only the 50 Best Technology WordPress themes, one of which you will sure find great enough to deliver your technology information, services or products.
1. Splash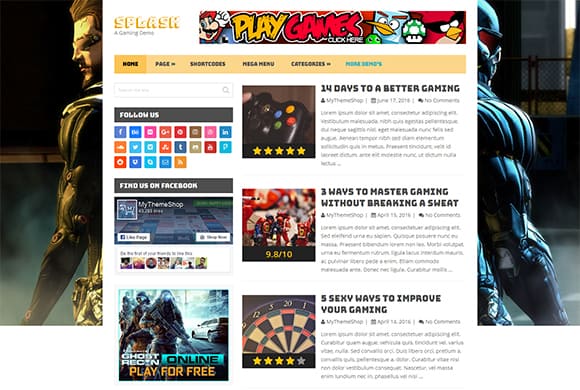 If the content impact is high on your list, then this awesome technology theme is the one you should opt for. It looks great and is integrated with review blogging that makes the impact of your content impressive while the HTML5 and CSS3 core mean your website will look great on any device your visitors use to view it from.
2. Best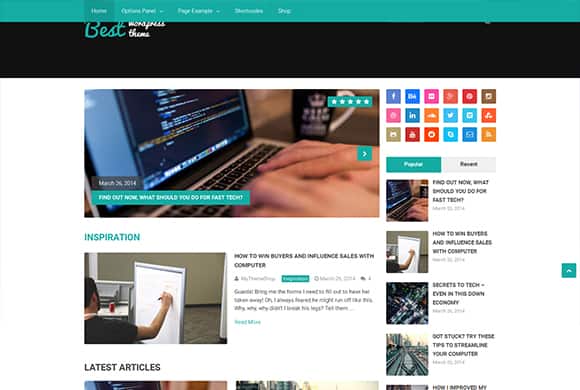 With support for great review system and Mega Menu plugin, this theme will take your technology website to new heights. The theme boasts an engaging design that is fully loaded with features, including fully fluidic responsive design, incredible loading speeds, full customizability and search engine as well as advertising optimization.
3. TopGadget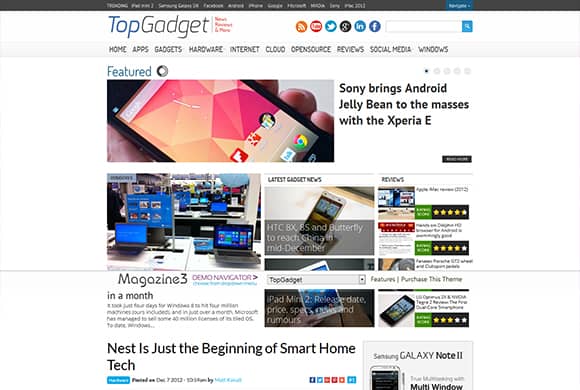 This one comes with all the tweaks, features, and functions that you will ever need to setup and smoothly run a successful technology website. With its well-crafted code and bold elements your content and products will pop and so you can use this theme to power any kind of tech websites like technology blogs, gadget websites, and tech news sites.
4. TechNews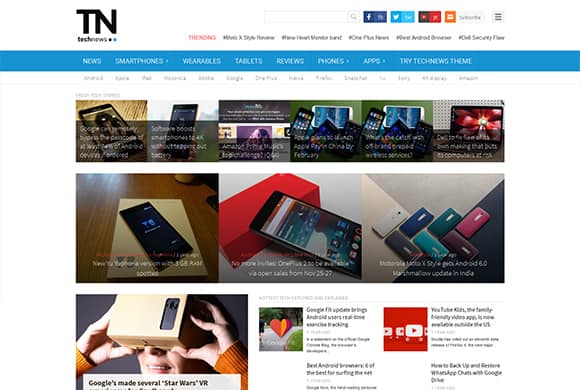 If your website is more inclined towards technology news and you often have to post across several categories, then this theme has got you covered with its grid style on top of other high-end features. You readers will love to browse through your website and stay immersed in the content for hours, which along with other features makes this theme very suitable for technology, news websites, news portals, tech magazines, smartphone news websites and even general magazine websites.
5. HostHubs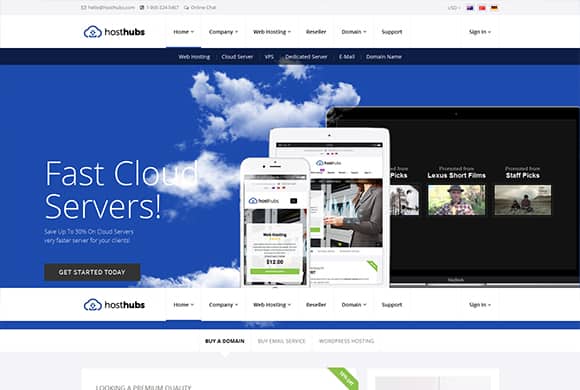 Built using Bootstrap 3 framework, HTML5, and CSS3, this theme looks great on every device with its responsive design that is further enhanced with animations, transition effects, and other small progressive features. The theme, as the name suggests, has been particularly made for web hosting companies, domain sale, and technology responsive websites.
6. HightLog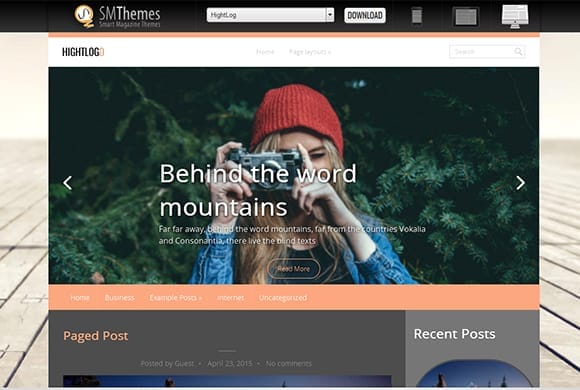 The best part about this theme is that it does not demand any sort of coding knowledge from you, which makes it extremely easy to design a truly unique tech website, the layout of which can be further enhanced by placing awesome custom widgets all around the homepage.
7. Solar Energy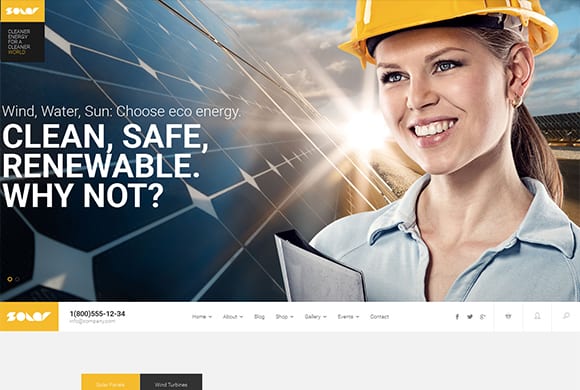 Solar Energy is a euphuism for eco-friendly people and it does so effectively by making everything so beautiful with its modern and multipurpose design that is designed for energy efficiency, energy saving and eco-friendly energy saving websites.
8. MH Magazine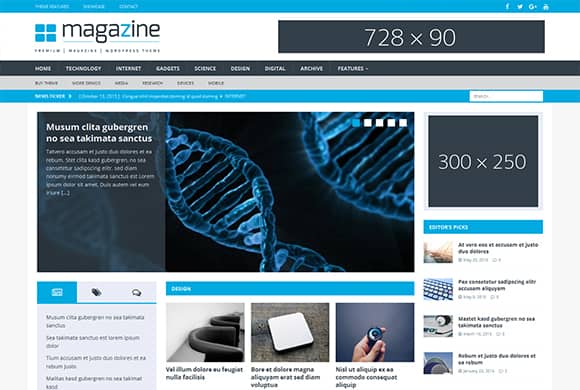 MH Magazine has been tried and trusted across all browsers and device and looks absolutely great on any device you throw at it. The theme is super comfortable and flexible to use, it is also to search engine optimized and can thus be used to power websites like modern online magazines, dynamic news websites and professional blogs across domains like technology, science, social media, internet, gadgets, and everything in between.
9. Globe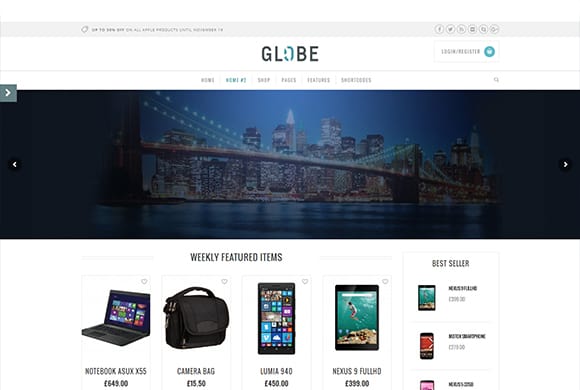 Globe is a feature bundled theme and promises to deliver everything that you will ever need to setup and run a successful technology website. You can either build an e-commerce website or simply a corporate one while making everything more subtle with sliders, customized shortcodes, pre-launch, visual composer and more.
10. TechMag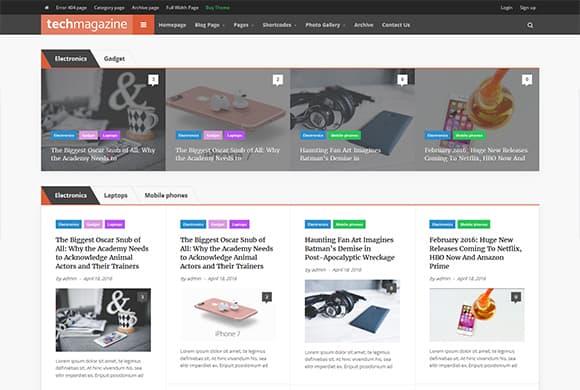 TechMag is one of those themes that just get the job done without boasting about all the features and embellishments. The theme as such is great for technology, magazine, and other editorial-based websites, but you can also use it for everything else.
11. MagXP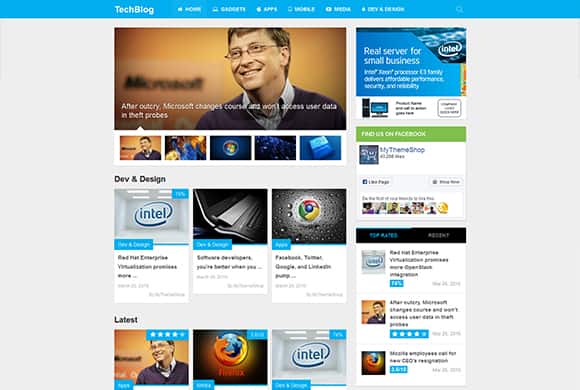 MagXP is a perfect blend of form, functionality, and flexibility and is an ultimate multi-purpose theme that will make your content shine with its four homepage layouts and an options panel that allows you to radically change the looks of your website.
12. HostLab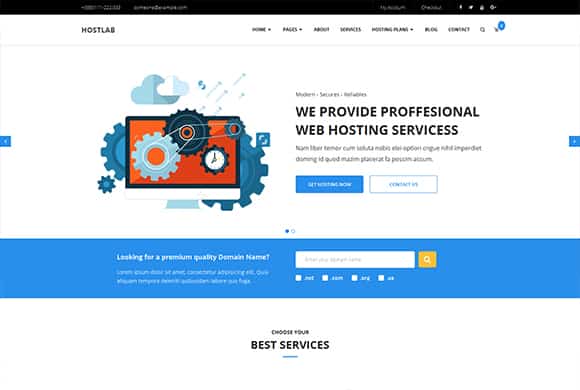 Made with Bootstrap 3 framework and built with visual composer 5, this theme will look equally impeccable on any device, including smartphones and tablets. The theme, as the name suggests, has been particularly made to meet the needs of hosting, domain and technology websites.
13. IT Company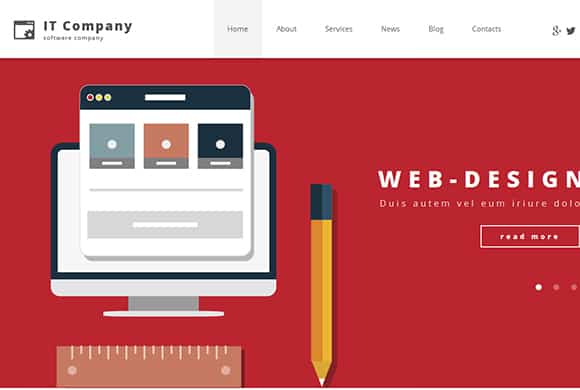 IT Company has been made to cater to all the needs of an IT Company, and it does so effectively with the help of its modern flat design. It is loaded with a full-width slider, area for quotes, features blocks, and a progress bar that will present all the information about your company in an engaging and easy-to-perceive way.
14. ElectroMechanical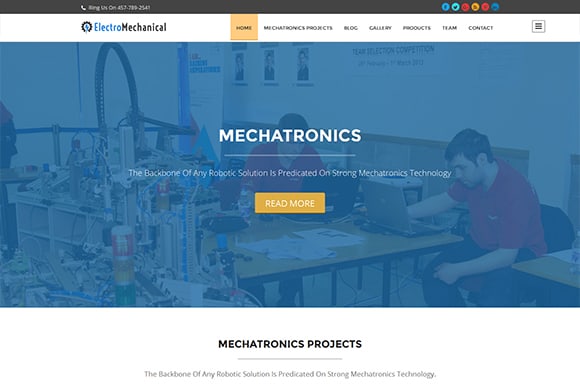 This theme has been so designed that it looks absolutely fabulous on all devices, including mobile devices and with all its features it is particularly suitable for mechanical and electrical professionals, software developers, technical experts, robotic technicians and the like.
15. Alpha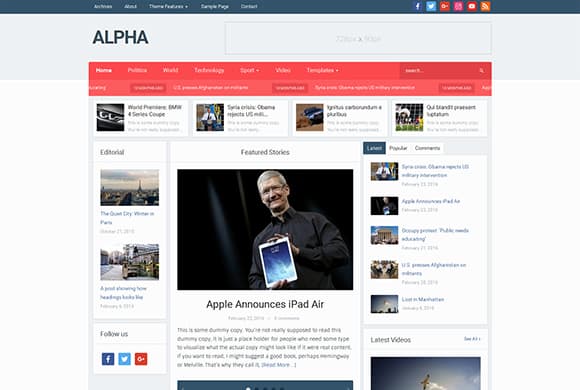 Alpha will allow your website to stand out from the rest of the crowd with its advanced, powerful and responsive magazine layout featuring two skins that offer radically different looks: Magazine and Newspaper.
16. Markety
Markety has a beautiful and unique design that is best suited to add further to your online presence. The theme comes with all the necessary features and awesome pages to put your point across while you deliver on projects, blogs, share testimonials and build shop pages. The theme is thus best suited for marketing that offers search engine optimization, marketing, finance services as well as internet marketing related services.
17. Monopoly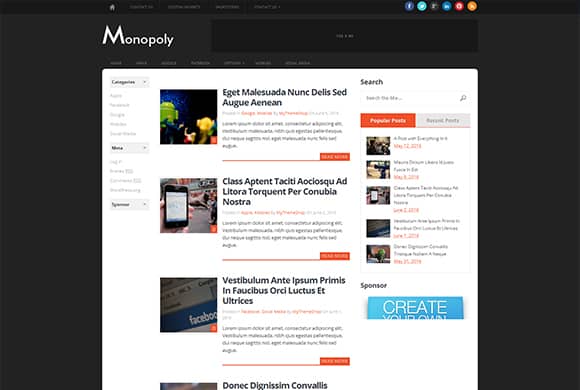 Monopoly will help you soar to the heights of success with its sleek design, dark, dual sidebar on top of being fully responsive, fully customizable and fully optimized. The theme is thus best suited for blogs, online magazines, news portals and almost everything else.
18. TechSupport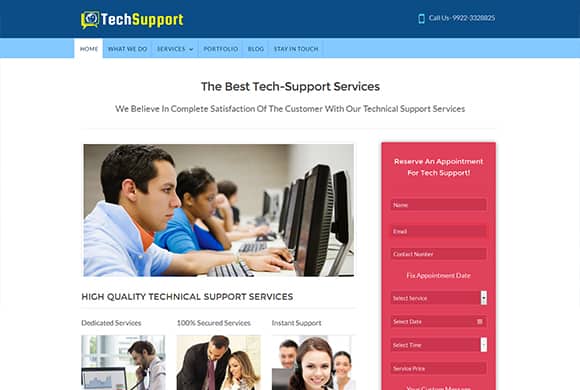 TechSupport is an awesome theme designed especially for web developers, apps maker, engineers, computer programmers, graphic designers, software and hardware manufacturers. The theme further provides a comprehensive template that is perfect for information technology websites.
19. OnePress Plus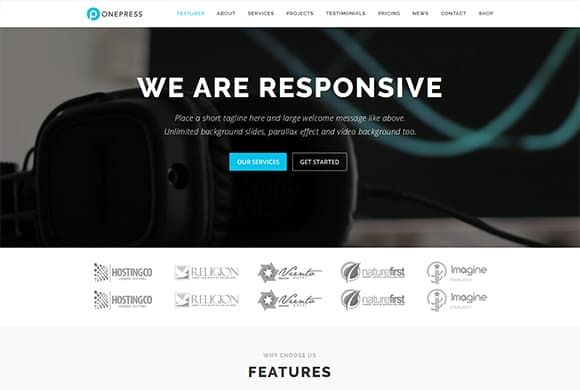 Here is something a little different from the rest of the theme enlisted till now, OnePress plus is a One Page theme that is well suited for business, portfolio, digital agency, product showcase and freelancer websites.
20. TechSavvy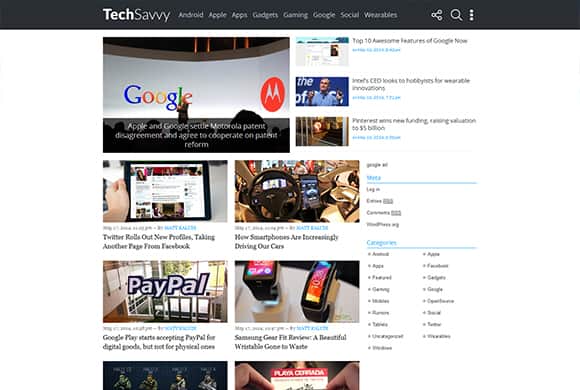 TechSavvy, as the name suggests, is an advanced feature theme, meticulously designed for technological websites and has all the elements to enhance the overall looks of your website plus, the looks will be maintained across all devices and screen sizes, thanks to its responsive design.
21. GrayTech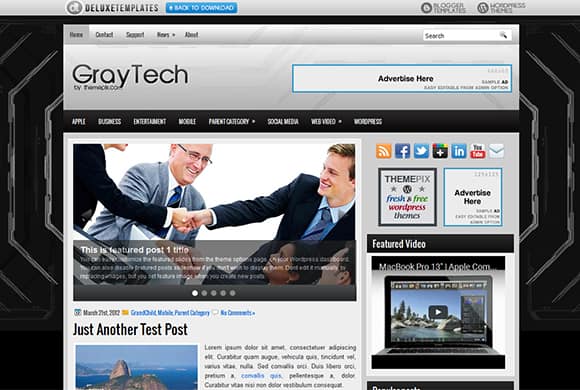 This theme is recommended for every type of technology or business website which is made possible with its precise features and also cold colors that blend so perfectly with each other that everything looks that much more brilliant. The theme has two column and three columns in footer and lot of space to put your widgets in, all these features and others combine blithely together to create an immersive experience for your visitors.
22. TechLand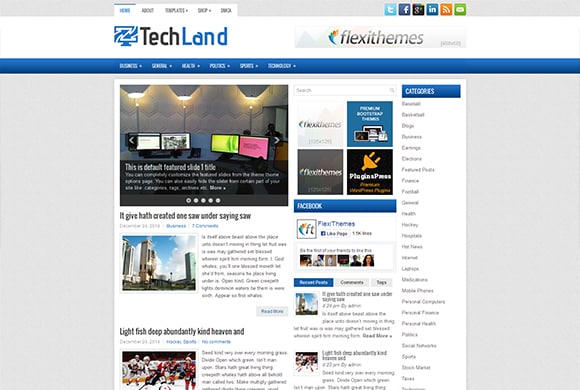 You can optimize and customize almost everything that you see in this theme from its easy to use administration panel, some of the things that you can change include a logo, favicon, featured images and more.
23. IT Consulting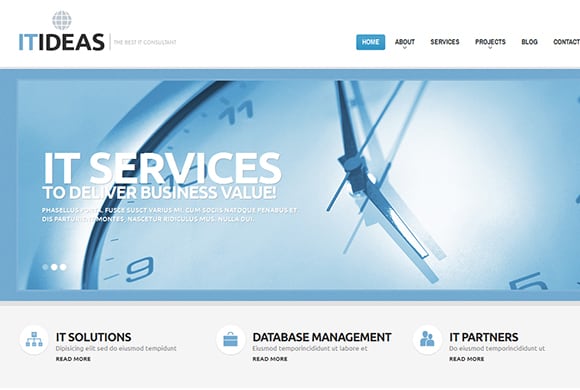 Featuring uncluttered look, calm colors, a content-wise structure of the layout, this theme offers everything you need to set up a solid web presence. The theme has all the modern elements but still manages to look simple, an essential feature required to make any type of website for business as well as technology.
24. Divi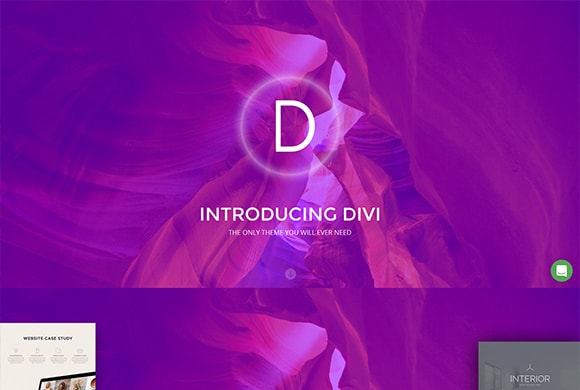 The best part of this theme is its exclusively Divi Builder, which is an extremely unique and easy to use page builder that will allow you to make your website within no time and will also forever change the way you perceive making websites.
25. Builders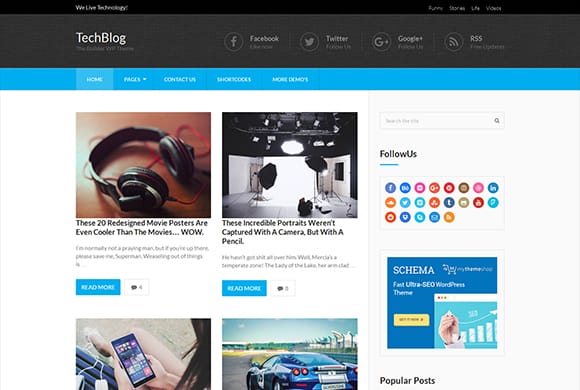 Although this theme has been particularly designed for building companies and construction companies, it is so feature bundled that you can use it to power any other type of online business, including technology websites.
26. PrimaTech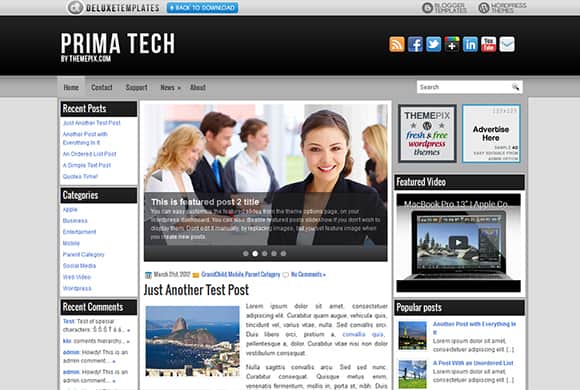 If you are a fan of high-end technology and want something to fulfill your tech savvy appetite, then PrimaTech is the one you should definitely give a go at. The theme's background is totally gray with a header that is black with white text on it, all these design elements, and other small embellishments make your website look techier. The theme also has three columns, left and right sidebar, basically, a lot of space to put your stuff and things in.
27. Hosting Business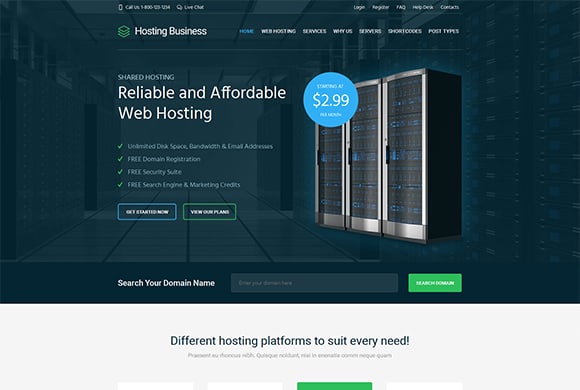 This theme has all the required functionality that you will need to host a hosting service company, including the domain search and registration functionality. The theme also works equally great for technology and software businesses.
28. DroidOne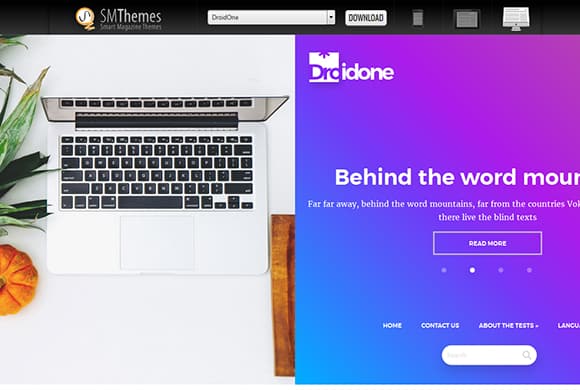 You can dip your toes in the free version of this theme, and you will sure find it great enough to go pro within few days of use. The theme has an engaging interface and zooty exceptional slider certainly won't leave you unconcerned. On top of all that, the theme is also for people who are fond of minimalism, cool colors, and whimsical forms.
29. Nimble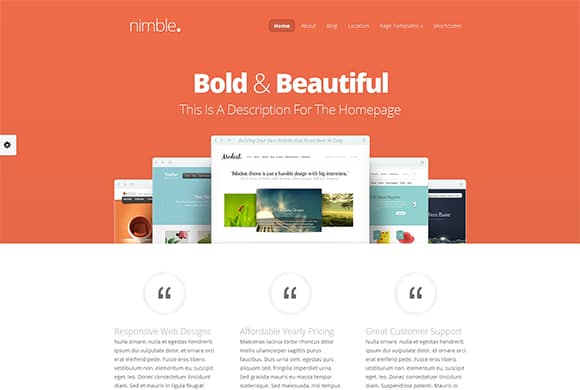 As the name suggests, the most laudable part of this theme is its super fast loading speed. While delivering on speed, the theme in no way compromises on awesome features and true elegance. The theme is overall, big, bold and very beautiful that doesn't get in the way of style.
30. BresponZive Mag Pro
If you are running tight on a budget but still want to have a theme for your technology website that does not lose any points in elegance and functionality department, then BrespnsZive Mag Pro is definitely the one you should try. The theme can be used for News/Editorial sites, technology magazine blogs and the like.
31. DW TechStore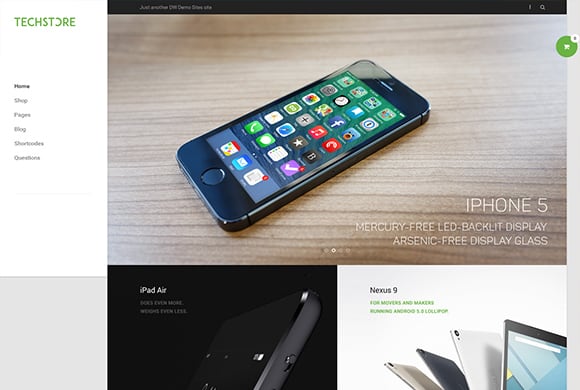 Running a tech store and looking for a theme to cover all your needs? Worry Not, DW Techstore is here to help with its wide and eye-catching homepage on top of shopping features that will help you to sell smartphones, laptops, and other electronic components.
32. Authority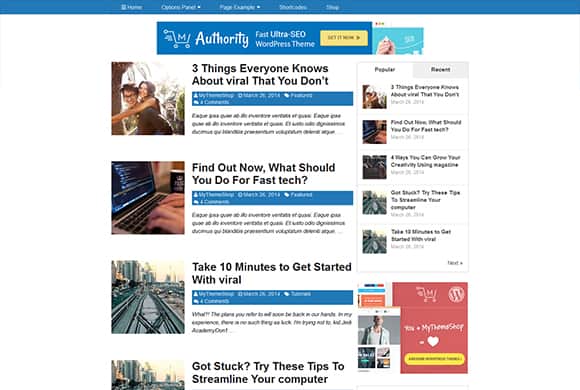 Packed with features and customizations this theme is built on the famous and successful model of Matthew Woodward's six figure blog and has his full endorsement. The theme is running many successful websites, and there is no reason why you shouldn't benefit from it too.
33. Virginia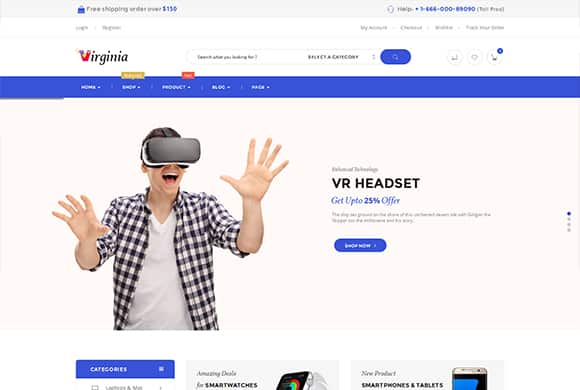 Leave a positive and lasting impression on your visitors with this theme that is built on a large number of features, is extremely tidy and fully responsive. The theme is so designed that it works great for any type of website ranging from electronic stores, vendor based marketplace, affiliate and similar websites that need a feature rich and beautiful presence online.
34. TechWeek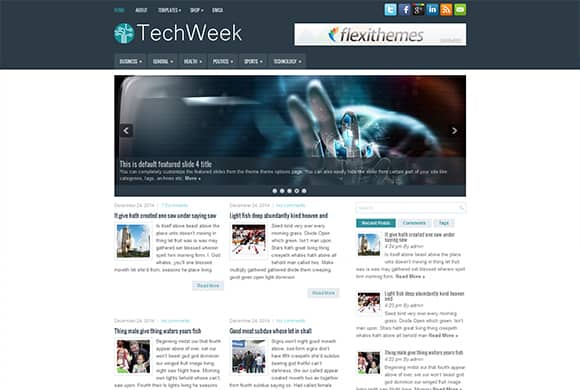 Designed to deliver your content in a cool, minimal and creative way, this theme is extremely easy to use and can be used for any type of technology websites that have to deal with heavy content. The cherry on top is that the theme can adapt to any type of device or screen size that is used to view it from.
35. Techone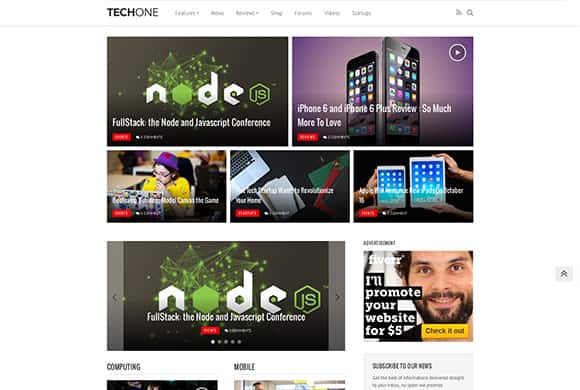 Techone is fully responsive, which just a fancy way of saying that your website will look great and crisp on every device that is used to view it from. The theme is overall very clean, simple and minimalistic with a concentration on displaying your awesome posts.
36. BlogTech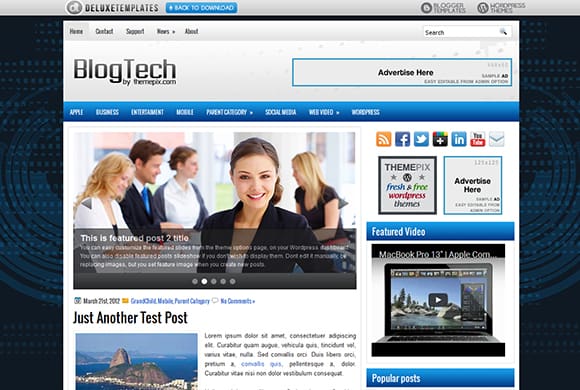 Looking for something for your high-end tech blog? BlogTech might be the one for you with its impeccable features and design intricacies that are bound to give your website that high-tech vibe. This is done by providing a background that is totally blue with a nice designed header that looks like the inside of a computer, thus the techy look you always wanted.
37. SEO Company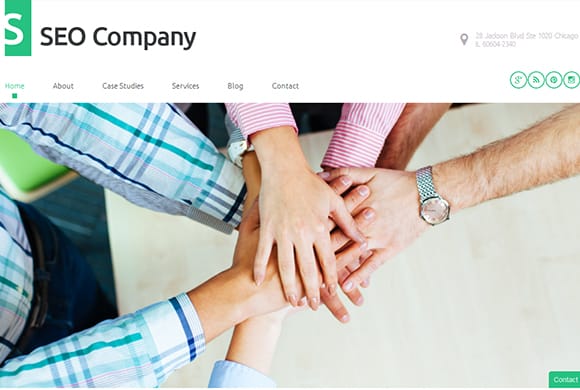 This theme is probably the most feature packed theme enlisted so far. Some of the many features that this theme packs in including a fully responsive design, fully editable elements, custom post types and formats, Multilanguage support, over eighty shortcodes, two-step installation, customizable typography, filterable portfolio, multi-color options, fantastic sliders and a lot more.
38. Transmit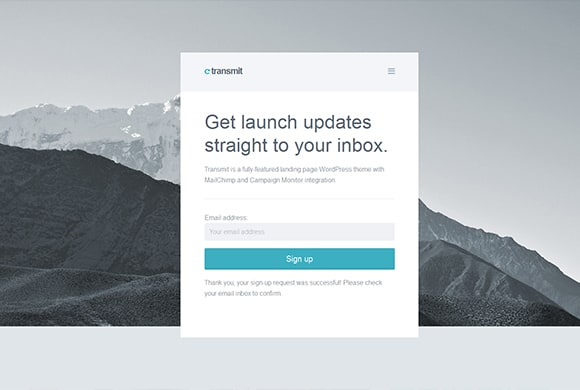 Transmit is more of a landing page website and it is one of the best in the market with its MailChimp and CompaignMonitor integration. With Transmit, you can effortlessly deploy a landing page, mini-site, or email subscription campaign with a few clicks.
39. AppTheme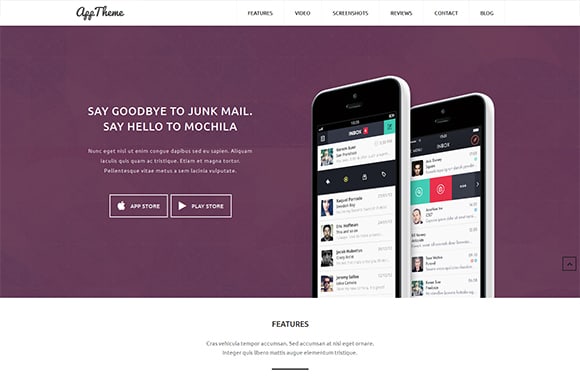 Get new customers to your website and also keep the older ones coming back for even more with this theme that is fully customizable and has options to allow you to choose the sections to retain visitors. With this theme, you get the ability to showcase a single app, a portfolio of projects, services, and testimonials.
40. Hub Technologies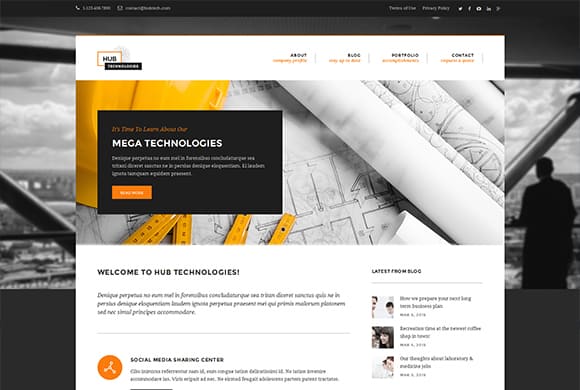 This theme will allow you to create a true hub for business, corporate; construction centered websites with its elements that are more directed towards presentation, portfolio, showcase or just blogging.
41. IT Responsive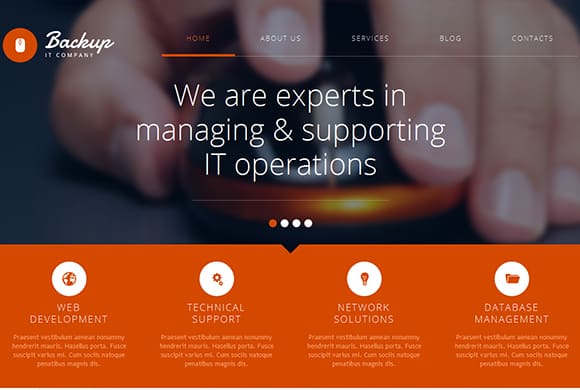 Another feature packed IT solution WordPress theme that is fully responsive and comes with a bunch of sliders to accentuate the overall elegance of your website. The theme is built with CherryFramework 3 that offers you easy-to-install themes with solid bootstrap options, numerous shortcodes, and widgets and a foolproof way to update the already ingenious design.
42. TechBlogger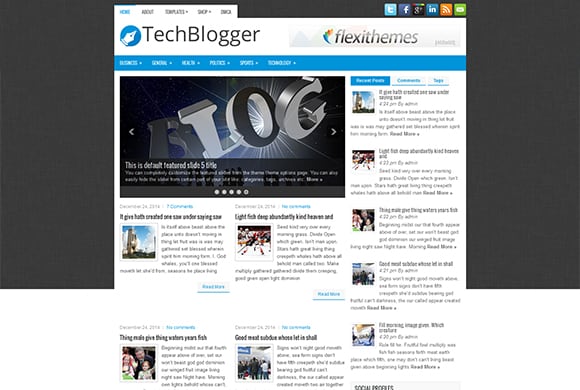 If you are looking for something crisp and functional for your technology website that still manages to look professional and modern, then TechBlogger is the one you should try. The theme is easy to update, professionally built and is probably the best option available for tech news aficionados.
43. Bramble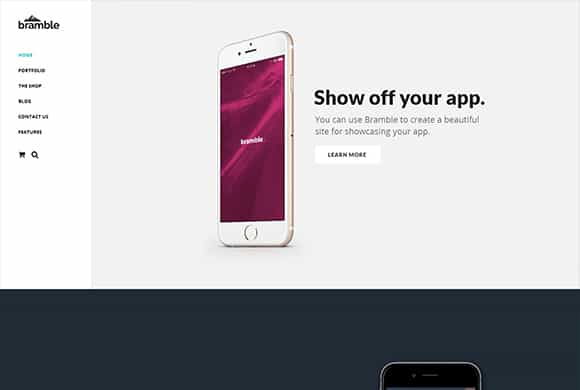 A relatively cheap theme that still packs in all the essential features that you will ever need to run a successful website. The most laudable feature of the theme is its awesome page builder that gives you maximum control over layout and design.
44. Technico
Although this theme is particularly made for construction, building and other similar building service providing companies, it is so versatile that it can also be used for other types of websites, including tech websites.
45. Checkout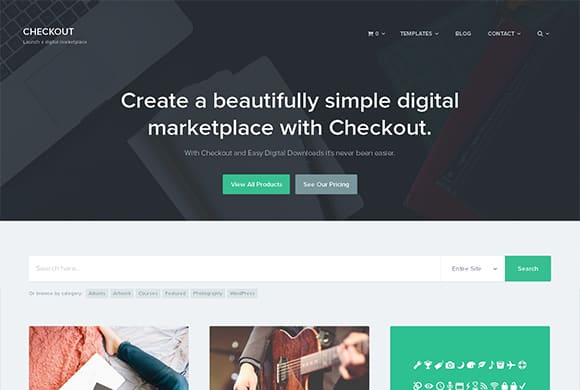 Checkout is designed to handle all the needs of an online store and can thus be used by tech enthusiasts who wish to sell gadgets and other tech products.
46. TechReview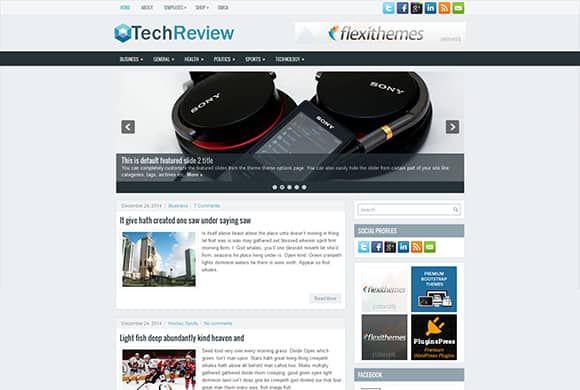 As is quite evident from the name of this theme, it was designed to help authors put their point across on different tech products and sometimes also tech news. The theme also comes with plenty of customization options like the ability to change your logo, favicon or featured images options easily from the easy to use administration panel.
47. Parallax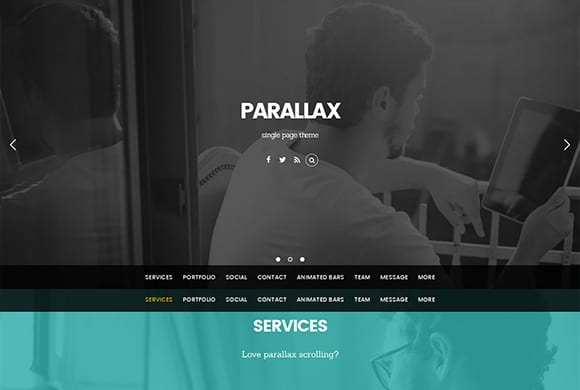 This one combines the sheer elegance of the two most interesting design elements available out there: Parallax and One page. So, per se, the theme can be used to display all your information on a single immersive one page, or you can just create a multi-page website.
48. Chester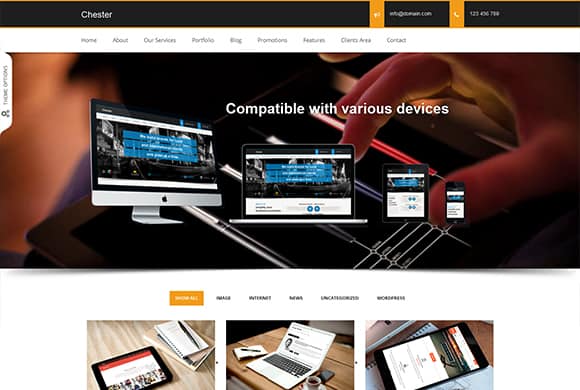 Made with CSS3, HTML5 on top of a Bootstrap framework, this theme looks stunning on any device, including smartphones and tablets. The theme is very clean and elegant and is suitable for software, corporate and every other website in between.
49. Textured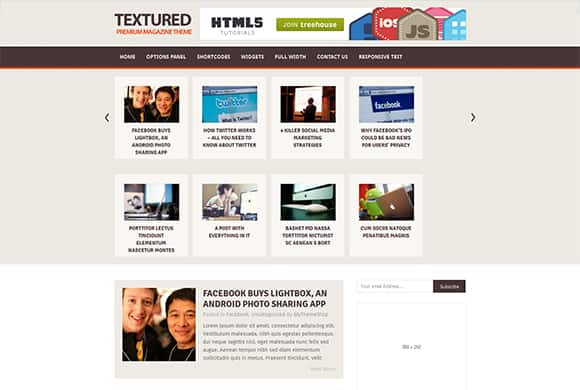 This theme is designed with stylish elements and clean layout so that most of the focus remains on the most important part of your website, that is, the content. This is done with the theme's subtle textures that add accent to enhance your content on top of soft backgrounds that make the words and images pop.
50. TruePixel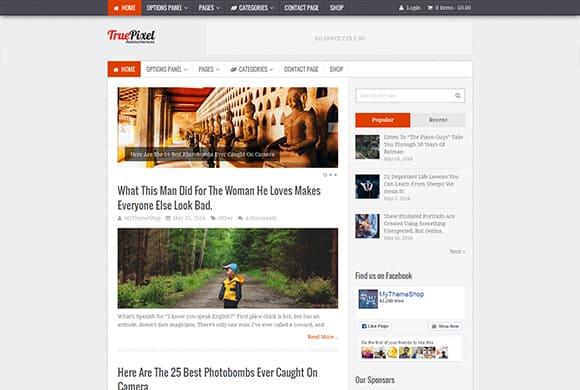 TruePixel combines elegance and style so beautifully that it will keep your visitors immersed in your content for hours and then create a positive lasting impression on them so that they keep coming back for even more. The theme is highly customizable for speed and usability and comes with tons of options and unlimited color schemes.
—
This guest post was written by Sunalini Rana. She is a working mom, who left her stable career as a human resources manager to pursue her dream of becoming a professional blogger. She's self-taught in web design and photography, and always loves learning new things and helping others along the way. She also has an unhealthy passion for delicious food like pizza and burgers.
You can visit her website at http://www.sunalinirana.com/