Razer Basilisk Essential Review – Razer Basilisk is one of the finest Razer's wired gaming mouse that I love. It features a unique clutch design (paddle) that you can use for quickly changing DPI on the fly (e.g for sniping) and dedicated rubber grip for right handed gamers.
The original also offers fully configurable paddle that comes in two different lengths (swappable), adjustable scroll wheel resistance, 8 programmable buttons, and 16,000 DPI Optical Sensor. But, if you want to save AU$40, Razer has released the Razer Basilisk Essential gaming mouse.
As you may have guessed it, the mouse is similar to the original Basilisk, but only comes with the essentials. It only has one paddle and 7 programmable buttons instead of 8, and a 6,400 DPI Optical Sensor. However, I've found that I can still frag my enemies as good as the original Razer Basilisk. And most importantly, it's a mouse that you can definitely save money for and get.
Razer Basilisk Essential Review – Packaging
If you are not planning to use the paddle, you have an option to replace it with a standard, side grip.
Razer Basilisk Essential Review – Design & Features
The Basilisk Essential bears a similar resemblance to the original Razer Basilisk though the rubbery side grip has a somewhat different design. The surface still is non-slippery, and helps my right thumb to glide the mouse where I want it to go. I really like the ergonomic contour shape of the Basilisk Essential and my hand doesn't get tired at all while using the mouse to game for a long time.
The paddle is still there, but there is no longer two paddle option of different lengths anymore – which means it's somewhat not that useful if you are a claw/finger-tip grip gamer like myself (it's too far away from my right thumb). If you a palm grip gamer though, you can definitely reach the paddle easily with your thumb without having to wiggle your way for it.
The multi-function paddle can be reprogrammed through Razer Synapse for various actions and macros. It can be used as a push-to-talk, DPI shifting, and more.
Razer Basilisk Essential comes with an Optical Sensor that only supports up to 6,400 DPI (compared to the original's 16,000 DPI but if you are a low-DPI gamer, this is not going to be an issue at all. I set mine to 3,200 DPI for gaming, and 1,000 for desktop use. Most professional gamers will probably set the DPI to 800.
Note that the mouse is also powered by Razer Chroma lighting and you can set it all up at Razer Synapse software.
Razer Basilisk Essential Review – Gaming Experience, Sensor Performance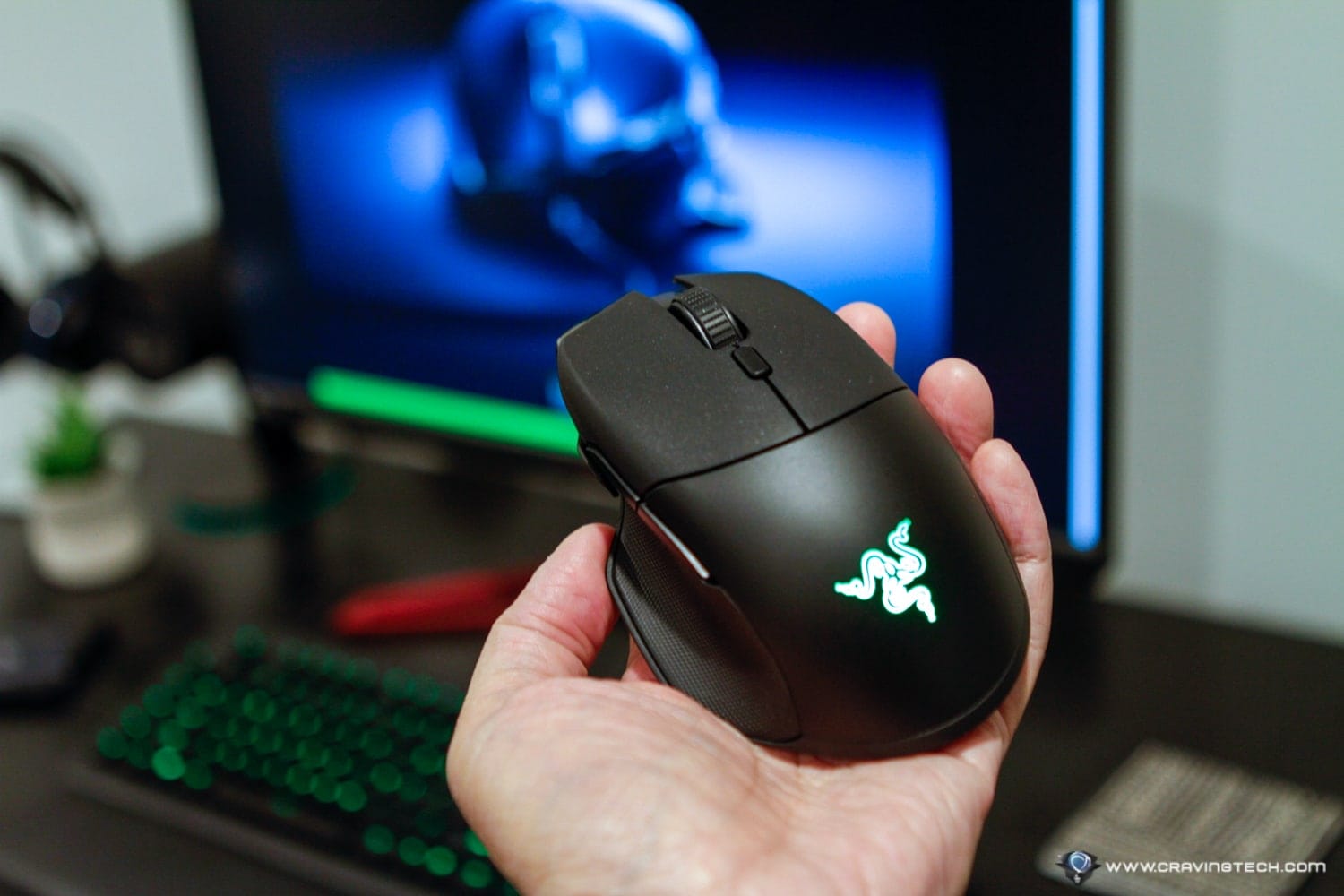 I've used the mouse for almost 2 straight months now and I'm loving it. My primary mouse was the Razer Mamba Hyperflux before I had the Basilisk Essential plugged in to be reviewed. I haven't really missed my Mamba Hyperflux so far, which is a proof that the mouse is performing as admirable as the Mamba Hyperflux. Sure, it's wired, but it's plugged to my BlackWidow Chroma V2 USB pass-through.
I find that the sensor is accurate as I play lots of Overwatch, a competitive, first person shooter games by Blizzard. I've also been using it for testing and reviewing Bethesda's latest game, RAGE 2.
The cursor goes where I want it to go, and the aim never fails me. I played a lot of McCree in Overwatch, which is a hero that rewards accuracy and head shots. The sensor never fails me, as in, it never went erratic in the middle of a frantic battle that required me from swiping the mouse from left to right and vice versa. It has also accompanied me daily when I have to edit my review photos, and simply using the desktop for work.
While it has the power to do a lot more with programmable buttons and macros, I rarely use them and really happy with just the mouse's essential features: comfort and accuracy.
Razer Basilisk Essential Review – Conclusion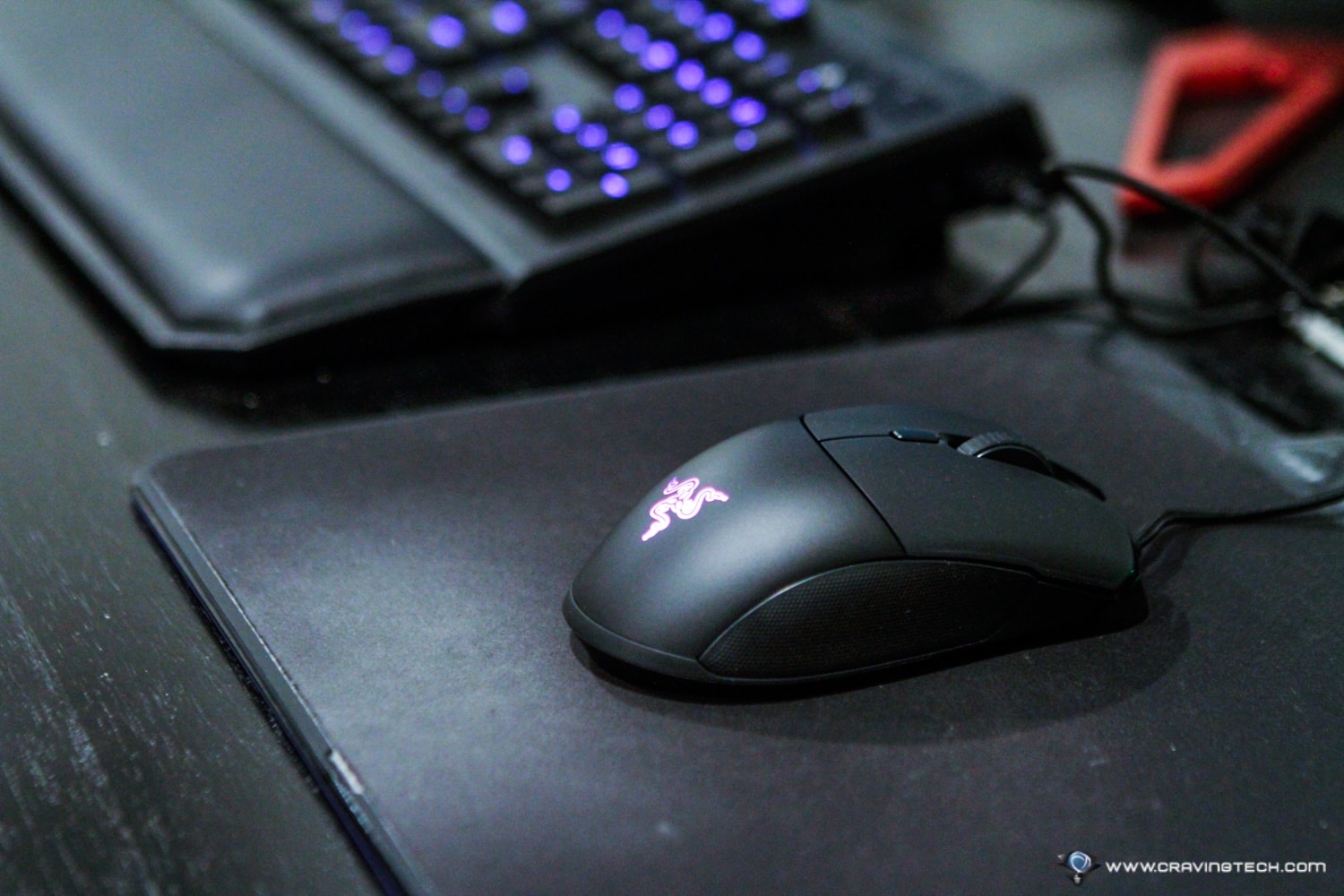 Razer Basilisk Essential is an excellent and accurate gaming mouse from Razer with an "under $100" price tag. This is done by just providing the most core essentials that make a gaming mouse great. It's comfortable to use for gaming for hours, has a good material and design, customisable options, Chroma lighting, and an accurate sensor.
If you still want the best of the best though and can spare an extra AU$40, the original Razer Basilisk is the better option. It has Razer's 5G optical sensor with true 16,000 DPI, 450 IPS, 50 G acceleration; compared to the Basilisk's Essential 6,400 DPI optical sensor, 220 IPS, and 30 G acceleration. If you are not an eSport or tournament players, you'll probably not gonna notice a difference. And in my personal experience, I could still win games and the sensor never seemed to fail or had any issues when aiming.
As a gift for a gamer friend or family member, the Razer Basilisk Essential makes a perfect gift. And hey, it's a Razer mouse!
Razer Basilisk Essential is available for purchase at Razer's website and retailers around Australia for AU$79.95 RRP. Also available at Amazon U.S.
Disclosure: Razer Basilisk Essential review sample was supplied for reviewing but all opinions are mine and not paid
Razer Basilisk Essential Review