What a year it has been… 2020! 
Since we're now approaching the end of it, we're going to review a product that (dare I say) resonates with almost everyone this year, and that is a portable wireless Bluetooth speaker for your online meeting needs, EPOS EXPAND SP 30 from the EPOS EXPAND 30 Series.
With its "Instant Conferencing Anywhere" tagline, the EPOS EXPAND SP 30 is what you'll need in 2021 since working from home is here to stay.
EPOS EXPAND SP 30 is a portable Bluetooth speakerphone for your online meeting (up to 8 people). 
What do you get in the box?
SP 30 Bluetooth speakerphone with a built-in rechargeable battery
Carry pouch
USB-C to USB-A adapter
Quick guide, safety guide, and compliance sheet.
Tech Specs
Talk time: up to 18 hours
Charge time: 3 hrs 20 mins
Range: 25 m
Multimedia & Music Listening: Yes
Voice Prompts: Yes
Weight: 314 grams
Dimension (w x h): 120 x 37 mm
Technology: 5.0, A2DP 1.3 + AVRCP 1.6 + DI 1.3 + HFP 1.7 + HSP 1.2
Compatibility: MacOSX, Tablet, Mobilephone, Deskphone, PCSoftphone
Certification: MSSkypeForBusiness
Warranty: 2 years
Is it easy to use?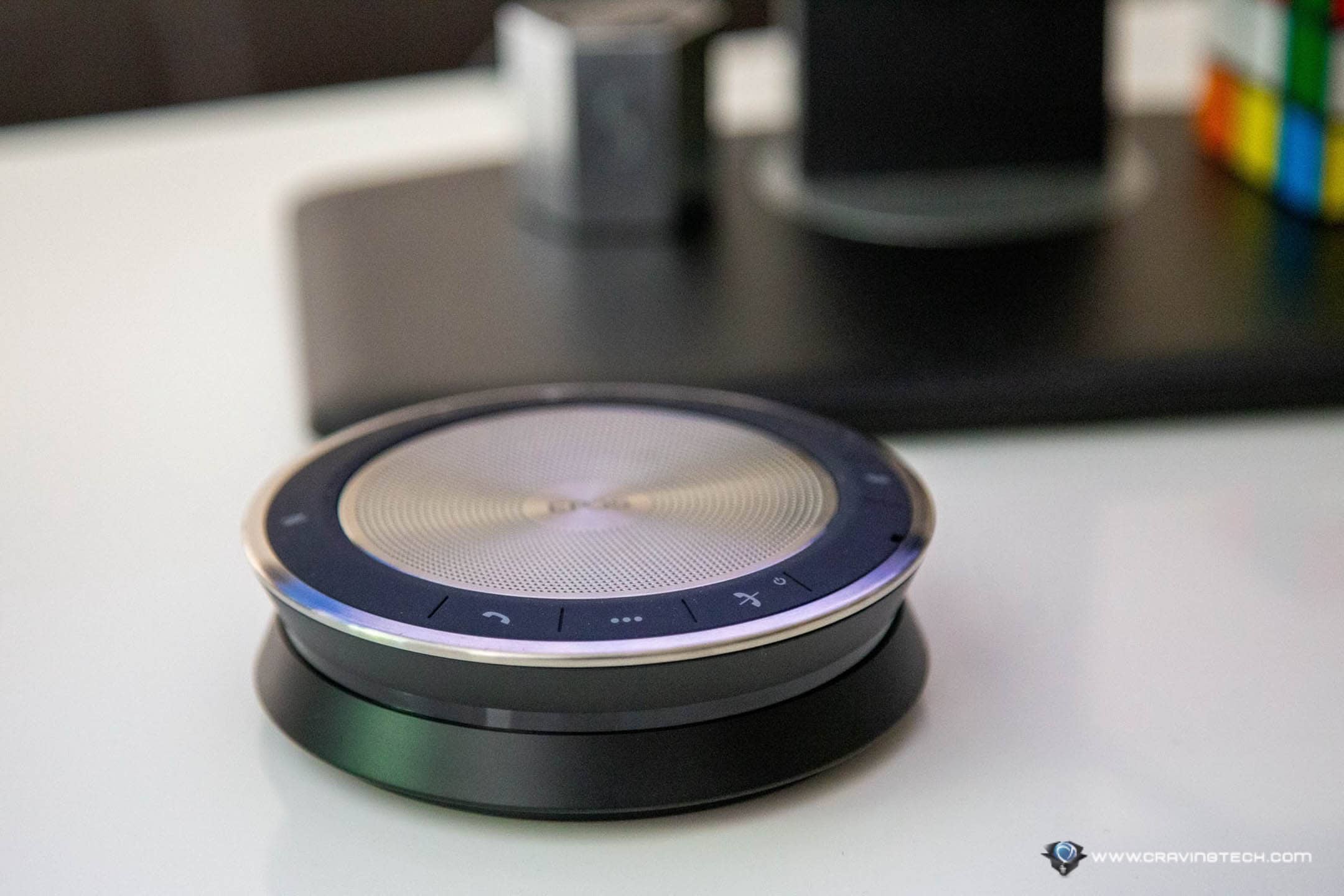 Yes, all you need to do is pair it up via Bluetooth or the USB-C cable within seconds.
It also comes with USB-C to USB-A adapter, just in case your laptop does not have a USB-C.
The EPOS SP 30 supports both Windows and Mac.
You can put in your laptop bag and just plug & play to do an online meeting on the go.
How does it sound?
The EXPAND SP 30 certainly lives up to its name as it produces an exceptional audio performance.
It sounds splendid, all mid, treble and bass are perfectly calibrated.
You can hear the other person's voice clear when teleconferencing via Zoom.
It's also worth mentioning that there is a noise-cancelling feature in the microphone with advanced DSP.
Plus, you can also use it as a Bluetooth speaker for listening to your favourite podcasts or music via Spotify.
Any other cool features?
Long talk time: up to 18 hours
Range: up to 25 m
Intuitive button layout
One-touch access to voice assistant
How's the battery?
The battery is fantastic, with 18-hour talk time and 30-hour standby time, you don't need to charge it frequently.
A full charge is around 3 hours and 20 minutes via USB-C cable.
So should you get one?
Yes, you should get this EPOS SP 30 if you want a better sound quality than your regular speaker, portability, and you do a lot of online meetings (i.e. Zoom, Skype, etc). 
You can get one on SimplyHeadsets.com.au for A$284 (save A$65 from RRP A$349) at the time of writing.