EFM Austin Studio ANC Headphones Review – There are many headphones with Active Noise Cancellation around in the market, but not many have the Hi-Res (High Resolution) certification. I'm not going to explain in detail (you can just Google it) but simply to say, Hi-Res Audio is a standardised technical specification for audio devices that can do music playback with high quality.
And that's actually quite important if you are a somewhat audiophile or quite picky when listening to your music. EFM Austin Studio certainly won't disappoint you in the audio quality department.
EFM Austin Studio ANC Headphones Review – Packaging
A 3.5mm AUX cable is included, plus a carry pouch.
EFM Austin Studio ANC Headphones Review – Design & Features
EFM Austin Studio has a sleek, minimalist design that I really like. It doesn't look bulky and the actual feel complements the look as this headphones only weighs 230 grams. I was quite intrigued at how lightweight it was the moment I took it out from the box.
With that weight, the headphones is very comfortable to wear as you can forget about it being on your head once you start listening to your favourite tunes. The earcups padding are generous as well and provide extra comfort.
The controls are a mix of pressing physical buttons and touch controls on the big touch area. So for example, you can press the volume down button for 1 second to switch to the previous song, press the power button once to pause the track (or do a double tap on the multi-function touch control), etc. The minimalist design means that you have to remember all these controls but at least the Noise Cancelling feature is on its dedicated "NC" button.
You can change the noise cancelling option to Off (Normal mode), Medium, High, and Monitor (or the awareness function that lets you hear the outside world). It offers up to 38dB noise reduction but as I've been working from home, I haven't tested this on a train or during peak hours at Melbourne CBD yet.
If you are listening to music and turn the Monitor/Awareness mode, the headphones will turn the music down and allow you to hear the ambient sound around you. It's obvious that this feature is only meant to be turned on sparingly when you need to hear something, and not to be used continuously.
Jabra Elite 85h ANC headphones or the most recent Jabra Elite 85t earphones, for example, has a "continuous" Awareness mode that allows you to still listen to your music as well as letting the outside sound in. The sound also feels natural compared to EFM Austin Studio, which turns the music volume down.
However, I like how I can just place my fingers/hand on the multi-touch area to quickly turn the awareness on and let my fingers/hand go if I want to focus back on my music. Quite handy.
Unlike the Beats Solo Pro, there is a 3.5mm option on the Austin Studio headphones. You can connect the headphones to other wired devices or when you are running out of battery on the headphones. The buttons and ANC will all be disabled if the battery is out, but you can still listen to your music. Battery life is around 20 hours (with ANC on) or 34 Hours (ANC off).
If you are travelling on the plane, you can grab a cheap airplane adapter and plug the headphones in. If you still have battery, you can turn the ANC on. It'll be interesting to test this on the plane one day and check how good the ANC is.
Without the 3.5mm, the connection will be via Bluetooth. Unfortunately, EFM Austin Studio only supports Bluetooth 4.1 where most modern headphones/earphones are on Bluetooth 5.0 at least. It's the only thing that disappoints me a bit when I see in on the packaging (it's not mentioned on their website), but thankfully, the sound is far from disappointment and when I tested watching Netflix movies with the headphones via Bluetooth, I didn't notice any latency at all.
In fact, as soon as I listen to my music with EFM Austin Studio, my doubt goes away in an instant. This is one solid headphones where music really sings in my ear. The audio clarity and quality are so good that I feel like I want to re-listen to all my favourite tracks to see what I've been missing.
Everything feels well balanced and the vocals really shine here.
EFM Austin Studio Review Conclusion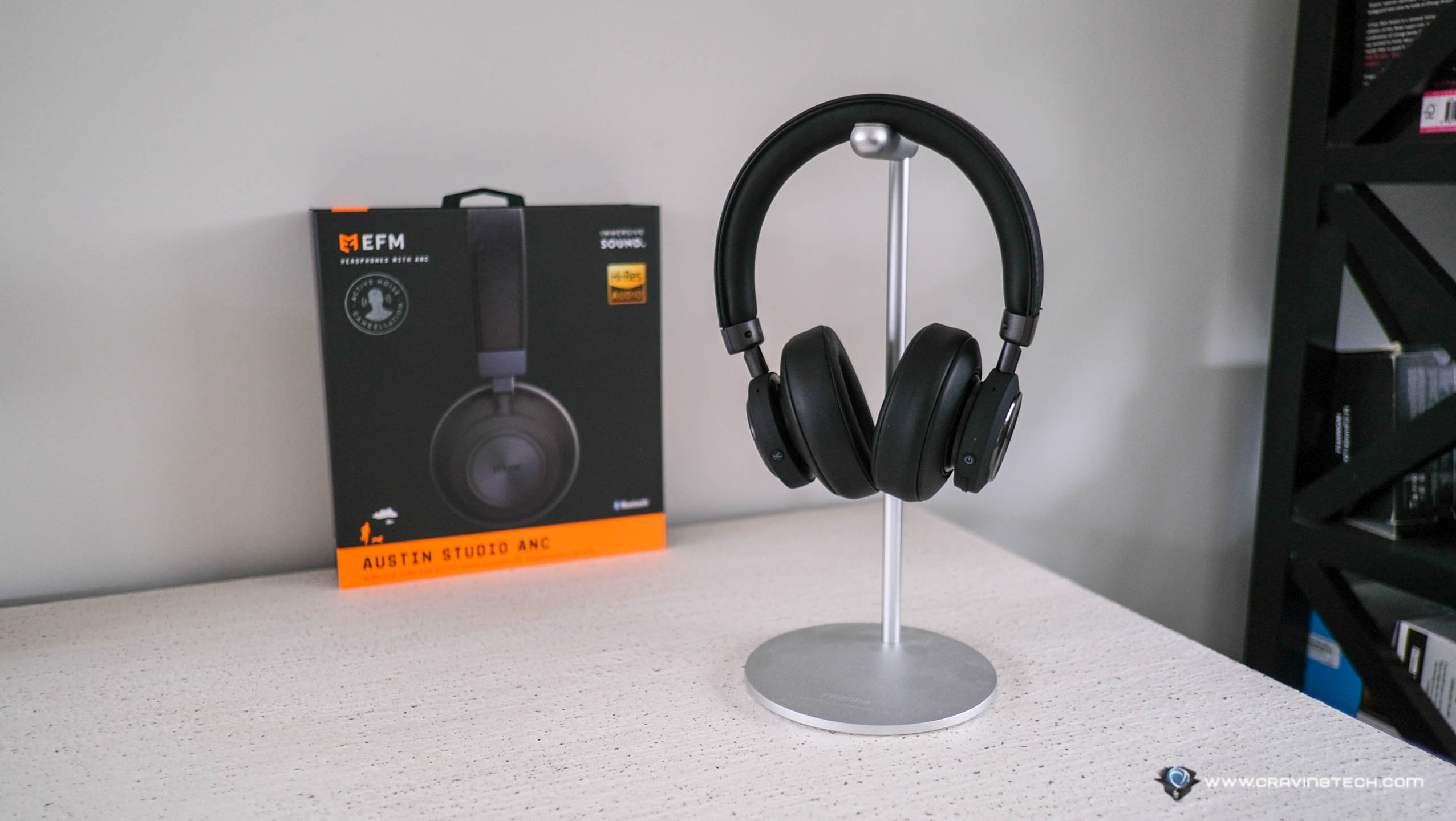 EFM Austin Studio ANC headphones have excellent audio quality and a proof that the Hi-Res Audio certification is not just there for nothing. Everything sounds really clear, crisp, and far from average. Music all genres are just fun and a joy to listen to, and if you manage to have songs with beautiful vocals, you'll get goose bumps all over.
The headphones are also comfortable to wear, lightweight, and has a nice, minimalist design. EFM Austin Studio ANC retails for A$349.95 and available now at EFM website.
Disclosure: EFM Austin Studio review sample was supplied for reviewing
EFM Austin Studio with ANC Review
Summary
Hi-Res Audio headphones with ANC from EFM
Pros
Hi-Res Audio
Lightweight, comfortable to wear
Minimalist design
You can just touch with your hand to activate awareness/monitor mode temporarily
Good battery life
Good ANC, with different ANC settings
Cons
microUSB
Bluetooth 4.1
Controls take some time to get used to
Can't listen to music normally with awareness on (i.e music volume will be turned down)