Denon AH-C50MA Earphones Review – Denon has just released 2 new earphones model that are designed to work well on Android devices, along with Apple's; the Denon AH-C50MA and Denon Denon AH-C120MA. AH-C50MA is the lower end model, priced at $59.95 (half the price of the AH-C120MA).
Both earphones are professionally tuned before they go inside the packaging to have a flat EQ response, which should make audio purists happy. After all, the AH-C50MA is part of Denon's Music Maniac lines, which focuses more on sound by being "acoustically pure". The one I have for a closer look today is the AH-C50MA.
There isn't much in terms of packaging. Denon focuses more on the sound and music listening experience for the price, which means you'll get the most out of it. There is no luxurious carrying case and no other accessories included, except for the different ear buds sizes and an adapter cable for Sony smartphones.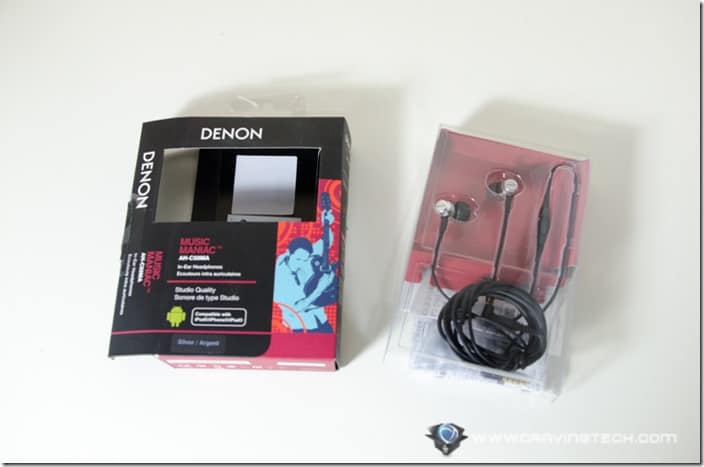 The earphones design is quite elegant in Silver theme (there is also a Black model).
Unlike most earphones I've reviewed before, there are smaller ear buds (yay) to choose from: XS, S, M, L. I almost always went for the smallest ear buds every time I wore a new set of earphones. However, with the AH-C50MA, I even find that XS is too small for my ear canals. I end up using the Medium size at the end so if you have smaller ears than I do, you'll be delighted with the purchase.
I find that I can wear the earphones comfortably, thanks to their shapes. They fit inside my ear canals and feel really light, yet sturdy. I guess looking at 4,000 pairs of ears as part of Denon's design process pays well here.
Now, if you jog with your earphones on, you'd probably notice the noise made by the cable rubbing against your chest. If this bothers you somewhat, you'll be happy to know that the AH-C50MA comes with a Radial Cascade Damper system to specifically reduce this vibration noise. You can now be fully immersed in your music without any distraction, no matter how subtle it is.
Equipped with 9mm drivers and Acoustic Optimizer, these earphones sound great for the price. For purest audio listening experience, the AH-C50MA is a great choice. Vocals and acoustic instruments get the better audio treatment here and when you pump the volume up, they just get better and better in your ears. I wasn't expecting the Bass to shine, but I'm quite surprise that I can hear it, plus every channel and frequency complements one another wonderfully. It feels as if you are in a recording studio listening to the singers and players directly. The sound has a good presence and you can  hear different instruments from different angles in your head (as if you have more than 2 ears). Love it.
The one in-line control button allows you to play and pause your music, but I do wish there are more controls like going to the next/previous track and volume controls. The same button can be used to pick up calls and end them (yes, there is a microphone on the AH-C50MA).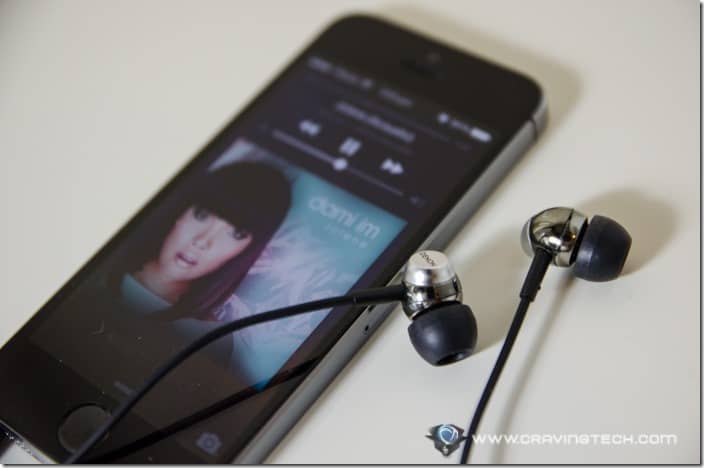 You don't need to download the free Denon Audio App, but if you want to tweak more EQ settings and access more power to control your music, feel free to do so. And, if you have the money, I'd recommend going for the higher end model, the AH-C120MA. The AH-C50MA is great, don't get me wrong. But I feel that it is just teasing me to grab for the higher model, to experience the best of the best.
[AMAZONPRODUCTS asin="B00IPNQ3R8″]
Disclosure: Review sample was sponsored for the review but all opinions are 100% mine.